By Randall A. Wells
January 1, 2019. 
At a Subway sandwich-eatery along I-95 in South Carolina, the ambiance was eat-and-go. The cash register rang up gasoline purchases in front of a palisade of cellophane smokes. In the men's bathroom the soap dispenser held a smooshed down packet with no connection to the lever. A clerk of about seventy took a smoke break outside, smiled at our greeting, and drew Marge's sympathetic remark (to me) about having to work there at her age and on New Year's Day. I was touched by the woman's cheerfulness.
One of the employees in the ingredients line, who seemed about twenty years old, raised her arms parallel to the floor, bobbed them, and swayed a little. I noticed piped-in music. She leaned a bit to one side and the other, maybe forward, and maybe poked a serving spoon in the air. I imagined giving my order: "Whole wheat bun, roast beef, olives, banana peppers, spinach, and joie de vivre."
And I thought, "What an appealing vision!" Even an inspiration for the new year—in which I would turn 77–to dance to routine speaker music! However briefly, to translate functional, like-it-or-not tunes to the pleasure of rhythmic bodily motion, to circulate the music like blood pumping to the acoustic beat.
So I decided to twirl, twist, fold, wave, and bob at every piped-in venue I encountered for one year.
No stranger to dancing in stores, I had often been aisle-beguiled. Any long stretch devoid of shoppers and baskets—ahh, it would impel me to start down it with a sense of freedom akin to immersing myself in a pool and swimming underwater. As I danced down the tiles, I might imagine glittering-clattering black tap shoes, silent, near-acrobatic lyrical gyrations. A couple of times I had even partnered with daughter Katie, who holds an MFA in Choreography–and long ago bumped a customer who delivered an extended rebuke.
So how did my vow turn out? Would the rubber tennies or leather Merrells respond to the music, however tinny? If so, when and where?
Various dates, Gainesville, Florida.
I decided to jot notes in a pocket composition-book inscribed to Grandpa Randall.
Publix grocery store with Marge & friend Tom. A dozen steps, tentative and primitive. The venue seemed cramped—shrunken by merchandise and by comparison to the living room carpet that enabled an occasional dervish-like response to classical music.Fresh Market, I observed a terpsichorean-mercantile conflict: don't knock into the wine display. But the vendor of samples laughingly declared, "I'm going to cut you off."
Publix by Univ. of Florida: Marge joined me for a moment, so I learned that another person might enrich the choreography. Also a shopping cart pushed in a circle. About this time, however, I amended my resolution by deciding not to dance in the same store twice–so as to avoid a little talk with the manager. Still OK to dance more than once in different stores of a chain.
Patti's Coffee Shop, by Bo Diddley Park, the whole place one inviting aisle that separated the counter from a row of round stools at the window. I felt a warm connection with one employee, Monique, who seemed to get a kick out of my dance and named the singer: Leon Bridges.
Jan. 10, Cedar Key, Florida. Duncan's Restaurant upstairs while looking through the screens at the Gulf of Mexico—water and sky each blue. The dance band was the Jimmy Buffett station on Sirius XM. Waitress Theresa missed the brief show, unlike Tom, Sandy, Marge, and pelicans sitting on a roof. 
Jan. 11, Gainesville. 
Francesca's Trattoria. My first fancy venue. Early dinner, a sprinkling of people, many table-candles–and carpet underfoot, a new experience. I danced next to my three companions in the booth, expressing the magical sympathy between ears and feet. When I shared the plan of converting my necktie collection to a costume, Friend Sandy urged me to stick with the another project–its bow, arrow, and heavy straw target stored in a garage museum.
Jan 12, New Smyrna Beach, Florida. 
Mom's Restaurant. Too noisy for piped-in music but on way out, friend Don pointed at the dormant radio. So I explained my experiment to the cashier (who spoke with a Greek accent), and asked her to turn it on. She did so and gave me a big smile as I danced to something '50s.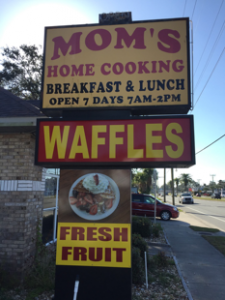 CVS: Had long aisle to myself, carpeted in squares, past rolls of Christmas wrapping paper. Don observed my routine: "Looks, like ta chi." I told the cashier I didn't mind waiting in line because it gave me a chance to keep dancing. Dorothy laughed: "Dance away!"
Publix: No music audible in store but as we departed Don pointed out that the foyer had Piped-in. Driven by a sound that was barely vocal, mainly beat, I immediately faced a wall of Dasani packs and turned terpsichorean. "He's from out of town," Don explained to a smiling woman who pushed an empty cart. When I added that I was celebrating no-27-degrees-and-snow, she gave me an even bigger smile.
Jan. 13, Off I-75 south of Gainesville.
Mini Mart BP: Men's toilets. About the surroundings I thought "Never predicted," as I remembered the original plan and hustled to "Take out the papers and the trash." Traipsing to the door between one row of stainless steel sinks and another of stalls, I managed to avoid having to rebut "deviant" with "divergent thinker."
January 14, Gainesville.
The Oaks Shopping Center:
Area adjacent to Belk: shiny tile with reflection of fluorescent lights.
Female singing. Decided to ask Katie to expand my repertory of moves.
Mall bathroom: danced along approx. 24 squares, each about 2' X 2', color of oatmeal—until someone came in. Male voice over speakers.
Mall directory, freestanding: as Marge searched for a children's store, I circled it on flecked tile. Costume: blue, thin sweatshirt shirt with "Columbia" label. Undistinguished choreography and execution, as always, but as I explained to Marjory, "I wouldn't want to call attention to myself."
Belk:
Men's Department: waved a straw-colored pair of Saddlebred denims, my first hand-held prop. Started dancing unconsciously to unnoticed music, a reminder of the initial impulse that I was celebrating and exploring. Singer: Katy Perry, as identified by a clerk, Victoria.
Fitting area: emerging to show Marge a try-on pair of jeans, I did a little routine of putting my weight on one foot and pumping the other. Music unknown. Then "Buh-bye, Marge" as I pranced back around the corner.
Down-escalator: Although not accompanied by music, it did click invitingly four times a second as I responded with the inchoate version of a great routine that onlookers might have mistaken as restless leg.
The Children's Place. Both inspiration and tile dull. I walked around a circular stack, another rectangular, passing dresses, purses, bracelets. Stymied. Then a song came on with a drumbeat of two per second and I found myself stepping from one tile to another per beat—fast. Covered the length of the store with a pseudo-schottisch folk dance. (My notes say "14 X 4," which I interpret as 14 times 4 tiles.) The width of each oblong rectangle ahead of me was bisected above and below where two tiles joined—all of them of the same size and shape. Clerk was occupied at the counter, so, now having fun, I decided to return to the other end. This time I alternated between (A) stepping directly forward onto a full tile and (B) dodging to one side or another on halves of the others. Was almost laughing as I huffed a little at the end, unlike Marge, who huffed metaphorically at the overpriced purchases.
Starbucks. Danced around the long table to the voice of Frankie Ruiz—singer identified by Alison, who consulted the store's iPod via her cell phone. Long tiles, irregular designs, each with two pleasantly smeared shades of taupe.
The Bodhi Tree: At my request, the clerk took a sort of wand and rubbed the rim of a large white bowl, a vessel that reminded me of Wolfgang Mozart's marble baptismal font in size, shape, and wonder. The process brought forth mystical tones, and the vibrations (which she invited me to touch) were startling. Later that day I upbraided myself for failing to dance to the sound–or rather sounds, with all their supernal overtones! Self-respect returned, however, when I considered my resolution: piped-in only.
Joe Muggs' Bookstore (?): Danced to "Peaceful, Easy Feeling." Had to look up the band on the 'Net (the Eagles). By now I felt uncomfortable with my limited knowledge of pop music (unlike classical). Yet found myself smiling as I trod the imitation hardwood strips, brown and yellow with a pleasing variety of grains that suggested a vague correspondence with my ever-changing circum-dances. Waltzed around the rack of gift cards, glad that the clerk was busy kneeling at a shelf, found myself smiling.
January 15, Gainesville.
Boca Fiesta. In front of this Mexican restaurant, I danced in the open air for the first time. The public square was paved with herringbone brick, marked by slight declivities and irregular heights, and shaded by Spanish moss that hung from a single tree. As a guy tunefully pleaded with a Renee not to walk away, I invited Marge to join the dance, then friend Libby.
Boca Fiesta inside. At night, loud piped-in music both competed and collaborated with high-spirited young clientele. Standing on the dark, painted floor I danced to "Orange" something or someone, name of song or band furnished by waiter Brian. To "Modern Love" (a song by David Bowie) I then gyrated and flailed before Marge & Libby, who remained seated in the booth. Behind me the kitchen door swung open a couple of times and flooded our corner of the rather dim restaurant with fluorescent light. To my left the wall was being scaled by the full-size metal outline of an alligator. I noticed the reactions only of my boothmate-cheerleaders and could see only silhouettes of heads in the booths opposite; felt a little strange to cut loose more than the youngsters, who may have thought I was drunk. Not so. The more sobriety, the better proprioception, and the keener sense of harmony between physical and musical.
January 16, Fleming Island, Florida. 
Whitey's Fish Camp:
Captain Tom roped up Penelope along Doctors Lake, a bay connected to the St. Johns River. Relieved to get out of the cool air into the big rambling, homemade structure, we sat in a large, open, half booth until I began to dance for Marge, Tom, and Libby. Music unknown but gotta-dance; singer a male. Above me rose many a cubic cubit that displayed marine decorations. One was a pair of large, shiny sea turtles—fake, according to June, our waitress. A long mahi, brilliant of colors, swam immobile in the wall-ocean. At about eye-level a creature nearly a yard long with outsize jaws tried to bite the air to my left: "An alli-bass," explained June—i.e., a man-made man-eater.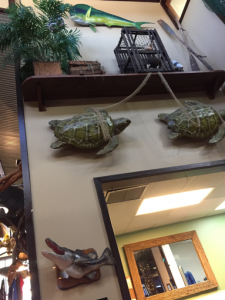 By now in my experiment I was feeling that enough was enough. Not only with the dancing but with the laptop-record-keeping. So I decided to limit my resolution to the Florida trip. Then I realized that nothing could top Whitey's Fish Camp for ambiance, so—time to quit.
January 17. 
Gainesville, Florida: Total Wine.
Until I reach Aisle 7, looking for Prusser's Rum. I don't need a decanter of the size on Penelope–a large, squatting-vase of the spirit once officially dispensed to British sailors. Now I behold a wall of glass cylinders: all filled with brown liquid, they have ever-differing sizes, neck-proportions, and labels that compose a gallery of shapes, colors, and illustrations. Their gleaming rows are casting a spell on me as I become aware of music from above—not angelic but energetic, perhaps Jamaican, a song belted out by an unknown woman—and there go the feet, the arms, the swiveling torso! Tom: "Usually such behavior occurs when the bottle is empty."
January 26, 2019
Floyd, Virginia: Home
My New Year's Resolution lasted as long as most.
However truncated, did it improve my life? Even if not dramatically, like quitting an unhealthy habit by pitching the Winstons. Don't know.
I did have the satisfaction of accepting my own dare. I took store music that was unasked for, utilitarian, public, and canned—and extended it to dance, itself also unasked-for but personal, spontaneous, and creative for its own sake.
My jigs, I felt, ranged from the dutiful to the Dionysian.
Unexpected and stimulating was the multiplicity of venues. (Such concrete particularity, with the Window as example, is illustrated by my Angel in Goggles: Earthly Scriptures, amazon.com.) The two-dozen-or-so dance-halls surprised me more and more with their differences. Invisible music, flooring, size, physical surroundings, other people—all became sharper by contrast to each other. At one extreme a drop-pants-box of a fitting booth; at the other a dry aquarium.
Completely unexpected and pleasing: a few strangers actually seemed to enjoy my spells. I never noticed disapproval and also overlooked mere tolerance.
As one last benefit: from the abandoned resolution springs the vision of dancing to the Bodhi bowl with the young interstate-sandwich-slinger.
###