Places make a place. "Everybody has their own nook & cranny," declared Lara Miller about the tucked-away houses. Earlier "Places" have touched on numerous Floyd County spots—outdoors and in, country and town. Here here is an appreciation of two businesses.
BLACK WATER LOFT.
Remodeled a few years ago so, the Loft comprises two main parts. Customers enter a long room that is partly divided by massive beams that form triangular trusses at both walls. On the left side of this area stands a battery of thermoses full of coffee made from world-ranging beans; from part of the opposite side juts a family-style bathroom, good luck finding the light-switch. This part of the Loft also serves as an art gallery, so décor changes over months. At the far end, the work area is divided into two L-shaped counters and a rear kitchen.
Please click below for a video of Julien and Sidney being served hot chocolate. By permission Hannah Barista.
Once when Ms. April was washing dishes, I enjoined her to do so in time to the music (which plays unobtrusively); a good dancer, she began swaying, arm-waving, and back-arching. Baked goods line the counter, espresso machines hiss against the back wall, and a menu above lists items in well-crafted multicolored chalk.
On the south wall is a battery of windows that are especially inviting in winter.
Here at the tall counter I held a couple of sunny tutoring sessions in English. Smaller windows on the opposite wall frame a metal roof that slants up to a mysterious door in the brick wall of the next building. In in the communal living areas people can repair to a sofa, a throne, a stuffed corner-wedge, a barstool or a chair at a table or in a nook.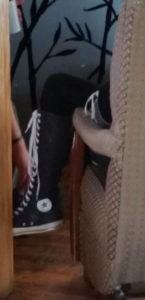 The ceiling and much of the walls are wooden, as is that spiral staircase that winds darkly down to the bookstore and says to a child, "'Climb me!" On the railing are posted various photos including this one:

Opening the door from the balcony-deck at the top of the stairs, you never know how many people will be there, or who. This refuge is frequented mainly by residents and visitors who were not born here. Wait–high school students often hang out there, and an occasional infant enjoys a warm maternal smoothie.
In my early days of cappuccino-sipping tI met a child of about ten who seemed to be free of scholastic duties. "I'm an autodidact," she explained, not realizing that I had encountered the word in Sartre's La Nausée. Some people stand and chat despite explosions of steam and whacks of espresso grounds. Once I asked a barista (female lead of Wind in the Willows), "Would I be beautiful, too, if I wore that apron?"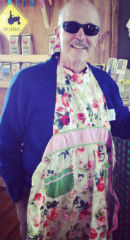 Other customers may work at their computers in let-me-alone concentration, and several times our son-in-law has used the Loft as the extension of his Charlotte office. Below, Keith Grenoble, a collector of stones, examines a specimen in 2013.
One morning a genial potter and yoga teacher from North Carolina showed up in faded blue overalls. Suspenders lined a bare chest, nothing apparent underneath except himself–Melungeon muffin! One day he was carrying a laptop with the photos of tuning pegs: "I repair these." Another time, asked about a supply of ceramic cups for the Loft, he replied, "Our last batch bubbled."
Once as I stood talking, the cell phone of a person sitting nearby jingled—but kept going, and in a timbre that sounded richer than an electronic one. Looking down, I perceived a small instrument held with both hands that played a tune with thumbs. The musician wore homemade-looking shoes with no socks. He explained that it was African but had to spell the word for me. He had been inspired to make it by his three-year-old daughter who had clinked together two rings belonging to a washing machine hose. We chatted warmly. "Are you a friend of virtue?" he asked. "Do you mean a person, or the concept?" "The concept." "I'm an apostle—but more of a Judas." He laughed as I coveted his kalimba.
Lucky path-crossing: with Bill Gardner, the ex-County Commissioner who didn't "die for lack of a second." Another serendipitous encounter—it's Dennis, born in the same hospital as I was in Oak Park, Illinois. We step outside and invite Laura Polant (one of the YogaJam "dakinies") to sit with us on the deck, where we have a lively chat.
Once David Maren of Tendergrass Farms asked around about advertising fresh sausage that by law couldn't contain paprika. Some ideas: "gluten-free," "paprika-free." Once Gannon plied a computer program for casting one's fortune (or something digital-mystical). Another time a denizen heard Dennis and me talk about religion and invited us to his church. Once I read the description on a sack of Red Rooster beans and announced my aspiration to be "robust and sweet with a bright acidity."
When I saw a pamphlet advertising a Bingo night, I scolded a barista for displaying material more appropriate to a nursing home. She apologized with utter insincerity. We then agreed on a plan: as I departed, I called out "N-12" and she yelled "Bingo!" before I could slam the door.
At eye-level with the stoplight, the balcony also allows a person to gaze down onto parked vehicles, onto tractor-trailers as they negotiate the corner to the right, and onto the frequent passenger with no need for a shoulder belt.
One twenty-three-month-old enjoyed sitting on the balcony bench, rough-sawn, and picking out rotten splinters. "Hi!" he would call as he waved at people across the street."Hi!" they would respond. "Red!" he exclaimed as the stoplight turned red; "Red!" he exclaimed as it turned green.
FINDERS KEEPERS.
Occupying the southeast corner of E. Main and Wilson St., this second-hand store was once the Esso Station; thus the business itself is a twice-as-nice.*
The owner, Daniel Bauer, has an impish wit, but I always let it pass. Once I upbraided him for not running outside to fill my tank from the old pump, and I also recommended a more professional uniform.
I also threatened to sue because the woven, tricycle-shaped flowerpot-holder that we bought and then gave our grandson caused him to mount and fall from it. And our visiting guest, who was trying out a bathtub in the courtyard, had to be rescued by friends when it tipped.
Inside is a fascinating collection of bygones piled to the ceilings where mechanics used to wrench, and the mysterious veiled lady who introduces this chapter replaced the grease monkeys.
Marge saw a table with brass decoration: "I kind of like the dentedness of it." This business supplied our door knocker, a lamp, a pair of rocking chairs (which we split with our bathtub pal), a gold-framed mirror, and a wrought-iron shelf for a bathroom. For the outdoors, two concrete benches, a wrought-iron candle-holder, and the light-orange head of Buddha (which I first mistook for Mr. Peanut). Offspring received a cedar armoir, a walnut bookcase ("Gor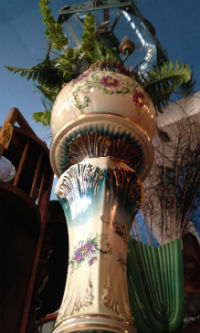 geous," proclaimed Marge), a bedside table, and and a dresser-plus-lamp. We had to say a reluctant No to any number of objects and a relieved No Thanks to others.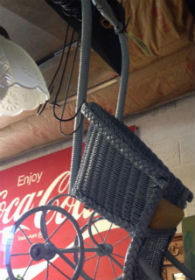 Little Sidney had eyes only for a metal race car, which he drove back to Charlotte. At our house toys are piled in a wooden "Arbuckles" box made to hold coffee-beans. No child can appreciate its notes of esthetic, utilitarian, and antiquarian.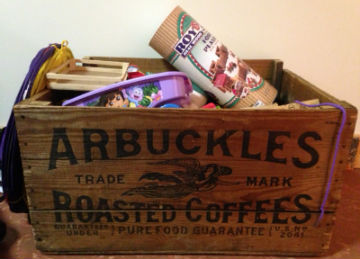 At our condo in South Carolina, we parked a round, rotating, heavy piano stool front of the electric piano. I value it especially for two reasons: (1) "They don't build 'em like that anymore" (as the carpet man declared), and (2) we got it before Ann First. She had to be satisfied with a wooden column that lends classical éclat to the inside of the old farmhouse:
Among the file of old post cards I found one that pictured Bok Tower in Florida, a 250-foot, neo-Gothic art-deco carillon. I sent the card, originally mailed in 1948 with a message about the weather, back to Lake Wales in an envelope, and received a thank-you note from the Bok folks.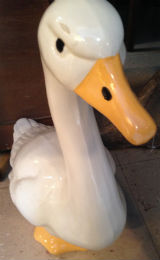 I also bought a volume called The Bible in Art that gave me a framework—from Genesis to Revelations—for understanding European religious art in all its ubiquity. Daniel let me have an issue of Life magazine for free, its postal label reading "Mr. Rex Prillaman, Box 147, Henry VA 24102. Published in September 6, 1968, it came out a week after Marjory and I were married during the Democratic National Convention in Chicago, so it preserved memories of those turbulent socio-political days.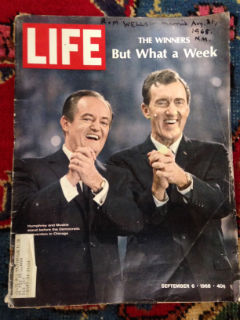 Imagine eight or nine presidents from now. Maybe one of today's children, having become a grandfather, will be poking around a second-hand store. His pal is much shorter than a wooden console–capacious, once-fancy, now-rickety. The child works its bi-fold door, admires its sculpted woodwork, inspects its now-dull brass fittings. He eyes its numerous shelves and recesses, its three drawers and as many black-surfaced slide-outs–no doubt meant for an old-time computer keyboard, a handwriting surface, and a printer. Folding its side-plank down, he exposes a space large enough to stow (say) a large, rolled-up map of a county. Then he tips his head and peers into a vacancy between pullouts.
"Grandpa, what's this?" The old guy manages to get down on his knees to make out a sort of cocoon taped onto the bottom of the top one. The store's owner approaches, struggles to extricate the object, and slowly unwraps it from a page of the Floyd (Virginia) Press dated December 2016. The three people stare at a round, concave object–perhaps a fancy pin-holder. In the middle of its golden outer surface is something like a big emerald, which is surrounded by a constellation of teardrop-shaped, cut-glass jewels.
"Here, lad," says the owner, "finders keepers."
* For a photograph of the original building, see Chapter 8 as well as Images of America: Floyd County, Floyd County Historical Society, Inc. Charleston, SC: Arcadia, 2012, p. 77. After World War II the station was owned by veteran Arlie Thompson and his brother. www.floydstorycenter.blogspot.com