The only color was the yellow reflection of headlights on the curved guardrail. I geared down to keep from gaining speed as Rt. 221 N plummeted a half mile toward Kings Store Rd. in Check. There I made a left and trusted my brights to find Jerry Lane NE. I made another left at a hilltop curve and after a lonely-Jerry half mile or so bore left again at the dim sign "Seven Springs Farm."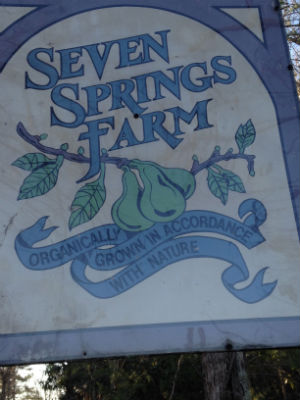 I
t was Sunday, November 2, 2014, and the interview had been moved from 5 p.m. to 7 p.m. because Nii Anang and Polly Hieser needed to finish some work. (
Nii
seems to be an honorific somewhat like
mister.
) What had been a pleasant farm-spread in daytime was now a scary expedition as I drove around trying to find the agreed-upon "barn" for our rendezvous. High deer-fences with stakes and wires suggested a concentration camp, and a scrawled sign, RETAIL STORE, looked like a prop for a black-and-white movie written by Blu De Golyer. It led me to a forbidding barn, no lights, no Nii.
I remembered the warm day when Marjory and I, as members of the CSA hoed weeds from long rows while the African gent sang down the line in a high-pitched voice and incomprehensible syllables (probably his native tongue, Ga, a one-syllable name). Now with the help of a cell phone I reached the building where I had once swished lettuce-heads around in a tub as part of my first and last four-hour annual stint.
I rendezvous with husband and wife in the roofed, three-sided packaging structure that is warmed only by four bulbs that hang from the ceiling. Bare beams, dirt floor. Bleacher-like shelves line a wall; although empty, in the season they hold paper grocery-bags filled with vegetables and labeled with the names of shareholders. Leaves of dark kale stick out of a bushel basket as well as a laundry basket. "They are for Tenley Weaver," explains Polly, "Good Food for Good People." Over and over again Nii Anang lifts out a handful, puts it on a scale, then stuffs it into a plastic bag.
He usually sports colorful, exotic, loose-fitting Ghanian outfits—a familiar sight at Zion Lutheran Church. But tonight he and Polly wear hats and thick coats. Nii Anang's garb is as dark as he, even to the strap around his neck, but the role of Shadow Giant is undercut by his occasional laughter and obvious good nature. At six-feet-three-or-four, he stands a foot taller than Polly.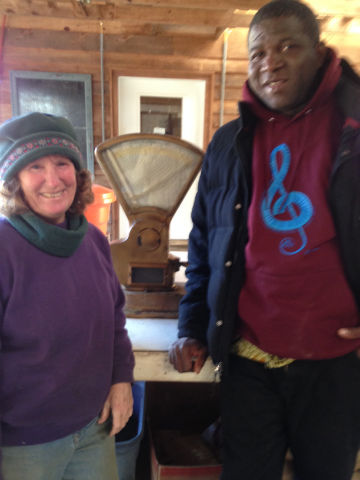 As he weighs and wraps the organic produce, he answers a few questions while I type with cold fingers.
H
e was born in 1967 in the Accra region. The Republic of Ghana is located in West Africa along the Gulf of Guinea and the Atlantic Ocean.
In 2014 it had a population of 27 million, and in 1957 it was the first African country to declare independence from European colonization (Wikipedia). He came to USA with a music and dance group. One of the co-founders of FloydFest, Kris Hodges, had traveled to Ghana several times; then after taking a month-long drum and dance workshop, he brought Nii Anang and colleagues over to perform as the opening act of the first FloydFest in 2002.
sNii Anang stayed for six weeks, then came back in 2003 and stayed for eighteen months. Members of the Kusun Ensemble would find a roof in Roanoke, Blacksburg, Floyd, wherever they could. In 2008 he married Polly, who had moved here in 1990 after first visiting the place in 1987.
"I was a West African music and dance junkie," she recalls. "I played every week with some friends, so every time there was a workshop, I took it. I not only went to all their concerts, but I attended all their classes and workshops in drumming and dancing." As she speaks, bags rustle as they are filled with curled, incised leaves, and empty white sacks, which hang from a roll, lunge back and forth in the breeze like ghosts.
At the initial FloydFest the group helped build some of the structures, for example the Global Village. Nii Anang used to work at the farm, too: "Polly hired a lot of us." No, he hadn't farmed in Ghana, just a bit of help when he visited his grandparents. As he speaks, a thick wooden door knocks in the wind.
Since 2007 Nii Anang has performed by himself, at the Sun Theater before it became Dogtown, at Oddfellas, and at the Country Store. He taught a drum-and-dance workshop for Ambrosia Farm's summer camp; and he taught for after-school programs at Floyd Elementary and for the music lab at the June Bug. Marjory took drumming lessons from him and we both took his African dance class, where the teacher's legs could measure the room in a few leaps. "There's no more red Russian Kale," announces Polly. She goes on to explain that African music often has a special purpose—to mark a wedding, war, harvest…. As for his drumming: "He's also a wonderful flute player, all kinds of percussions." She notes that YouTube carries a number of clips for Nii Anang.
What other kind of work did he do in Ghana? "Once in a while I taught, went fishing–in the ocean." Polly adds that the vessel was a big canoe, maybe forty feet long, that held thirty people. Life in Ghana, she recalls, "was about as different as I've seen anywhere. Very crowded, communal, and everyone getting along–better than I'd think Americans would. There might be a group of very small buildings, fifteen feet square, around a courtyard. Because they're outside most of the time. Taking care of babies, laundry, baby sitting. Everybody raises the children, and they have similar ideas."
I suggest that living on a somewhat isolated farm might be challenging for Nii. This comment draws a rueful chuckle. "Yes, that's why I must go to Ghana for three months every year." During the winter he takes clothes and money, the bulk of it donated by members of Zion Lutheran Church, where he regularly attends and sometimes plays the flute.
"Yes, in Ghana I was a Christian. I grew up in a Baptist church, went to Charismatic Church. People clapping, singing dancing, drumming. It's like a party," he laughs heartily. (I notice that my hosts are wearing boots.) In Oddfellas Cantina he sometimes plays percussion and a bamboo flute from Ghana.
"I like people here, nice, most of them. It's a small town, everybody knows everybody. Everybody welcomed me." Again he referred to his home country. "Singing, drumming, they're social things, very common. Families came together after work, after fishing. Something we saw our grandparents doing. My sister's a good dancer." Does he keep in touch? "Yes, I telephone Ghana often."
Polly herself plays the flute, and her mother was a musician. She grew up outside of Philadelphia, at least half a world away from both republics, Ghana and Floyd. She and Ron Juftes own Seven Springs, he being the person who turned on a floodlight and came out of his house to ask if I needed something as I phoned from my car. How did Polly get to this area?
"Ron and I used to live together in Pennsylvania, where we had a landscaping and tree-surgery business together. Both of us wanted to move to a farm and homestead." (In goes another handful of dark green.) "We bought a camper truck and traveled in winter, stopping to look at notices posted by food co-ops to get a sense of the community. Someone at Deep Roots Co-op in Greensboro recommended that we take a look at Floyd County."
The interview declared over by the cold air, I hustle back to the Subaru, which registers 37 degrees.