Elizabeth wrote this set of instructions in 2015 at the age of seventeen. During that year she received the annual David S. Wiley, Sr., Scholarship for promising musicians, a vote of confidence from the board of Virginia's Blue Ridge Music Festival. Although she takes violin and piano lessons in Christiansburg, she lives in Floyd County, far above Black Ridge Rd., where she is home-schooled for scriptural reasons. Although surrounded by animals, the family is vegetarian. A steep hike from their engagingly home-made house earns a view of Poor Mountain and even Peaks of Otter near Roanoke.
\
L
ocated just miles from the Blue Ridge Parkway in Floyd County, Virginia, is Eden's Flock. We are currently home to two sheep and three rabbits. Although I play the violin and piano, I have a second passion for spinning and knitting. We raise our Angora rabbits for their soft, rich fiber and sweet personalities as pets. We also raise our Babydoll Southdown rams, Bo and Furby, for their wool and amiable personalities. They are famous for their lofty wool, which they provide for spinners.
Why Spin?
For people in the olden days, spinning was the only way to provide for clothing needs and other things. Now, machines at factories make our clothing with little work and mass production. Making yarn, like taking a tour, can be educational or can be done as a hobby. With rich fibers flowing between your fingers, spinning is very rewarding, especially if you have raised the animals, experienced the washing process and, depending on wool type, the carding.
Care of Angoras and their Fiber
Angoras need to be groomed once or twice a week depending on the breed to make sure no knots are present. These animals also need to be sheared or given a haircut every ninety days. When the day arrives, place one rabbit at a time in your lap and hope it remains still while with a pair of scissors you cut its hair to be saved in a paper bag.
Always make sure the fiber is never stored in synthetic containers as the fiber must be able to breathe….never plastic. If stored in synthetic bags or plastic containers for long periods, the fibers you expect on your next visit to be rich and beautiful will now be a wad of nicely woven-together "cloth." It has been through the process of felting [i.e.,combining under pressure with fur, hair, cotton, etc.] where temperatures rise, causing the fiber to become unusable. So storing fiber in the right bags is crucial.
No washing or carding is needed for Angora before spinning….just cut'n spin! Stored in the right conditions, Angora will last a long time.
Shearing Day
Once a year, sheep are sheared in early spring, weather depending. The actual shearing process only takes 3-5 minutes for the average shearer and 45 seconds for the fastest world class shearer! After each sheep is shorn, collect the greasy, dirty fleece and place it on a table were it will be skirted.
Care and Storage of Wool
Skirting begins when the fleece is placed on a big table constructed especially for this purpose. The side facing the weather is up, and the side that touches the sheep's skin, down. Dirt tags are removed from the fleece and thrown aside for the compost. These wads of really dirty wool can't be used with their plant particles and sheep waste mixed together. The fleece will then be rolled up and placed in burlap bag or some sort of breathable cloth–never synthetic! Felting of wool is much worse than Angora! The fleece will then be stored in a cool, dry place until washing day.
Wool of sheep requires the same storing method as does Angora. Although wool contains lanolin, moths do tend to inhabit unwashed wool more readily than Angora, for the greasy, warm and dirty environment to the moth is irresistible. So place essential oils from lavender on cotton balls, as well as several blocks of cedar wood, around where the wool is stored, precautions that are great moth deterrents.
Some people that have an enormous number of sheep and fleeces send their wool to a factory, where it will be washed, carded, spun and sometimes dyed. Since I don't have many sheep or fleeces, I wash the wool myself, card, spin and occasionally dye my own wool.
Washing Wool
Here is what you will need to wash wool.
 washing machine
 scorching hot water
 dish detergent
 a stick from the woods or handle from a broom or mop
 net bags (like bags for laundry)
 time
Loose wool will and can get stuck into the drainage holes of the washing machine and become clogged. Never place loose fiber in your washing machine. Place all fiber in net bags. They can be bought on the Internet for this purpose.
Place some wool in the net bags, put it in the water that has already been filled in the washer, and let it soak for an hour. After three soakings (each of one hour), spin the wool out after every soaking, add soap on second washing, and fill the washing machine again. Once the wool is finished, place it in a shady, windy place on a wire table or board to dry.
Never forget that wool will shrink if agitated in the washing machine, so use the broom, mop handle or stick from the woods only to press the fleeces under water, not to agitate or swirl around.
Carding
The next step in processing wool is carding. Doing so with hand carders is a simple process like hair-brushing. The wool is "fluffed up" to create a more even fleece to spin from, which also makes a more consistent diameter of yarn when spinning. Using hand carders is very time consuming, but with little sheep, this process can be tolerated. But the next alternative would be an electric carder.
Place the wool on the left hand comb:
With the right-hand comb, lightly brush across until all the fiber from the left hand comb has been transferred to the right-hand comb: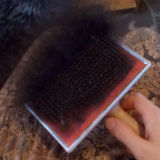 Remove the wool from the right-hand carder, roll it up, and place it in a box. This process continues until all the wool has been carded and ready to spin:
Spinning, a process where wool (already carded) or Angora are spun or twisted in a string-like manner–but only a little bigger than the size of a string. Consistency in the diameter is the goal when spinning, and the newly-designed spinning wheels of today make spinning ever so much easier than in the olden days.
Set up the wheel, place the belt in the right groove for a normal setting, set the tension, empty the spool loaded for the spun yarn to wind on, and finally take your seat. Always spin with bare feet or socks. Never wear shoes as they can damage the pedal(s) of your spinning wheel.
With the carded wool (sometimes called batting) or Angora, attach the fleece to the spool and begin spinning. Always make sure the wheel turns clockwise….never the other way.
The batting is placed in the left hand. Pull a bit from the left with the right hand and spin only a little at a time, making sure the diameter stays consistent. Then continue to spin until you have filled two empty spools. After two spools have been filled, it's now time for plying! This is a process where the two spun spools with yarn on them are twisted together to form 2-ply yarn ready for knitting, crocheting or weaving.
Place both strands of yarn together on another empty spool and wind to form 2-ply yarn. When twisting yarn together for plied yarn, always turn the wheel counter-clockwise. After it has been plied, it can be wound into a skein and given a light second wash or wound into a ball.
Finished Product
If you want to give your newly hand-spun yarn an extra wash, place it in a container of warm water with some dish detergent. Dunk several times, let soak for a few minutes, rinse, spin the water out, then hang the skein somewhere to air dry. After being wound into a ball….here is the finished product ready for use!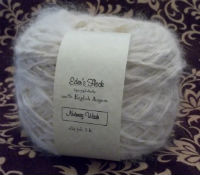 Zinnia's fiber spun into yarn.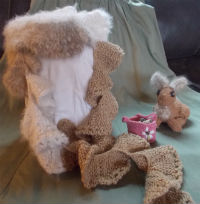 A few knitted products from
Angora yarn.
When I have finished a project like winding yarn into a ball or even shearing sheep, I feel grateful and productive. Once the yarn has gone through the whole process–from sheep or rabbit to yarn or a finished garment or toy–I sell my things at the Wooly Jumper yarn store here in Floyd and also at a toy store in Roanoke next to the Roanoke Co-op.