If you set a chair at the end of Annie Lane and watch the vehicles zoom downhill from the left, you will spot a Gardner car. Bill and Ginny regularly wear down tires between Floyd and their compound a mile and a half on the other side of Willis.
Bill (like Randall) was born in 1942, the first full year of World War II for the United States, and grew up as a farmer near Willis, like Margie Keith. She escaped the drudgery of farm life by going out of state to attend college, then enjoying a career as a first-rate secretary. By contrast, Bill stayed on the dairy farm–once 550 acres, now 238–and also graduated from Roanoke College. A longtime bachelor, he suddenly became a father to three children when, with roots going deeply into Floyd County, he married an educator from the North. Lawyer was not for him, but instead farmer, horseman, and esteemed community servant. Like Miss Keith, by the way, he became an avid reader.
Animals, as they pass through a landscape, leave their tracks behind. Stories are the tracks we leave. Salman Rushdie, Early Life.
E
arly memories of life on a farm in Floyd County are centered on being with my father and paternal grandfather. Examples include being in my father's arms as he plowed with a tractor or did some type of field work; or riding behind my grandfather on his large draft horse, Prince, when he went to the ridge land to check on the cattle and being here on the farm when Grade A dairying began. This latter activity included teaching approximately fifty cows to enter a stanchion barn to be milked—a stanchion being a restraint on the animal's neck that limits its movement.
After years of milking by hand in a shed near my grandparents' house, my father contracted with Arnton Snead to build a fourteen-stanchion dairy barn in preparation for selling Grade A milk. The barn was completed in 1948 and I was there when the first cows were put into the stanchions and milked by machines. I am sure I had a bedtime curfew but I was up quite late that evening. The animals were not very compliant, there was manure everywhere, and I am sure for the first several milking times they withheld a lot of milk.
When I was born my older sister, Cora Ann, was five years old. Having been an older child for several years, she probably wasn't too happy about a younger brother. It almost seems that I can remember when my younger sister, Catherine, was born. Most likely, I was just told about it since I was only nineteen months old. I know, however, that it was a traumatic time for our family. After Catherine's birth, mother had a severe infection and was hospitalized for six weeks. Relatives or friends took care of us and fortunately, with some early miracle drugs, mother not only pulled through but lived until she was ninety-two.
Mother's parents, also Gardners, lived on a large farm in Carroll County [adjacent to Floyd County, its capital Hillsville]. Two of her brothers were active in the operation. My maternal grandfather, also a farmer, had a stroke in the 1940s and I remember him only as being bedfast. Grandmother Gardner was a marvelous cook and often, after church, we would drive to Hillsville for lunch.
My parents were distantly related. The common ancestor, James Gardner, a Revolutionary War veteran, was my great-great grandfather on one side of the family and my great-grandfather on the other. I used to tell my students this story when I taught history. One day a student said to me, "Mr. Gardner, does that make you illegitimate?"
My paternal grandmother's father, William Marion Shelor, was a Civil War veteran. He had been a part of Stuart's Horse Artillery and was one of 150 men under captain John Pelham's command. At the end of the war there were only thirty-five of the men living. Great-Grandfather Shelor was at Manassas, Cold Harbor, Sharpsburg, Gettysburg, and Chancellorsville. According to my great-aunt, Susan Jefferson Shelor, in her book Pioneers and their Coats of Arms of Floyd County, Virginia, my great-grandfather was home only one time on an eight-day furlough in four years.
I have memories of my grandmother talking about her father's experience in the Civil War. She also talked of her family reading aloud Surry of Eagle's Nest, by John Esten Cook. This volume, written just after the Civil War, gives a somewhat romanticized portrait of the war and concludes with a description of Stonewall Jackson's death at Chancellorsville.
My grandmother, the youngest of several children, was born in 1880, just fifteen years after the conclusion of the war.
One set of grandparents lived next door and the other in Hillsville. Since they were all Gardners, we would distinguish them by saying we were going to visit grandparents either "up" or grandparents "over."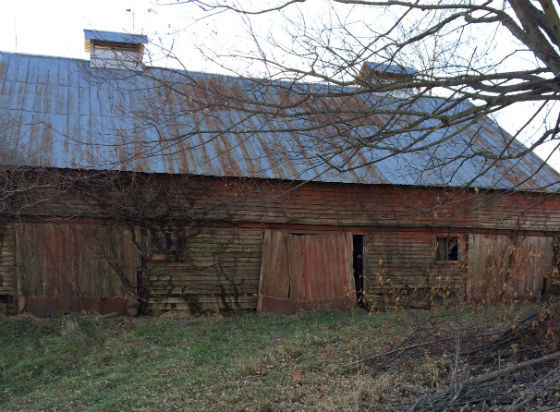 My father had four sisters and one half-brother. Mother was the youngest of seven children: one sister (the oldest in the family), and five brothers in between. Aunts from both sides of the family were memorable and surely had much to do with shaping my life. Aunt Samaria, Mother's sister, taught school in Carroll County for forty-seven years, mostly fifth grade. She and Uncle Cabell did not have children, so often they became surrogate parents to me and my siblings. Always the elder sister, Aunt Samaria, tried to stay involved in her siblings' lives. I am sure that is why my mother chose to live in Floyd County.
Next door lived Aunts Mabel and Linnie with my paternal grandparents. As a child I spent a lot of time with them. Neither married. Aunt Linnie never worked but Aunt Mabel taught school, mostly fourth grade, for forty-four years. My grandmother died in 1974 at ninety-four and Aunt Linnie died in 1983. After that time we often took Aunt Mabel for drives or out to eat. She was noted for asking questions, many with no known answers. For example, driving through the countryside she might ask why someone did not have a garden or why he or she had painted the roof red. Still today when someone asks a question that probably does not have a ready answer, we call that an "Aunt Mabel question."
Socially, many of the activities with Mother and Daddy revolved around the Willis Methodist Church. There were several children who belonged, and Sunday School was very important to us. The teachers there, as well as my parents, certainly played an enormous role in shaping my life.
A commitment to help others was ingrained in me by my parents at an early age. Growing up in the 1940s and '50s, there was a deep sense of community and of neighbors helping neighbors. Everyone had struggled through the Great Depression followed by the dark years of World War II. In the midst of these years, however, they had come together to build schools, churches, and the infrastructure of the community that we still enjoy.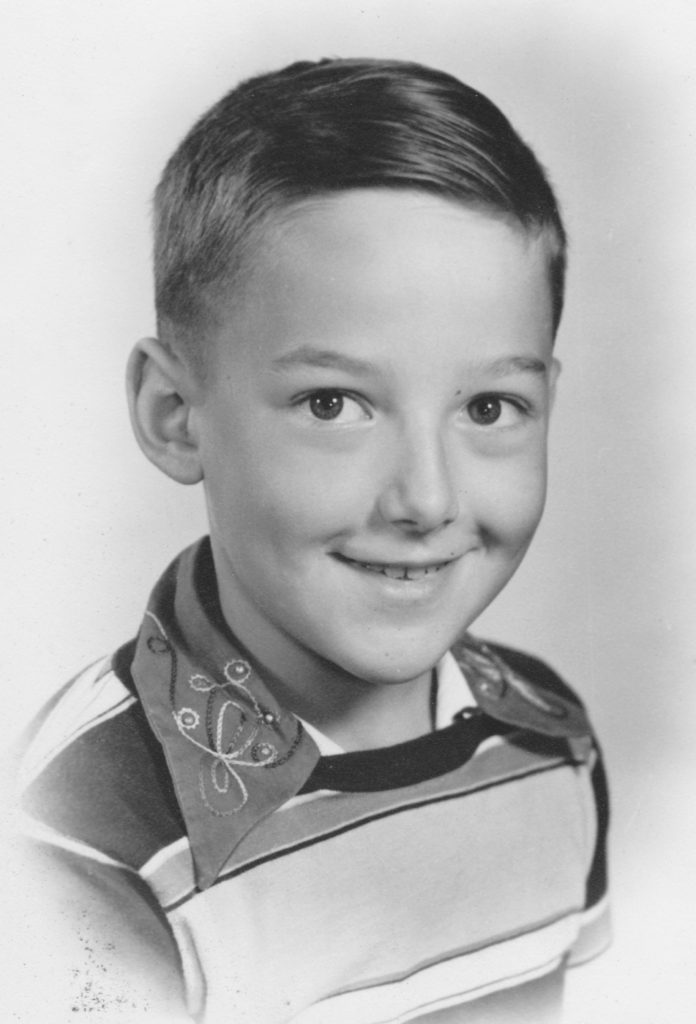 W
ith a November birthday and the cutoff date of October 1 for enrollment in school, I was almost seven when I started first grade in the fall of 1948. (It would be almost another twenty-five years before Floyd County had compulsory kindergarten.) Elementary school was enjoyable but pretty uneventful. I had mostly good teachers, many of whom were either neighbors or close friends of my parents; thus, it was difficult to get away with anything.
Looking back on high school in the mid- to late-1950s (Eisenhower administration), it seems like an idyllic period. Willis High School was quite small with limited academic offerings. There were three high schools in Floyd County during those years. Mother started teaching in 1934, took a break to have a family, and began teaching again when I was in fifth grade. She continued to teach at Willis and later at the consolidated Floyd County High School until 1972.
I skipped the junior year of high school and graduated with the minimum of sixteen credits. Actually this was Mother's idea–there would now be two years between my sister and me in college and the financial burden was slightly eased.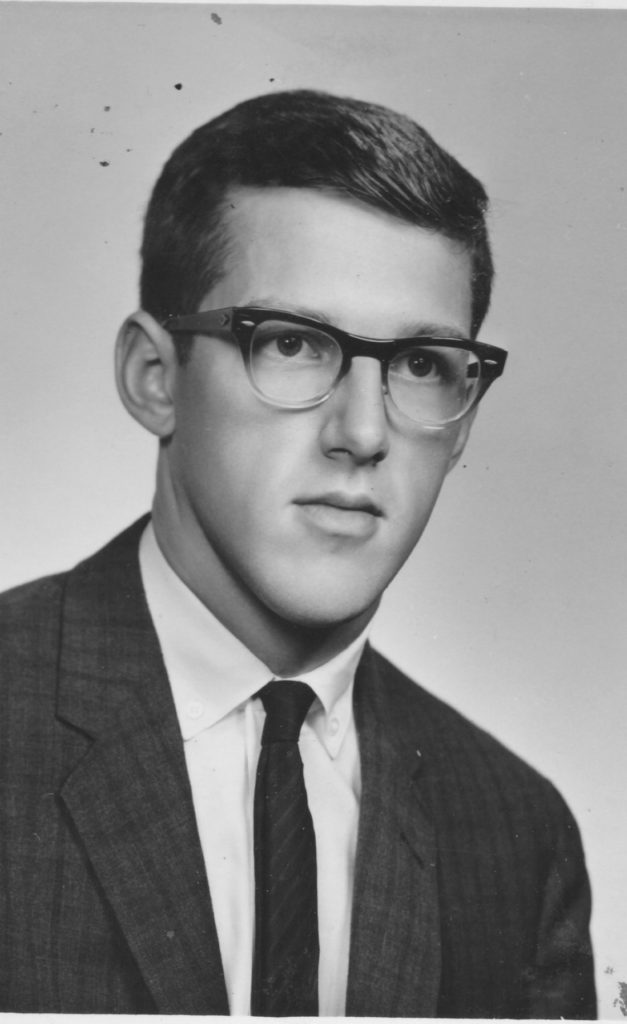 In high school I had excellent English teachers who emphasized written expression. Otherwise, I was somewhat ill-prepared to enter Roanoke College, a small liberal arts institution. It was, however, the perfect environment for me. For the most part, I had great instructors who prepared me for the next phases of my life.
With a degree in political science I headed to the T.C. Williams School of Law at the University of Richmond. Maybe I was just tired of school or decided the law was not for me because I did not complete a full semester. The remainder of 1964-65 I helped with the farm, substitute-taught in Floyd County schools, and was examined and rejected for the draft.
I
n the 1960s one could teach and then work toward certification with just an undergraduate degree, so I was able to get a job teaching sixth grade at Indian Valley Elementary. To say the least, my first year in education, my self-contained sixth grade class was challenging. I clashed with the principal many times because I did not see him as a child advocate and felt his methodology in dealing with children was totally archaic. I did survive the year and then moved on to teach seventh grade social studies at Galax Elementary in Galax, Virginia.
In 1965 I started to take classes toward a teaching endorsement at Radford College, now University. While doing so, it made sense to work on my master's degree—in public school administration and history—which I completed in the summer of 1966. I then taught history and government at Galax High School until the fall of 1972. The interaction with students, their parents, and colleagues was invaluable to me and certainly helped my administrative career later on.
Living on the land and farming has been a vital part of my work experience. Although Daddy was a full-time dairy farmer and, as long as we were dairying we always had help on the farm, I still had many responsibilities. Most days in all seasons but winter I got up at 4:30 a.m., saddled a horse, and rode out in the dark to bring in the cows for milking. To start the milking and to feed the calves were often morning and evening chores. My father died in 1981, but Mother and I kept the dairy going until 1996. I was six years old when we started a Grade A dairy in 1948, but after forty-eight years it was time to quit and do less intensive farming.
Daddy grew up with draft horses. His father never wanted any animal that wouldn't work, so Daddy never had a riding horse. As soon as I was old enough to ride, we had various saddle horses. Employed to drive the cattle, they became useful both for pleasure and work. It has been said, "The outside of a horse is good for the inside of a man." I know that after a long day in the classroom, I could put school out of mind once I got on a horse.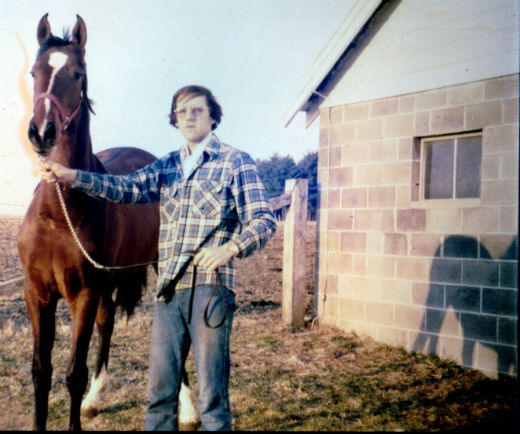 Mother had a lot of trepidation about the horses but, once we started showing them, she essentially decided, "If you can't fight 'em, join 'em." She came to enjoy the shows, braiding manes and tails and making friends along the way. We either showed American Saddlebreds on our own or had them shown by a trainer, all under the banner of WRG Farms.
Back to my day job. In 1972 I left the classroom and took an administrative position with Floyd County Schools. In the town of Floyd, a small-school division with currently about 2,000 students requires many administrative duties. I was first the Title I Coordinator (Reading), to which was added Visiting Teacher/School Social Worker. In the early 1980s I also became Director of Special Education, a position that took the bulk of my time.
It has been a privilege over the past forty years of my nearly fifty years in public education to work with and try to design services for some of the most at-risk students and their families. At a time when there are more services available than ever, it seems the need for more now greater than ever. It is usually very gratifying to sit around a table with a group of other professionals and come up with strategies to help a student be more successful in school. As director of special education and as a member of multi-disciplinary teams, I have tried to see that, if needed, students received a full continuum of services. By teaming with psychologists, teachers, and parents, one can make a difference in a child's life.
A
fter a very short illness, my father died in 1981 at sixty-seven. He had put in long hours each day in order to make the farm successful and to earn an income that would allow my sisters and me to have a good education. He also found time to serve as president of Citizens Telephone Cooperative and to be active in the Willis United Methodist Church.
On Christmas Eve, 1984, Mother and I received a call reporting that Catherine had been killed in a vehicle accident in Carroll County. She was forty years old and the mother of a sixteen-year-old daughter and a twelve-year-old son. Her husband was severely injured in the wreck but survived after a long hospitalization. The person who hit their vehicle registered four times over the legal limit for blood alcohol content; both he and his nephew died in the collision.
This loss had a profound effect on our family; however, our responsibility was to take care of the living. Mother and I tried to always be available for Catherine Ross and Matthew, my niece and nephew, as they dealt with the loss of their mother. Catherine was a beautiful person, a wonderful mother, and a gifted teacher.
I
n 1987, after a courtship of three years, I married Ginny, the love of my life. A teacher in Floyd County, she was originally from New Jersey, had attended college in Virginia, and was the mother of three children: Rich (seventeen), Michael (fifteen), and Susan (nine). My mother at that time was seventy-eight and unable to live alone, so we added on to the farmhouse and blended families.
After thirty years of marriage, I could not have been more fortunate. Richie graduated from James Madison University, works for a resort in Phoenix, and is the father of Max. Michael graduated from West Point and served with the Army Corps of Engineers in Bosnia. Employed by Corning, he is married and the father of three children, Justin, Katie, and Matthew. Susan graduated from the United States Air Force Academy, then served in the Air Force for several years flying C-17s in and out of Iraq and Afghanistan. Now married and the mother of two daughters, Harper and Millie, she flies commercially for Southwest Airlines.
I
n a rural community there are so many ways to serve both our county and region. All of these activities have been at least as educational as my formal education. I have also been fortunate to have a family that understood the value of community involvement. A particularly valuable learning experience was my representation of Floyd County on the New River Valley Community Services Board (1975-85) with a term or two as chairman. This board, at that time in its infancy, developed the mental health services for the New River Valley. In addition to all the committees related to the school system, I have been a part of New River Community Action, Floyd County and New River Planning Commissions, and the regional library board.
The Zion Lutheran Church community has been a most important part of my life. Not only for the spiritual and leadership opportunities but also for Zion's philosophy of social outreach. In addition, for twenty years I served on the board of directors of the Bank of Floyd. Lastly, I was privileged to serve one four-year term as a member of the Floyd County Board of Supervisors, but I decided that realm of politics was not for me.
I
n 2006, after forty-one years, I retired from full-time employment in public education. I decided that at that point in my life I would volunteer more time to help people most in need. Also I have continued some part-time employment with the school system as the Visiting Teacher/School Social Worker. These activities have been very fulfilling to me and I hope beneficial to others.
Ginny and I have had a chance to travel both domestically and internationally. We enjoy visiting children and grandchildren scattered over the United States. We value living on the land in beautiful Floyd County and taking advantaged of all that Floyd and the surrounding areas have to offer.