Turning off Rt. 221 onto Cannady School Road SE, I drove downhill and around a curve–and heard my own intake of breath. Pasture grass on the hill ahead leaned intermittently to the right, saltless waves being blown toward shore, as a cloud pulled afternoon sunshine up the slope. I quickly found a roadside weed-patch, pulled off, scrambled, out and took a video (see Chapter 32). In dry calendar terms, it was Friday, May 26, 2017. I then drove almost two curlicue miles to the old Cannady School. On a driveway opposite, a few bumps across a cattle guard led to stretch of graveled ruts that divided the trees and fields for so long that I was afraid I'd run out of County. But there stood the house of David Allen (b. 1946).
Later emailed supplements to the interview appear within [ ].
The gate neatly shut itself by means of a heavy item attached to a rope. David met me on the porch and with his wife Kazuko invited me to sit at the kitchen table. Born and raised in Tokyo, she moved to the future city Arcosanti in Arizona at the age of twenty-six with the dream of becoming a hippie. She started to operate a tutoring center for Math and Reading in North Carolina, 1989, when she needed more income to raise three daughters than she enjoyed as a hand-weaver. At some period she lived in where else but Finland, and in 2012 she landed at Floyd. Here she has helped revive the weaving loom in the Old Church Gallery.
Sitting next to Kazuko's hand-made loom, I asked David about Hanatuskee. This was a project to teach people the old ways of farming—which he had learned on his parents' 300+ acre piece of land (more than half a square mile). It included a stretch of the upper Little River, a big white rock, and a good swimming hole. The endeavor lasted from the late 1970s through the early '80s and drew many young back-to-the landers, often called hippies, who worked for room and board.
[How did the name "Hanatuskee" come about?
It was a word my mother found or made up from Native American languages meaning "land of many nuts"—referring to this area—walnuts, hickory nuts, chestnuts, hazel nuts, chinquapins, etc., that were a source of food the Native Americans took advantage of. She came up with the word as a name for members of my father's herd of pedigreed black Angus cattle he was developing for a while. It never got used for that purpose. I kept the name for our community because I liked it and because it had a nice double meaning applying to both the trees and the people here, me included.]
How did his idea come about? He taught at St. Anne's-Belfield in Charlottesville (private college-prep). In spring it would sponsor a three-week session for some kind of extramural challenge. One year Outward Bound did something, but the school declined to repeat it. "I had been doing caving and camping with the students," remembered Dave. So I said "OK, I'll do something up here." We stayed in the old school building, hiked, caved in Blacksburg, did orienteering. You would eat a normal breakfast, not eat for twenty-four, stay by yourself for thirty-six, end up building a shelter and spending the night.
Dave sponsored this adventure for four years. "It was successful. Does the kids an enormous amount of good. City kids." But in 1975 or '76 he was getting restless at St Anne's. His family had this abundant acreage where they could even hike off the place onto neighboring property—"something that you can no longer do because of new people. I thought of a school. This place was so nice—put it to good use. A school that was pretty much academic—but you would also work there, raise food on a farm." He wanted to really educate the students—especially on the subject of domesticated animals. But he had no money, so the vision ended.
As stage two, Dave set it up as a farm with the intention of developing the school later. [The building had been constructed in 1915 as a Presbyterian mission school.–Barbara Triplett.**]
["The incorporation into a non-profit, tax-exempt entity was a long process involving a couple of different lawyers, and some stopping and going, and I don't remember a date when it was complete. It was probably around 1979 or '80." An article by Trudy Willis in the Roanoke Times, May 27, 1979, declared, "Life on this farm is slow and hard and…but it's worth it."] Photo below:
He began to advertise: in Mother Earth News, Farmstead Magazine, and Real Times:
The poster below was sent to acquaintances in colleges and led to the best results: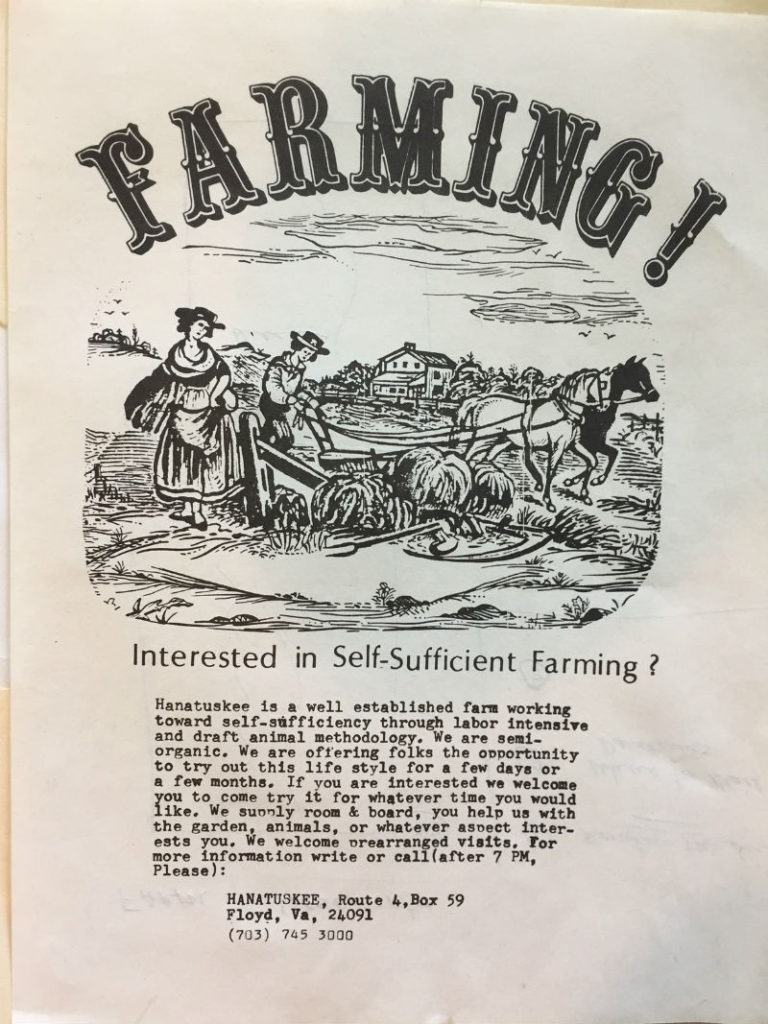 At first a lot of the students came from St Anne's. [Most apprentices lived on the top floor, the attic.] People could stay as long as they wanted and leave when they were ready. Some stayed a whole summer. Our shortest record was a couple of hours. A lady came, I showed her around, We were weeding a strawberry patch. 'What will we do when we finish this?' she asked. A fellow replied, 'We will finish this and start over.' We looked around and she wasn't there."
Dave didn't want them to do drugs, even marijuana, but once a pot plant grew beside the house. He didn't approve of skinny-dipping in the river, but his principle seemed to be: as long as you don't cause problems. "We worked hard. I wanted to show them a little bit about how farming was—and still is. I pretty much led by example and expected effort. Most stepped up; a few didn't." I confessed that my own farming days had lasted four hours at a CSA. We shared one of our laughs at my pledge: "No matter how grueling the work, I'll write about it."
What about the objectives of the farm? Equipment? Jobs? Hanatuskee had mules most of the time. "I got started with one horse, 'Doc," but traded him and bought three mules." Students would mow hay and stack it. The place had a big garden—several acres. It was plowed by mules. Lettuce, squash, beets, carrots. beans (snap), corn, melons…. They took a lot of the produce to the Farmers' Market in Blacksburg, which was new; also wholesaled some to the Roanoke farmers' market. At that point the outfit had a truck—a van had been the first vehicle.
The apprentices also raised sorghum cane in a big field, using a tractor-driven cane press. [The process was hard: plant it, thin it, weed it, strip it, cut it, bundle the canes and squeeze the juice out of it. The juice went into a long, shallow pan with a fire built underneath it. In the heat of September, it was not fun to stoke a log fire, stir the pot, and skim off the foam. The job of boiling it down was long.]
Dave's memories provide more details:
You had to strip leaves off before frost wrecks the stems. Then you cut the stems. I had a cane mill, a set of rollers. One set one crushes the stem, second presses the juice out. The juice is strained through a cloth sack then poured in the pan. I borrowed a tractor to operate the mill (i.e., with its engine). My pan held 80 gallons. It turned out about twelve or more gallons of molasses. The fluid was sort of translucent green from all the plant bits in it; so as it boils, skim that off. Manage the fire and skim. Not bitter like molasses bought in store.
The workers would make another sellable product—if they got the right harvest from Wolf River Apples, owned by Dave's mother. "When they hit good." said Dave, "apple butter. Have to use copper kettle—iron makes it black. Need a big round kettle, a big stirrer made at an angle so you can stand outside the smoke. Must stir all the time."
The farm raised pigs. You tried to arrange it so that all the sows (the farm had four to six depending on the year) have piglets at same time. In a trough the workers cut off the tails and also castrated the male pigs—"a noisy job." When the animals reached eight months, they were taken to a feeder-pig market (the nearest one in Farmville,VA) to be graded.The dealers sprayed them with marks of different colors to signify quality—silver, blue, red—before the animals were sold in bulk. Then they were raised to 140 pounds or so. "Pigs were the only thing that made money," recalls Dave. "The dairy didn't—it was marginal. Inflation was enormous in the early eighties yet the price of milk didn't go up."
Trips would be made to Elliston for cow feed at Big Spring Mill, a welcome outing. The milking and feeding had be done every day but Sundays were more relaxed. I remember that there were softball games at Riverflow that were pretty well attended by people at Hanatuskee. People enjoyed trips to the organic store in Roanoke, where they could get stuff in bulk—mainly flour, honey for the cooks. "They tended to eschew sugar but would upend the honey jug into the dough—so their bread tasted like cake."
Those who could cook would take turns, others would milk cows. Hanatuskee had mechanized, milkers with stanchions, milking machines. The milk was Grade C—for ice cream and cheese. There was a Grade A barn Dave's father had built, but the cost was too high to upgrade it and get a license.
"One guy built a horse trailer on a car axle. Handy. He was used to pine, but we were doing stuff with old locust posts." Another detail about wood: "Someone over on the Pike had a building he wanted to get rid of, so he let us tear it down for the materials." [Despite the heat, the greenhorns had to wear gloves to pull nails from oak boards and then deal with the lumber.] "In winter," recalls Dave, "we still had to do all the farming. Built fences, five or six pens for pigs, a corn crib. We found out that we could work as long as it was above 20 degrees." The farm heated by wood, so there was lots of cutting.
The schoolhouse was full, close to thirty. During the winters the number dwindled to pretty much a skeleton crew. "For the most part we had really nice people." But the most challenging domestic animals walked on two legs. One lady was the cook for a night. Because some apprentices were vegetarians and some would eat anything, she fried two cut- up chickens and pointed at one: "This is for vegetarians, it's cooked in vegetable oil."
One guy looked a lot like Radar on Mash. His glasses were big and strong, but he declared that he was going to train himself not to need them. "I shared my doubts. Next morning as I was spreading fertilizer, he followed me: 'You've got to say it's at least possible!' Almost crying. After he left, he wrote a letter promising that 'God will punish you.'" Another fellow had his own notion about planting corn seed: "Why don't we just (Dave made a[scattering motion)?" Dave came down on him. "Look around—you have two weeks' experience; these local farmers have been here fifty years." A few people he had to throw out but the problem usually took care of itself by a timely departure. Usually it was a case of a parent with kids, who were "a drag on the resources." One guy was a great cook. But once established, he shared some news: "I have this girl friend, who has kids, and they want to live in the woods." No deal.
"I became disillusioned with the hippy movement." One example. "A woman came through and one of the other women got her to go to the doctor, who diagnosed a bad case of gonorrhea. But she wouldn't take treatment and left." Another person didn't keep a bargain and left Dave with a contingent of St. Anne's students with inadequate supervision. "The hippies would do all these ridiculous things and just say 'I'm sorry."'
Hanatuskee lasted from 1976 to 1983. By the end of that time Dave was $50,000 in debt. Even before the school closed he was "working out" in Roanoke (i.e., on a second job off the farm).
[Sometime in '82 – '83 we ("we" refers to me and the Board of Directors, required by the incorporation process) decided to try to get off the ground by running a summer program involving outdoors stuff and math and computer things. We wrangled around with housing and even putting kids in tents it would have cost ~ $200,000 to get sanitary facilities that the health authorities would approve. That was the number that pushed us over the edge to folding up. By then I was teaching in Roanoke at National Business College for extra income. I had a couple of folks managing the farm, and we hired a part- time person to do the leg work in trying to set up the summer program. She essentially found out that it was going to cost that much, and we simply didn't have access to that sort of money. I realized that I wasn't a fund raiser.]
Dave had learned to fly in Charlottesville, where he studied at the Univ. of Virginia. He now bought airplanes and leased them; in those days you could depreciate the cost of private airplanes—sums that could be deducted from your taxes.
His dream of a school then took on an ironic twist. For he returned to academic life—but again as a student. At the Univ. of Virginia he earned a master's degree in physics. Then he moved to UNC-Charlotte, where he managed a laboratory and taught Astronomy, Introduction to Physics, and one course in Nuclear Physics. "I left Charlotte because of the traffic and city life, and returned to Floyd." From there he sent a resume to Virginia Tech; when VMI suddenly needed a teacher, Tech sent that school his resume and he got the job: "I'd go up to Lexington, VA, during the week for seven or eight years before I retired."
Dave looked back at the whole era of back-to-the-land. "Floyd County for some reason handled it very well":
There was a neighbor we did shares with. We also helped Frank whenever he needed extra help, and he helped us a lot—hauling, showing us how to do things, etc. His family just watched it with amusement. The new people still had to act civilized, but the older ones didn't come to it with prejudgment, hostility.
The nut trees remained but the people eventually departed."Were trying to build a food processing structure when I quit. We did get as far as setting up a nonprofit tax exempt corporation, Hanatuskee Inc. And we did get the Architecture Department at Tech to produce some preliminary drawings for the school as a class project. But no successful fund raising, alas."
* For a photo of (1) the school before it closed in 1938 and (2) students of the Harris Cannaday School, sitting in a tent before the building was completed in 1915, see Images of America: Floyd County: Floyd County Historical Society, Inc., 2012, p. 54.
**Thanks go to Ms. Barbara Triplett (b. 1951) of Floyd County, whose contributions appear in italics within square brackets. Born in Bristol, England, she grew up in Orange County (Southern California) less then ten miles from Disneyland. After graduating from Santa Ana College with a degree in Early Childhood Education, she taught pre-school at El Modina Head Start. In 1977 she married Eddy Triplett, a carpenter at that time who was already living at Hanatuskee. They packed her belongings in his van, towed her 1969 VW bug, and drove across the U.S. to live and work at Hanatuskee.