Lucille Thomas Nolen was born in 1922 and raised near Haycock Mt. 1¼ mile from Blue Ridge Parkway on Haycock Rd. SE. Her husband was Edd Nolen, whose story Floydiana is privileged to share with the world in Chapter 19, "Two Brothers, One Pair of Hands." In the present chapter Lucillle will take you on a memory stroll along the streets of town going back to the late 1930s and 1940s.*
The village once had narrow, tree-lined roads, and many of the buildings have changed, too, either being remodeled or replaced. Like most anything, a place can often be understood better by by looking at it not as a static entity but as a process. Downtown Floyd, not a one-time-and-forever black-and-white photo, resembles a slow-motion movie. It has changed decade by decade, even year by year, declining from a center for essentials to become a marginal relic, then reviving as a somewhat gentrified, mixed-usage area with enterprises basic, touristic, and recreational. It even has a community market, a parking lot, and even public bathrooms. It still features residences, but they are house trailers and a new set of apartments. The Country Store has replaced flour with flatfoot. Originally the downtown was a center for farmers and travelers who could get equipment, farm supplies, staples of food and clothing, financial and legal services (as from J.L. Tompkins), and a night's sleep. As time went on and transportation became easier, the downtown yielded much of its practical importance to other communities. The only horses became a plastic ones at El Charro (the Cowboy), a Mexican restaurant.
The hospital closed. A church became a hall. Other institutions of public note moved to more spacious quarters near the edge of town: the post office, telephone company, newspaper office, and school. At the margin, a couple of "Dollar" stores and other chains also operate, as does one locally-owned grocery store; but no mall or big-box has sapped the economy or local character of the downtown, although the parking lot of the nearby Food Lion grocery store is regularly full. No more butcher shop, but now a part-time chapel of yeast known as a bakery; no old-time hotels but a new one that is environmentally and locally responsive. Although the former meadow that the Food Lion occupies is paved, a grassy civic park now adorns S. Locust St. At The Stoplight, the Courthouse and hardware still anchor two corners.
At various times the downtown included industry–a small flour mill and a sewing factory, along with their dependent eateries. Positives and negatives: the movie theater has closed but the town has built and expanded a library; gasoline pumps have moved out of the center, but public transportation has disappeared. Although most of the businesses were of local origin, some belonged to chains: e.g., Ben Franklin, Ford, and General Motors. Two local banks still operate a short walk from The Stoplight.
Judy N. Hylton (b. 1954) did the documentary research for this compilation and supplemented it by interviews with her mother and by her own memories. R. Wells edited the several drafts. The Nolen-Hylton-Wells team thanks the Floyd Press and the Floyd County Historical Society for the use of images. Judy Hylton owns this document. A walking-tour pamphlet that covers forty-five places, "Floyd Historic Walking Tour: A Virginia Crossroads Town," is available at the Floyd County Historical Society, Museum, 217 N. Locust St. For photographs of numerous buildings discussed below, see Floyd County: Images of America. Floyd County Historical Society, Inc. Charleston, SC: Arcadia, 2012.
Let's start at traffic light and walk toward Christiansburg on the west side of N. Locust St./Rt. 8.
(1) Brame Hotel.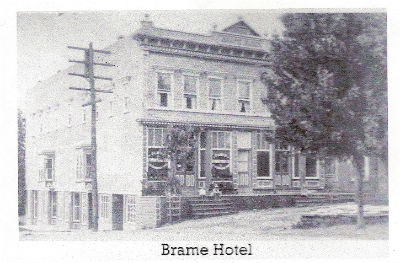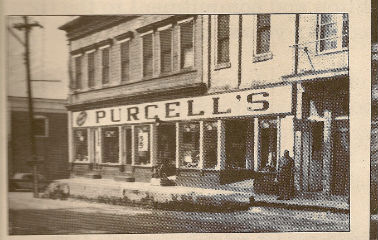 This building, constructed in 1904 by Samuel R. Brame, housed a variety of businesses before it was torn down in 1965. At street level was a big lobby and behind it a small room to which an eye doctor, Dr. J. Harry Martin, came a day or so a month. (Wednesdays, according to an ad in the Floyd Press,
1948 and 1953.) This is where Lucille's Mother, Alma Thomas, would get her eyeglasses. In 1948 an advertisement in the Press offered rooms for $2.00: they had hot and cold running water, private baths, gas lights and hot-water radiators. For 50 cents more, a guest's horse would be stabled, watered and fed out back. In 1945 a dining room, opening under the new management of A.H. Yeatts, advertised a Chicken Dinner Specialty. Also occupying the building was the Floyd Telephone Company, established 1903, with its switchboard.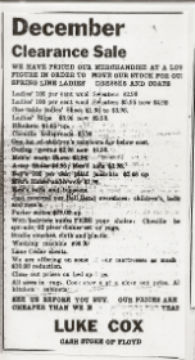 At one time or another shoppers could find a jewelry shop run by Marvin Owens; Purcell's Department Store; and, on the lower level, People's Bank and Namon or Naaman Brammer. He opened his first meat shop, then after he moved his business to the Howard Building, Waitman Slaughter started selling hot dogs and then groceries. (He was the founder of Slaughters' Supermarket on Rt. 221). Luke Cox operated a ladies' and men's clothing store on the main floor and sold furniture in the basement. Here Lucille purchased the couch that still rests in her own basement. Several years later Vera Griffin re-covered its green tweed in brown vinyl, and in the Nolen house on Thomas Farm Road SE, this couch would fold out into a bed for her children, Curtis and Kenneth.
The vacant lot was purchased by Marshall Conner, who built a fruit stand; when people starting complaining that it looked like a cattle shed, he just named it the Cattle Shed. Mr. Spangler and Mr. Elwanger were the next owners but did not put in a business. Then Wesley and Diana Wimmer purchased the property. After Wesley remodeled it, replacing the large overhead doors with the present-day sliding ones, they opened Wimmer Real Estate, Inc. in 1982. After Mr. Wimmer's death in 1997 the property was rented to Darlene Hylton, who operated Hylton Real Estate, Inc., until 2005. [There R. and M. Wells had the pleasure of meeting Judy Hylton thanks to the ad for land in the Floyd Press. Darlene was a pioneer as a female real estate agent.] At that time the property was rented to Dee's Country Places until April 2011. Currently it is owned by Diana Wimmer and rented to Thompson Real Estate.
(2) Howard Building, adjacent to the hotel, perhaps erected around 1907–one of three contiguous buildings that still stand. A number of businesses have used it, the present one being Oddfellas Cantina (110 N. Locust St.). The first exterior door of this building led to the second floor and to Floyd Beauty Shop, owned by Ruth Howell. Once when work was slow at the factory, Lucille helped out there by washing hair and doing other tasks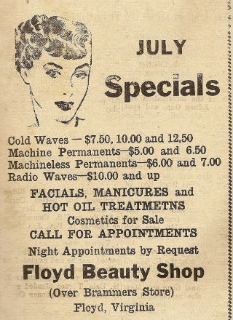 . Later the Masonic Lodge occupied the upper level. [For a photo of the repurposed room 2015, see Chapter 40.] On the main level, one of the first businesses was Howard's law office. A millinery operated by Clay Shelton was located in this building.
W. A. Compton then operated a grocery and dry-goods store that also sold school books and supplies until 1939. Lucille remembers going to this building and purchasing her school books if you didn't find them second-hand. The building was then occupied by Brammer Meat Market.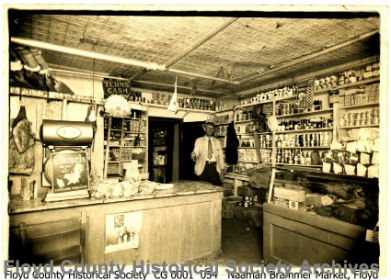 This was a popular business, for Namon would kill his own beef and cut it for desirable packages. He sold steak in a bucket, called "Bucket Steak," an item that wasn't always available. Sometimes his wife would ask Lucille for a ride home from the shop and she would tell her when the bucket steak was in and also the soup bone. Edd liked for her to cook the soup bone and let it make a broth to use over biscuits. The Brammers lived in the large white farmhouse across from the rock quarry on Shooting Creek Rd. (presently R. & S. Stone). After Namon retired, this building was purchased by the Masons and then became Moses Restaurant, July 2, 1955, operated by Mr. & Mrs. Roy Moses. It was well known until the 1970's, after which was an upholstery shop, Shortt's Fittness Center, a bakery, a series of restaurants and then Oddfellas Cantina.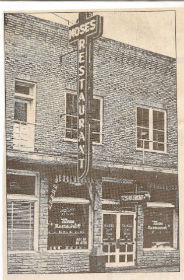 (3) Floyd Cafe The building next in line, currently Bell Gallery at 112 N. Locust, was an important business,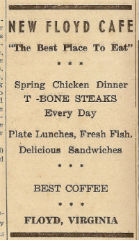 for this is where Lucille first saw her future husband. One day when she and Anna Allen went there for lunch from the factory, Edd was in there with Morris Nolen and Fred Turner. They knew Anna and the guys talked to her and as they left. Lucille ask her who that guy was. Even through it was some time later before they met up again, they had caught each other's eye that first day. After the Café closed, Wesley Wimmer purchased the building and rented it to a few different businesses over the years. The first was a Fashion Boutique, then a paint store for a short time, and Rite Print Shoppe for several years with residential apartments on the upper level.
(4) Mrs. Radcliffe Ladies' Shop, first building on the right in the photograph below, where Lucille shopped occasionally for a dress. When the shop closed it became Thompson Drug Store and a small sandwich counter. It was re-named Floyd Pharmacy by its owner, C. W. Thompson. In later years it was divided into two businesses. On one side was a jewelry store, locally owned by Paul Webb, and upon his retirement the chain-owned Lemons Jewelry (now Back Porch Studio); the other part of the building was Nationwide Insurance, owned and operated by Jack Kitts. Edd and Lucille had their car insurance with Jack for many years. Currently Davis Nationwide Insurance.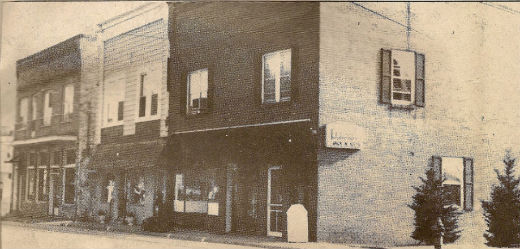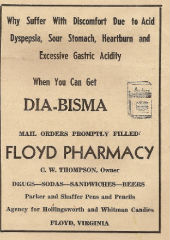 (5) House owned by Abe DeHart, became the law office of Warren G. Lineberry, now the Lineberry Building. It now holds a print shop and other businesses (126 N. Locust St.).
(6) J.P. Morgan house. Mr. Morgan ran People's Bank. The Pursifull Dentist Office occupied it a few years ago
(7) The Kingrea House, with its distinctive round-foyer entrance. Mrs. Kingrea was a well-liked school teacher. She and Everett were the parents of Charles Kingrea, who owned and operated State Farm Insurance Office in Floyd.
(8) Dr. F. Clyde Bedsaul's residence with his private practice in the lower level. Lucille and Edd went there for their blood test to be married. Dr. Bedsaul told Edd, "You better be good to this little girl because I know her." In later years Lucille took her children to Dr. Bedsaul for childhood illnesses and also went there herself to receive shots for headaches. He was a well-known physician in Floyd County for many years. Currently the building serves as the residence of John and Connie Mitchell.
(9) The Floyd School, now School House Fabrics, where students attended for their high school years after finishing elementary grades. There were many one-room schools out in the country and students walked to the building closest to their house. Those schools went only through seventh grade, so afterward the students would go to the Floyd School. Because they had to provide their own transportation, several pupils from the neighborhood would ride together. Elementary grades occupied the lower level and high school grades the upper. [Mrs. Nolen never heard of home schooling—R.W.] Lucille attended her eighth grade year there, 1937-1938. Also three of her children–Joyce, Curtis and Kenneth–went there for their elementary years, Joyce and Curtis for part of their high school years until the new Floyd School opened (in what is now Floyd Elementary School building). At this converted school Lucille has purchased many yards of material.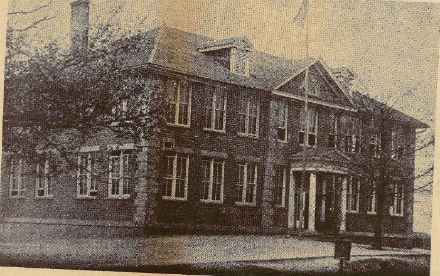 Crossing the street to directly opposite School House Fabrics.
(10) Large brick house, home of Dr. Silas T. Yeatts, who owned a medical practice next door at the Ridgemont Hospital until 1949. After that time his office was in the basement of this house until he retired. This is where Lucille went as five-year-old to get her knee stitched up after playing with a hatchet. Currently it is the residence of Kevin and Linda Wiseman, the previous owners being Linda's grandparents, Mr. & Mrs. Murphy Thompson.
(11) Ridgemont Hospital, now the Floyd County Historical Society Museum (217 N. Locust St.).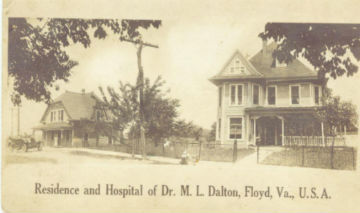 (12) Victorian-style house, then Dr. Dalton's residence, no longer standing. When Lucille attended school, the superintendent, Ike Epperly, lived here. She recalls that he would visit the one/two room schools out in the country. Occupying the site is now Carter Bank & Trust (213 N. Locust St.).
(13) Small white house, formerly the residence of Evelyn Rutrough, who worked at the Post Office for many years.
At the Intersection of N. Locust and Oxford St. a left turn introduces a brief detour.
(14) Currently Gardner Funeral Home. In the late 30s, as Lucille remembers, Pete Dickerson, owner of the mill in town, also owned this house and rented rooms upstairs. Lucille's friends, Nadine Smith and Ercel Pauley rented a room and she recalls spending the night with Nadine there after working at the factory [J. Freezer & Son, Inc., Chapters 24 and 25].
Back to N. Locust a short walk next to the courthouse leads to The Stoplight. Then a walk across N. Locust leads to the imaginary Brame Hotel. A leftward turn across S. Main St. (Rt. 221) leads to:
(15) Local soapstone-brick building, constructed about 1911. The building on the far right in this picture was People's Bank (102 S. Locust St.), which became a Ben Franklin store (general merchandise), then a Super Dollar, and now Blue Ridge Land & Auction Company. Dr. Glen Conduff, the only dentist Lucille remembers in town, had his dental office upstairs, which she climbed as a child. At the end of this building there are still stairs to the upper level.
(16) Floyd Press headquarters, which shared the building with People's Bank. Rooms upstairs housed businesses. At one time silent movies were shown on the second floor. Currently it is the office of James Shortt, Attorney.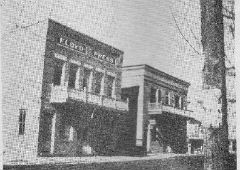 (17) Thelma Lee's Beauty Shop occupied a very small room at the end of the building near the alley at the very end of the Floyd Press building.
Across the alley, the next building, made of wood, presently houses New Mountain Mercantile and Republic of Floyd Emporium. Earlier:
(18) Jim Tice's undertaker business. He also sold caskets and did embalming in the home, where most people kept the body for the visitation.
(19) The W. J. Ayers Store operated here until the late '50s, when the site became Boyd and Dickerson, then Boyd's Store in 1961, with sole owner Wilson Boyd. It was always a general store that carried groceries on one side and, on the other, general merchandise with ladies' and men's clothing. It was known for bib overalls and Red Wing boots, shoes, ladies' wear material, and several dry goods. This is where Lucille purchased her crochet thread at 79 cents a hank–a quantity that would make several large spools–and crocheted her bedspread.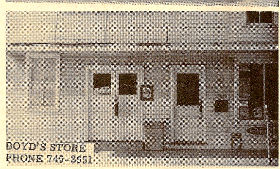 (20) Bowers Garage, now Connie's Beauty Salon.
(21) Robertson Jewelry Store, owned by Hubert Roberson and then by his brother, Calvin Roberson, who was renowned for being able to fix any watch or clock; if he could not find the parts he would make them himself.
(22) Floyd Barber Shop, where scissors and razors continue their work.
.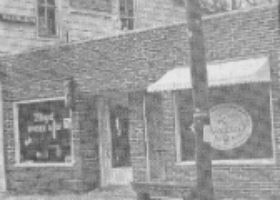 (23) Floyd Country Store. This building has a long history. Hugh Rakes sold Model A cars there through his Ford agency. A hardware store was once owned by The Farmer Supply. Next owners, Homer Spencer and his son Winston, operated a hardware store, carpentry shop, and jewelry store. Lucille recalls that they repaired watches. George and Uriah Ingram [the latter praised in Chapter 50] owned a general merchandise business there for a few months before the store was known as Cox and Agee, owned by Seibert Cox and Moyer Agee. Agee was sole owner before selling to Harvey Conner in 1958, and in 1984 Freeman Cockram became owner. This general store carried groceries, clothes, shoes, and animal feed. And as Conner Store it sold hot dogs and sandwiches that a several workers from the shirt factory bought for lunch.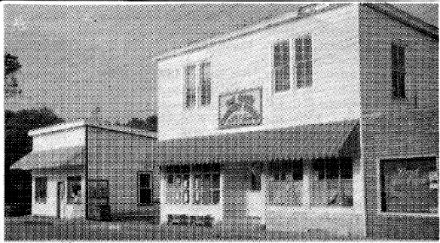 (24) Southern States Floyd Farm Service (small building to the let, currently Angels in the Attic, a second-hand store that operates on behalf of charities). Locally owned, it carried Southern States seeds and supplies, paint, hardware, and feed. A well-liked business during its era, it was last owned and operated by Freeman Cockram. An ad in a 1944 Floyd Press has it as Southern States owned by Jack Yeatts and Hunter Yeatts.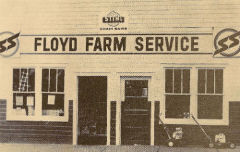 (25) J. Freezer & Son, Inc. This shirt factory opened in 1936 on the south edge of what would become Lineberry Community Park. Lucille turned sixteen on June 5, 1938, and started work there on Monday, June 6. The first three weeks she was paid $3 a week; then she was put on production (i.e., paid by the piece) for 10 or 15 cents an hour. When she retired in 1979 (the business by then known as Skyline Sportswear, Inc.) she was making $5 an hour. The factory burned in a subsequent year. Currently Winter Sun Building, which houses a variety of businesses and a hall with a stage.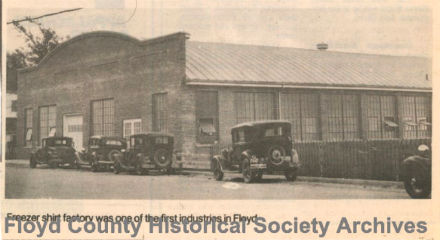 (26) Floyd Hotel, located across from Mayberry Funeral Home up the hill from the shirt factory. The site may have been where the brick house and part of the current gravel parking area stand now. (Factory workers could park on the gravel.) It was a two-story, white-sided building with long front porch.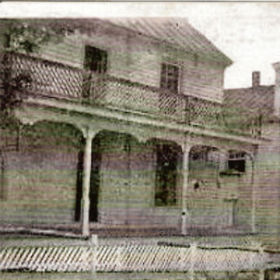 Based on ads in old issues of the Floyd Press, this hotel housed several businesses. In 1940, Mrs. Moses, known as Willie, took it over and quickly made a name for herself as a good cook. Everyone then ate at a huge table and made quick work of "Willie beans," taters, ham, cornbread, and biscuits set out in large bowls, buffet style. According to an ad in 1942, Mr. & Mrs. Roy Moses sought pumpkins and cabbage for the hotel. A 1943 advertisement noted that an eye doctor, Dr. J. Harry Martin, would be at the hotel each Tuesday after the second Monday. (This was the same optometrist that set up at the Brame Hotel.)
In 1942, when Louis Richardson was found dead in one of the rooms, talk was that he had drunk poison liquor—i.e., poorly made moonshine. Lucille attended his funeral at a family member's home on Shooting Creek Rd. SE.
Lucille had a studio picture taken here approximately 1940 by a traveling photographer. (Floyd Press shows the building still extant in October 1949.)
(27) Jim Dickerson's residence, a white house just south of the old Floyd Hotel. A Primitive Baptist preacher, he performed the marriage ceremony for Edd and Lucille as well as for a lot of others at this house. Such a minister didn't have just one church but traveded to different ones to hold service.
Now we cross S. Locust St./Rt. 8 to….
(28) Maberry Funeral Home, which opened at this location in 1936. Generations of Maberry owners date back to 1927.
(29) Pete Dickerson Mill. Across from factory stood the Pete Dickerson Mill, currently a parking lot. Pete lived in the house where Gardner Funeral Home stands now. Jerry Eanes, who lived on the upper level of the mill, drove a bus up near Hillsville to pick up a load of women and bring them to work in the J. Freezer factory, where he also worked.**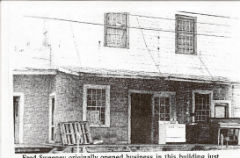 Sweeney sold new and used furniture and appliances. The bedroom suite in the room of Lucille's daughters, Joyce and Judy, were purchased here for $65, as were a living room suite, a wood cook-stove, and a second-hand sewing machine while Lucile was working in the factory. Fred would let you buy furniture by making monthly payments. In 1955 the business became Harris & High Furniture. Between 1970 and 1975 it was Perkins' Antiques and in its last years served as a warehouse for Southern States/Cockram. The building was torn down in 1978.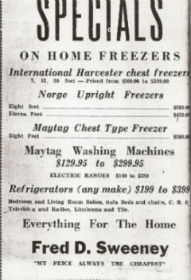 (30) Trolley car with diner, currently a parking lot. This restaurant was first opened and operated by Mrs. Yearout.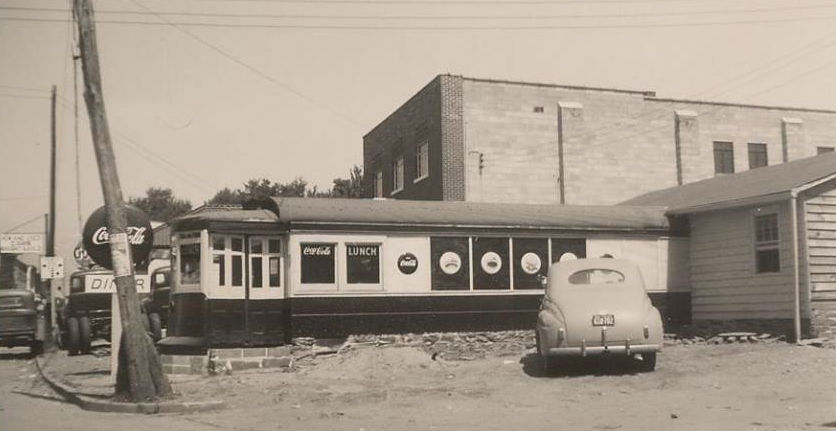 (31) Filling station run by Woodrow and Doris Turman. Later it became Harris & Baker Furniture. Currently The Station with its several businesses and a second floor of apartments.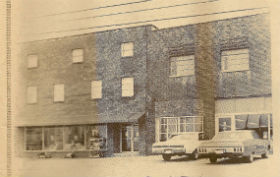 Now we turn right onto E. Main St. at the traffic light.
(32) Farmers' Supply Corp. This building, still contiguous with another large one, once had a garage at the rear and gas pumps at the street. It was an agency for Ford automobiles until the 1930s. (Notice the row of trees.) Apartments occupied the second and third floors, perhaps mixing with businesses on the second.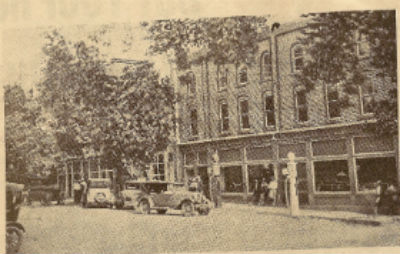 (33) Woolwine & Sowers Drug Store in the adjacent building became Rutrough Sundries. It had a pharmacy along with miscellaneous merchandise, as well as a nostalgic soda fountain with swivel stools. Lucille recalls this being the best lunch counter in town with its grilled sandwiches made on a large sandwich-maker. You could buy a ham sandwich or a milkshake for 25 cents, so this was another favorite place of the shirt factory workers for a quick lunch. In addition, it was a favorite for the teens, as the soda fountain served floats and "cherry smash": fill a glass with ice, pour cherry syrup over it, fill the rest of the glass with carbonated water. After Rutrough Sundries closed, this building housed a game room for a short time. It contained Highland Hardwoods until March 2014 and currently houses Jeanie O'Neill Gallery.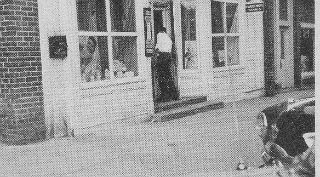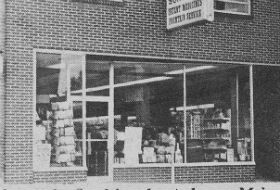 (34) Western Auto opened when Mick or Mack groceries went out of business. The upper level housed the Floyd County Offices, where Lucille recalls paying the real estate/personal property taxes. Residential apartments were also upstairs.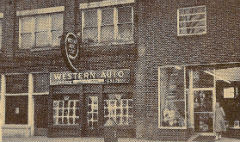 (35) Floyd Post Office, currently a lawyer's office. The building has two sections, the left-hand one serving as the Post Office from 1915 to 1956. Western Auto may have occupied the entire building. In later years, Attorney Bob Boswell occupied the left section and Bob Spessard on the right side.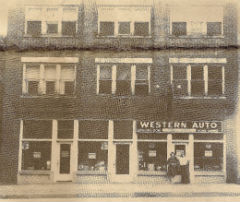 (36) Blue Ridge Restaurant. Constructed around 1897, this building was the home of Floyd County Bank. In the late 1920s Citizen's Bank closed and the vault was turned into a walk-in cooler for Blue Ridge Restaurant. In later years, this was the bus stop and one could ride to nearby towns.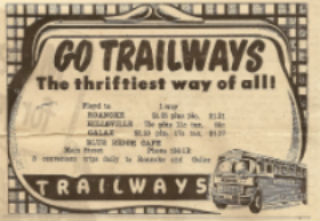 (37) Big white house where Drs. Rufus M. Dehart and Sheldon D. Carey had an office for a few years. All this was torn down and a grocery store was built by Murphy Thompson. Currently The Village Green, a remodeled complex of several businesses.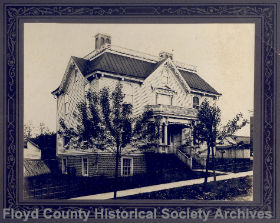 (38) Large brick dwelling, often referred to as "the Mansion" or "the Rakes Mansion." This house was built in 1913-1914 for the widow of Judge Waller Howard at a cost of $16,000. The tall columns at the front were brought to Floyd from Christiansburg by twelve yoke of oxen. Owned and occupied by Hugh Rakes for many years, it was sold due to his financial trouble. Blue Ridge Land & Auction Co. once had an office in the front section of the home, which is currently a residence.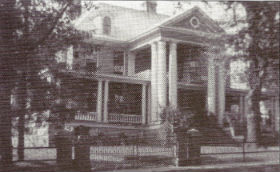 (39) Floyd Presbyterian Church was built in 1850 by Henry Dillon. The bell was crafted in Troy, New York, and brought on a train to Christiansburg, then by wagon to Floyd, an endeavor that took three days.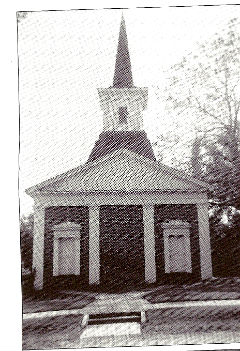 (40) Esso gasoline station. [Esso=S.0.= Standard Oil, an abbreviation largely replaced by Exxon in the United States around 1972–Wikipedia]. A full-service station built in 1936, it now houses an antique shop called Finders Keepers, 219 E. Main St. (Chapter 46).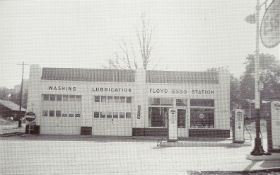 Crossing to the other side of the road and walking uphill, we reach the statue in front of the:
(41) Floyd County Courthouse. In this building Lucille and Edd got their marriage license–specifically, at an office on the right side of the first floor.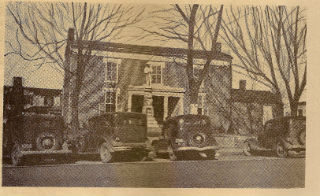 During World War II (she recalls) the courthouse issued ration-stamp books. You couldn't just walk into a shop and buy as much sugar or butter or meat as you wanted, nor could you fill up your car with gasoline whenever you liked. The government introduced rationing because certain things were in short supply, and rationing was the only way to make sure everyone got their fair share. Ration books and tokens were issued to each American family. Lucille could use the shoe stamp in Joyce's ration book for herself until Joyce wore hard sole shoes, whereupon Joyce would have to use the stamp in her book. You were allotted so much gas with your stamp to go work, so if you had a doctor's appointment in Roanoke or elsewhere out of town you would have to go ask for additional stamp. When her Uncle Herman Peters was near death, Lucille had to go ask for a special allotment of gasoline to take the family to see him.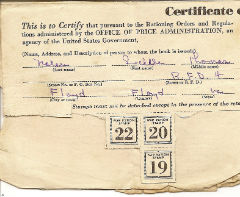 Behind the courthouse was a house where the sheriff lived, beside of which stood the old jail.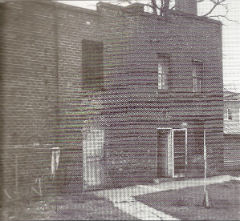 (42) Floyd County Bank stands just downhill from the Courthouse on E. Main St., across Jacksonville St.; it had a narrow, flattened side at the corner of the building and street. Lucille went here to make payments on her car. When she purchased her 1937 tan Ford in 1940, it cost $350; after paying $100 down and $25 per month, she had two payments left when she married, an amount that she paid herself.
(43) Joe Sowers' Barber Shop was located on the street behind the bank.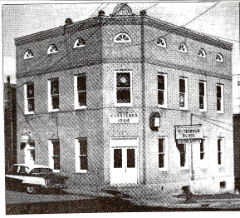 (44) Floyd Motor Company stood in the current parking lot of the Bank of Floyd. Upstairs was Dr. F. Clyde Bedsaul's office in 1937, to which Lucille went after being hit by a car and breaking her leg. This building has now been torn down.
(45) Dr. Glen Conduff's house. His son Howard followed his footsteps and was the dentist in Floyd; Howard was followed in turn by his son Howard Conduff, Jr.
(46) House of Dr. Sheldon D. Carey, who practiced in the nearby hospital. Located next door (west) to the Conduff house.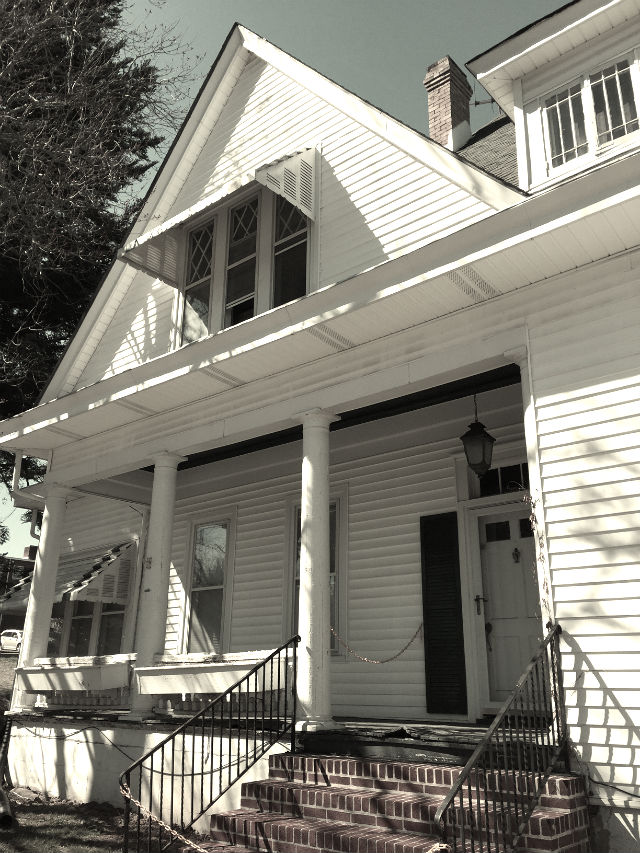 (47) Harman Agnew Store was a general store that carried clothes, material, groceries, and toys. This is where Edd and Lucille purchased two miniature A-Model or T-Model cars for Curtis and Kenneth at Christmas one year. When Lucille went to milk the cows, Curtis and Kenneth found the cars and played with them, then put them back before she returned. Currently site of Bell's Auto Towing and lawyers' offices.
(48) Floyd Motor Co., the site currently occupied by Hardee's of Floyd (402 East Main St.).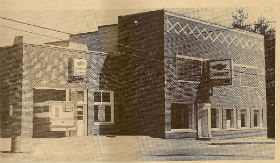 Now back to the Stoplight and a little way downhill on W. Main St./Rt. 221 S toward Willis. On our right is Hotel Brame's basement level.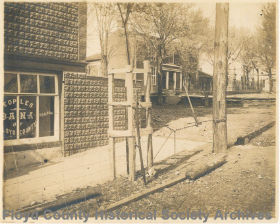 This is where Waitman Slaughter started his business with groceries and a hotdog stand. Then down the street to the next building:
(49) Floyd Pharmacy. During this era, this building that housed Floyd Pharmacy, a drug store with a lunch counter; then an ice cream shop; then a restaurant; then a doctor's office for a few years (1990s). Currently Edward Jones Investments office (112 W. Main St.).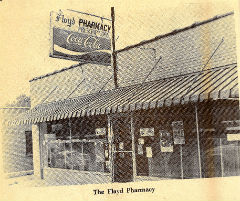 (50) Post Office. During the later years the Post Office was located in the next building, which currently houses Vicki's Income Tax Service and Floyd County Mutual Fire Insurance Co., Inc. (116 W. Main St.)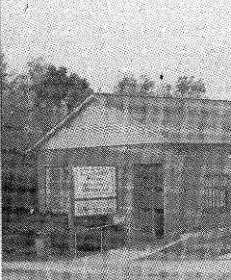 (51) Dinky Harris Shoe Repairs and Harris Dry Cleaners were situated on the street to our right, on Harris St.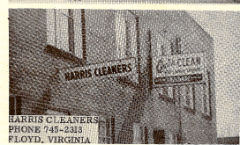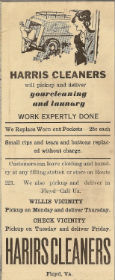 Walking back uphill to the Stoplight, then crossing Locust to the south side of W. Main St.:
(52) People's Bank, the corner building, was pictured above as #15. We turn right and pass the metal door to the disused coal chute [pictured in Chapter 37].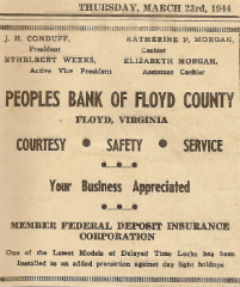 (53) Small white building, a short distance later, the building where Jodie Whitlock fixed horse bridles and repaired leather. 111 W. Main St., originally the office of Lawyer Tompkins (Chapter 2).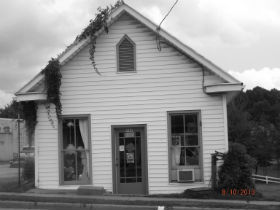 (54) The Floyd Theatre building. Charles Kingrea's State Farm Insurance office was located on the left side until he retired, and after that a computer repair business. Currently business offices and County Records (bluegrass) underneath in the back (117 W. Main St.).
(55) High's Furniture Store opened in 1962. Now Chic's Antiques (125 W. Main St.).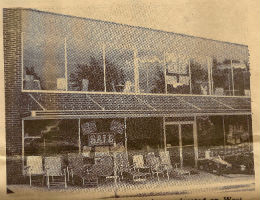 (56) White house 301 W. Main St., two doors uphill from the Jessie Peterman Library) was purchased in 1926 by the Floyd Telephone Company. Until 1956 it served as the headquarters as well as the residence for the switchboard operator. Lena Whitlock was the operator when Lucille sent money to Edd when he was in the Army and had returned to Pennsylvania from overseas.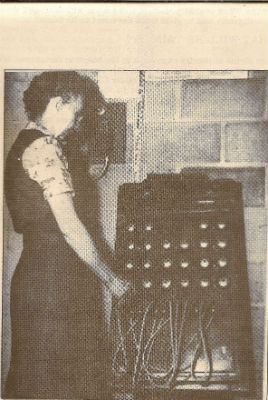 For rambles around town almost eighty years after Lucille turned scraps-into-shirts-for-cents, see "Places I" (Chapter15), "Places II", (Chapter 36), and "Places III" (Chapter 46.)
* Lucille Nolen's 2014 interview with the Floyd Story Center oral history project is housed at the Old Church Gallery, Ltd., community archives in Floyd, VIrginia. For more information on the program see: www.floydstorycenter.blogspot.com .
** "Floyd Milling Company/Peter Dickerson Mill," in The Water-Powered Mills of Floyd County, Virginia: Illustrated Histories, 1770-2010, by Franklin F. Webb and Ricky L. Cox, pp. 114-15. "The Peter Dickerson Mill was one of only three Floyd County Mills built expressly to make flour using a source of power other than falling water." After it was sold in 1940, Fred Sweeney ran a furniture store in the building, and other businesses used it before it was razed, probably in 1987. Included: photo by Kathleen Ingoldsby.