Floyd County has exported many a chestnut tree, many a shirt and piece of furniture, many a gallon of moonshine–and many a person. In 1958-60, Randall walked to high school with Harry Lee Strong and two other friends in a Chicago suburb. Almost fifty years afterward Harry was amazed to learn that his pal had retired to Floyd County; for his ancestors had grown up there and departed in 1905. He vividly remembered a pilgrimage that he and family members had taken to the old home-grounds in 1957. Then in 2011 he and his wife Anna visited the same area while spending a few days with the Wellses. In 2014 he generously recounted these elegiac memories of the two earlier visits.
My grandparents, William Clifton Strong and Delphia Frances Phillips, were married July 25, 1895. To my knowledge, I do have one surviving first cousin, my Aunt Ola's daughter, who is named Frances and who clearly was named after the mother of Ola's and my dad's mother. Eighty-seven years old, she has lived all her life in Carthage—a town in Hancock County, Illinois, where the family moved from Floyd County in 1905. Apparently, following their emigration, my grandparents (and family, including my dad, who was one-and-a-half at the time of the move) farmed near Denver, Illinois, in Hancock County.
At the age of fourteen, I traveled to Virginia from Glen Ellyn with my father (R. Lee Strong), my mother (Helen Gerard Strong), my aunt (Ola May James Strong), and my uncle (David Kenneth Strong). We stayed three or four nights at the Willis farm home of Everett and Mary "Effie" Strong Mangus.
Effie was the sister of my grandfather, William. Also staying at the farm at the time was their granddaughter, Martha Dulaney from North Carolina (another export).
Martha's mother was Virginia, the daughter of Everett and Effie. [Dulaney Rd. NW runs off of White Rock Rd. NW in the northwest part of Floyd County–RW.] We also spent several nights over in Radford with the Phillips family: William (father), Eula (mother), Larry (son), and Becky (daughter). To this day, I am not positive of my exact relationship with Becky and Larry or their parents, Bill and Eula. However, these are the three possibilities I've calculated: their father, or Bill's mother, or his father was from the Phillips clan and therefore a sister (or brother) of Delphia Phillips Strong, my grandmother. I think that would make Bill (or Eula) my dad's first cousin. You genealogists can compute what that makes Larry and Becky to me.
The five of us also spent an afternoon in Christiansburg at the home of (the senior) "Aunt Ola." We also enjoyed a Sunday afternoon picnic at the farm of A.O. and Ethel Salmons near Riner. Since A.O.'s last name was Salmons, I can only conclude that Ethel (his wife) may have been the one to have a genealogical connection to the Strongs or the Phillips. I'm doing considerable inferring here (because I have no older relatives who can confirm or refute this, other than my first cousin, Frances)–but I have to believe my "Aunt Ola" (Dad's sister) was named after this older "Aunt Ola." That would have made the "senior Ola" the sister of my grandfather William.
It's been difficult being an only child of parents (and a family) that never talked much about their roots and lineage. However, during one week of the summer of 1957, when I was fourteen, through a foggy window, I had a brief glimpse of my father's Floyd County roots and his relatives whom I would never see again.
Looking back on that trip (and, especially, my return trip to Floyd County in July of 2011), I am surprised to discover that apparently the Strong and Phillips families were very well-known at the turn of the last century (1899-1900). The Strong Mill, for example! How I wish I knew whether or not the Henry Duncan Mill and the E. F. ("Ed") Strong Mill played any part in my ancestors' move from Virginia to Illinois. (See pp. 198-200, The Water-Powered Mills of Floyd County, Virginia, by Franklin F. Webb and Ricky L. Cox; McFarland & Company, Inc., 2012). But the answer to that question may be lost forever. What I can say, definitively, is that is that E. F. ("Ed") Strong (b. November, 1873) and my grandfather, William Clifton Strong (b. May, 1875), were brothers! Was there a family dispute? Did my grandfather buy out his share of the mill from Ed? Perhaps you, a reader of this book, hold the answer.
In July 2011, I basked in three fulfilling, enriching, sometimes haunting days in Floyd County tracing steps I had last taken fifty-four years before. I got gooseflesh as I found the remnants of Willis, VA, and the site of the Mangus farm, where I had stayed and slept. I had brought with me two sets of photographs from that 1957 trek to Virginia. The dramatically remodeled home was almost unrecognizable and unoccupied–but I left behind one set of photos in the mailbox. I attached a note to tell the owners (or renters) who I was (mentioning the Mangus name), where I was from (Divide, Colorado, at the time, including my contact information), and told them the photos dated back to 1957. I never heard back from them. But, for me, revisiting that site was a sacred moment!
What was even more moving was discovering the Strong Cemetery a half-mile up the hill, where, back in 1957, I had visited with my distant cousin Martha. My ancestors were everywhere! I wanted to sit down at the grave of every Strong who had staked out a plot, and wait, and listen, and say "Thank you"–thank you for whatever part you played in the fact that I am here today. "Are you responsible for my follically-challenged scalp?" "Did cucumbers give you gas like they do me?" "Did I get my neatnik tendencies from you? Even though you grew up on a farm, did you hate getting dirt under your fingernails? Me too!"
In 2011, I also visited my grandmother's family at the Phillips Cemetery. I was not surprised to find William and Eula's tombstones (for back in '57 they were older than my parents). I was shocked and saddened, however, to find Larry and Becky's tombstones as well! We were teens in 1957; Larry was was a little older than I, Becky a little younger, and I had a crush on her. When I saw her tombstone in 2011, it was as if someone had dropped an anvil on my chest. The inscription read: "Rebecca Ann Phillips: December 27, 1945 – March 24, 2006." I'm guessing she never married. I hope she had a good life and was happy. Maybe once in a great while she thought of me and our three days in 1957. I still think of her.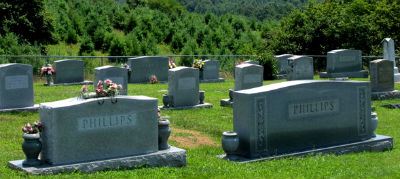 Harry's email address: strongwinds1@msn.com