Original version of ramble #1 printed in the Floyd Press, 2013.
This omnium gatherum called Floydiana would be incomplete without a celebration of hiking through Floyd by road, trail, and sidewalk. Chapter 8, which promise three excursions, is leather-bound: by two pairs of hiking boots and one pair of size 5 1/2 Smartfits.
M
arge and I turned off Rt. 221 onto Epperly Mill Rd., south a mile or so from town, then parked on the shoulder next to a raspberry bush. After laboring to close the Subaru door against downhill gravity, we started hiking. A few
huffs
testified to a winter month spent on the South Carolina coast and in Florida. Reaching the crest, we gazed to the right at the February sun as it just managed to beam over the hills. The cheerful blue sky was getting serious.
Barking dogs, a breed familiar to walkers, got pulled inside by an accommodating owner. Now on the left, a pair of ears–prominent black ones forming a V. A couple of other animals regarded us from a pen. Mules? Donkeys? But one pair had a sort of beige spotted coat. "Llama!" exclaimed Marge. "No, alpaca," she amended. Now as we passed the statue of an angel reading, I felt kinda sorry for it, or her: why not put the book down and join us?! Near the end of a long slope, we drew opposite a sort of barn that framed two black rectangles, one of which in turn framed a long black nose with a white streak down the middle. "Hi, horsie." No motion. We remembered handing it grass over the fence in summer.
We came to the old mill on Dodd Creek with a north-face hill looming behind it. This relic, write Franklin F. Webb and Ricky L. Cox, "seems as likely as any to survive the 21st century." Reasons: luck, care, and "the skill of the mill's designer and builder," John William Epperly, 1856-1931. (The Water-Powered Mills of Floyd County, Virginia: Illustrated Histories, 1770-2010. Jefferson, N.C. and London: McFarland, 2012, p. 283.) For a brief reminiscence on the former mill's value to new countercultural folks, see Chapter 26.
Another Floyd County icon filled the driveway, a converted school bus. A 1999 International, it was orange with a blue grill complemented by a lavender hood and fenders. At work near a dog pen was someone we recognized as Val, last seen pirouetting on the Winter Sun Hall as our daughter taught an Improvisational Dance class. Now a resident of the former mill, she joined us to admire a tree almost made of burls, apparently a creation from Wizard of Oz with its bare, waving arms. I had to touch–well, caress–one of its quirky, authentic, rough-barked bulges. We surveyed a hillside pasture where a full moon rolled up or down one of the impossibly protracted limbs of an oak.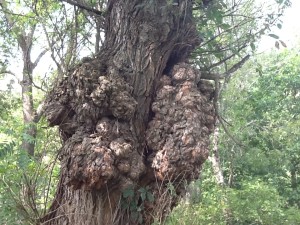 As the air cooled, we hiked farther. A car halted: "Do you need a ride?" "No, thanks, we need a walk" (and a safe interval from an unvarnished pair). At the bridge over Dodd Creek, the paved road became dirt. Nearby on each side downstream, flat stones either composed the pediments of the former bridge or once aided the milling process. History heavily mute. By contrast, the high-tension wires uphill spat loudly from an Eiffelectric Tower.
Look upstream—how deeply it cuts into brown banks, how it curves, how its dark flow, hastened by only-remembered rain, mirrors a somehow stationary tree. Where is Fred with his camera? Somehow the moon keeps following us. And look! An ebony silhouette abides far off in cow-solitude.
As we turned back at dusk, Val met us by a remnant of snow and offered a tour of her place, floor by floor. On the walls hung primitive-style art from an earlier gallery, and from the ceiling hung iron wheels and gears. Big fireplace on the first floor but true warmth only on the third. Privileged views of the creek and of the steep, wooded hill from windows and deck. "The water is polluted," declared Val. "It's a shame. Dead animals." Then a tour of the bus named "Valhalla," which she had converted to a motor home and driven to sixteen states on behalf of the ASPCA (American Society for the Prevention of Cruelty to Animals).
On the way back, we detected hoof-beats and breath as our horse loped unseen into the stable. The wind had become a bit January. Cars passed, as did a solitary headlight pulling a scooter. 'Way across the valley and up the ridge we could make out the house next door to ours because of its floodlights: home ahead. Footsteps in the dark, a little scary. Angel now invisible, book illegible. Ahh, wheels.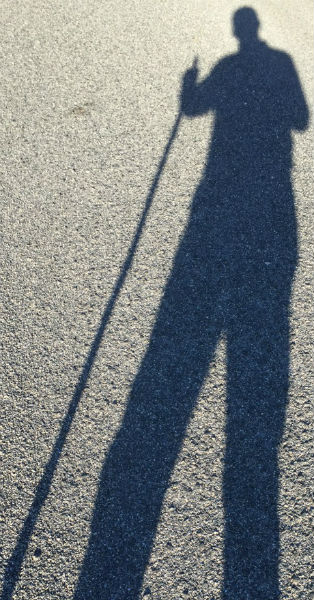 O
n another stick-poking ramble, Marjory and I followed Penn Rd. NW westward from Rt. 8, downhill and then uphill past the back of the
Town of Floyd
sign. As the notice grew smaller behind us, we kept climbing a few tenths of a mile, as measured by the clack of my helper against the pavement. At the crest we began a downward hike toward the countryside and the late-afternoon September. Eventually we halted to take in a vista on the right, feeling like winners of a contest:
The steep hillside to the north helped to form a valley with bottomland and with the opposite hills, which were rose in two scalloped levels, one above and behind the other. This topography was mainly chewed-off pastureland dotted at random with hardwoods and cedars, dark on the bright green, each casting a shadow to our right. One area of the opposite slope was terraced by rows of brownish-orange dirt. Other trees hid Dodd Creek far down to our left as it wound from under the Rt. 221 bridge a mile from our vantage point atop Penn Rd. One ribbon of stream was silver-blue-visible as it curved toward us before turning back north and then running east into a forest (and eventually beneath Rt. 8). Dark cows planted themselves near the water, typically facing the sun; a few stood in it, and a calf made its way across. The wind made a continual soft whoosh and cicadas a high-pitched ululation. Is that the gurgling creek we hear or is it the vegetation-scented wind in the leaves?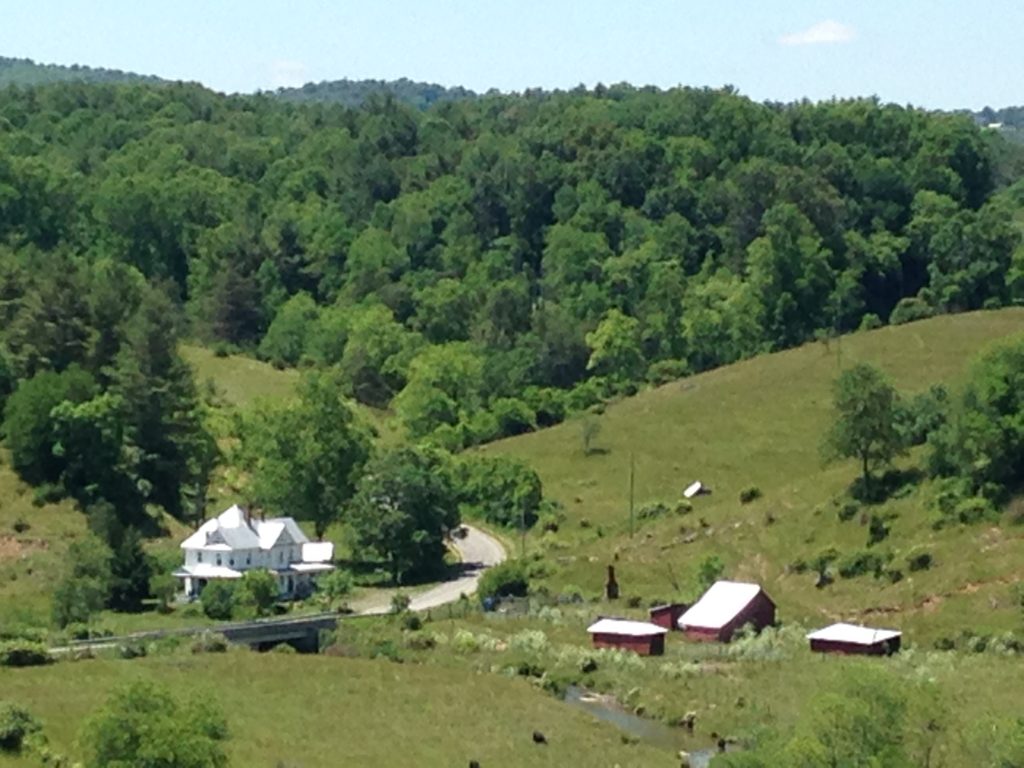 Around the bend of Penn Rd., across the bridge, stood a voluminous old house, two stories plus a generous attic and several dormers. The roofs of two of these peaks glowed silver, while the long front porch, facing the road, hid in the shade. Behind the dwelling rose a sheltering hill-mountain. We remembered chatting with the residents, Bill and Arva Coleman, who had offered us the shade of their front yard on one steamy day. And, strangely enough in the present 80 degrees, we remembered encountering Arva in the December dusk: wearing boots, a scarf, and a bulky jacket, she carried a bag full of vegetables and invited us to dig up turnips before they froze. Randall returned some of them in his beef stew.*
Now from our vantage point above the valley we admired the four outbuildings located across from the house. Faded red wood, metal roofs. Like the dwelling, they presented richly varied solid geometry: different sizes and shapes, the roof of one making a scalene triangle where it joined the wooden side.
F
or a tyke, a hill is a hike.
Up he toddled from Food Lion toward Stoplight. Every panel of the sidewalk brought a new phenomenon–such as a glowing pinkish-red column that bore raised markings. Grandpa offered an explanation that was met with courteous silence. Up we went, the lad's small steps a bit erratic.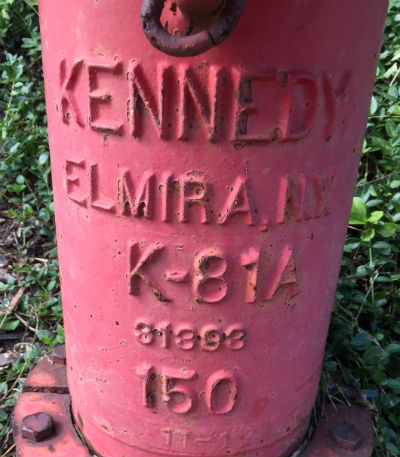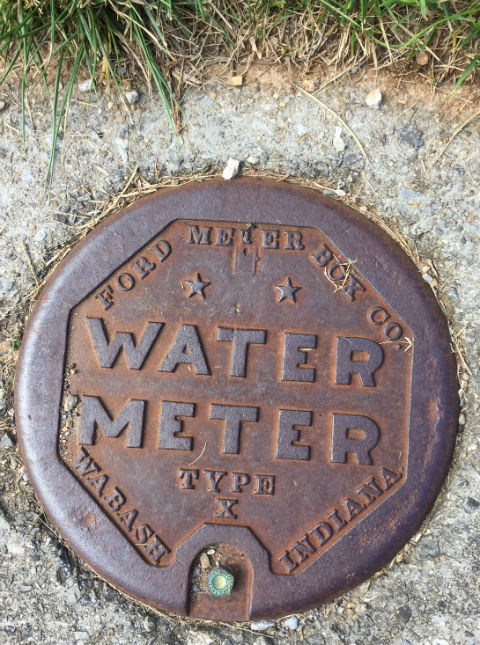 Now what was that embedded in the sidewalk? "Water?" he repeated after me uncertainly. I decided not to venture explaining the concept of an encircled heptagon.
And I made no attempt to share a sense of immeasurable irony. For these two objects, manufactured in New York and Indiana, operated across Locust St. and downhill from the statue of the Confederate Soldier. Also across the street from the law office of "Captain" Tompkins.
After noting a few leaves and bugs, we came upon another sight–massive, ancient roots–now as lifeless as the manufactured items but once vital. I lifted the boy so he could behold the flat-topped product of the saw: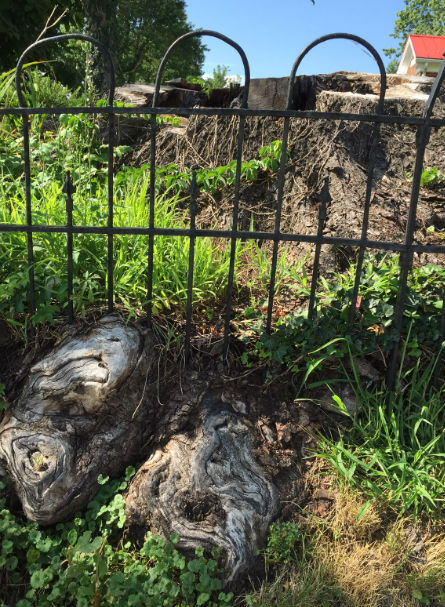 His trail guide offered a few quick thoughts on age, on the passage of time, on the great tree that wasn't there–philosophy that went over his hat. Now it was time for a rest in front of 204 West Main Street, where we reviewed cars, trucks, and motorcycles, some of them drawing on noise to get up the slope:
After traversing more rungs in the sidewalk-ladder, we came to a large, pale green nose. It stared at nearby pedestrians between two eyes, all these features shaped in plaster against a big pile of grassy dirt. Although it had no mouth, it caused the not-quite-two-year-old to furrow his brow, regard it uncertainly, and accept his grandfather's invitation to move on from the Green Man Inn. At last they reached Locust Street and the alternating colors.
*
Arva Conner Coleman's 2016 interview with the Floyd Story Center oral history project is housed at the Old Church Gallery, Ltd., community archives. For more information on the program see:
www.floydstorycenter.blogspot
.com.