Original version printed serially in 2008 by The Floyd Press and The Mountain-Ear (Nederland, CO). Revised and augmented through Feb. 2015.
A place is a comparison. Its identity can be appreciated only by reference. "Bland County," declared one native, "is Floyd without the stoplight." Like him, anybody who moves to this geographical-cultural area known as "Floyd" will bring a geographical overlay of memory. The author, for example, regards the corner at The Stoplight as the town's noisy industrial area—much like the two railroad right-of ways and three railroads that divided the genteel Glen Ellyn, Illinois, into south and north sides..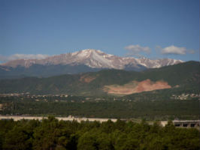 In Nederland, Colorado, you won't hear a train whistle, although I am writing in a Colorado & Southern coach built in 1906 and hauled up from Boulder. Now a coffee shop in 2008, it is Lego'd to a caboose full of ski merchandise and to Buffalo Bill's circus car, another import. A few segments of narrow-gauge rails do exist here and there in town, but they hold rusty mine-carts that have been detached from their original concatenation and turned into floral planters.
(In Floyd County, the most acute of hearing may detect the chug-chug-chug of the Ro' & Willie–chapter to come.)
When Marjory and I arrived here to visit our daughter, we immediately felt a kinship between "Ned," as it's often called, and Floyd, our retirement home in Virginia. In fact we keep calling Nederland "Floyd." Both towns mark the junction of two highways. Although Ned has about 1400 inhabitants—three times as many as Floyd—it has no stoplight but instead a roundabout shared by five roads.
B
oth places are fairly small with their downtown tourist shops, coffee houses, and restaurants grafted onto something more elemental. Both are a little rough-hewn despite the espresso, and Ned's typical garb is mountain functional, so that one Sunday a woman in high-heels drew my stare. In both towns the most popular vehicle seems to be the muddy Subaru SUV. Both towns have touches of poverty—the food stamps presented in Floyd, the car in Ned held together by an Obama sticker. Here in the Rockies the Japanese beetle is turning the lodgepole and other pines as brown as last year's Christmas tree, and in the Appalachians the majestic hemlock is being killed by the lowly wooly-adelgid.
Both towns used to be something else. The flange-wheeled carts made of sturdy rust are relics of Nederland's origin as a mining town, in various eras a source of gold, silver, and tungsten. In fact the town's name, conferred in 1874, reflects the influence of a Dutch mining company located above it in the settlement of Caribou. Old cogs, gears, and pulleys are scattered through the downtown, which even has a mining museum. Behind our daughter's house the boom and cables of the world's largest operating steam shovel jut blackly into the sky. This Bucyrus was built in the 1920s and helped dig the Panama Canal.
Floyd was a farming center where country people conducted their business. The town profited, too, from the logging industry before a blight killed the chestnut trees in the 1930s. Now Christmas tree farms with their green geometry of rows and cones add even more variety to the landscape. Although the town has precious little manufacturing, it once had several furniture and textile plants that were destroyed by the Chinese beetle. One erstwhile factory (see two chapters below) now houses a shop that sells women's clothing made in Ecuador, a de-facto community hall for yoga classes, dances, performances, etc., and a pizza-and-beer place that supplanted a sandwich shop once broken-and-entered by a deer.
Both places are isolated. When people ask me, "Where's Floyd?" I reply, "That's the point." Although in 2008 a new cell-phone tower blinked over the village, like it or not, Ned still had no coverage. To drive to Ned from Boulder, you must negotiate Canyon Blvd., which winds along a river that divides what seems to be the nation's strategic stockpile of granite. At 8200 feet, Ned rises a mile higher than Floyd, but to reach the latter from the south, you must zig-zag up the eastern rampart of the Blue Ridge Mountains, slowing down to 15 or 20 mph at some of the curves as ears pop and rear passengers gag. Floyd lies atop the Blue Ridge Plateau, This massif begins narrowly, south of Roanoke, then widens to nearly fifty miles. From it arises the highest point in Virginia, Mt. Rogers (about seventy miles southwest of Floyd via crow).
Nederland, by contrast, is surrounded by hills, high and pine-covered–and rising beyond them bare or snowy peaks, a forbidding vision of what the Appalachians looked like before they eroded enough (boulder-to-cobblestone-to-gravel-to-pebble-to-sand) to form the bumpy Piedmont and the Coastal Plain. In Floyd County massive hump of Buffalo Mountain can be seen from many a hill and turn.
While Nederland has the Barker Reservoir, which supplies water to the city of Boulder, The Virginia town has nary a puddle, so the self-proclaimed Floyd Yacht Club may have to postpone its regatta.
Both towns are centers for people who live out in the boondocks. Floyd is the county seat, and Ned serves either 5,000 or 7,000 people according to two estimates. But Nederland is a satellite of Boulder County, population about 280,000. In fact it is a bedroom community for Boulder, population about 93,000, and other cities in the Denver area, to which it enjoys a bus service. Despite the absence of cell phones many people work from home via the internet. If you live in Floyd, you are lucky if you don't have to drive 45 minutes or more to jobs in a city–e.g., to the Radford Army Ammunition Plant (established 1941) or to the Roanoke Bar Division of Steel Dynamics Inc. One versatile resident avoids the daily back-and-forth by serving as a minister, mowing grass, and working part time in a funeral home.
There are no fewer than three funeral homes in the town of Floyd, a sign of the different age-range between the two villages. People in Nederland and the county tend to seem fairly young, and moreover, as one proud citizen claimed, "Our seventy-year-olds look like sixty-year-olds olds, and our eighty-year-olds look like seventy-year-olds." Residents of Floyd County, on the other hand, too often look roly-poly, the shape of modern Americans and especially Appalachians. Like Floyd, Ned is almost completely white, and there are apparently more Nepalese than African Americans. A big contrast in demography: "I'd say 80 percent of the people in Nederland voted for Obama," said one resident. The Appalachian natives tend to be politically conservative, while the in-migrants tend to be liberal. Floyd seems to have a greater proportion of From Heres than Nederland. Indeed, one person said that after sixteen years in the place he knew of nobody who had been in Ned longer, and a barista in this mahogany-paneled coach (where I type) said that over a few months she had met only two Colorado natives.
N
ederland seems to preserve no original social substratum. Miners and hippies created an uneasy mixture back in the '60s and '70s, when "Nederland was the drug capital of the country in the '60s," as one person declared. "At least by reputation," amended a skeptic. Floyd, by contrast, marks an area of long-settled, hay-making, cow-milking folks. (Not to forget moonshining, so perhaps the town could display such relics as vats, cooling tubes, and Mason jars.) Many of the citizens share the same last names. The Church of the Brethren, ironically, is one of the main counterculture groups, its women sometimes wearing organdy caps, no makeup, plain shoes, and long, gathered dresses.
Some have chosen the many-ravined Blue Ridge rampart as a haven or even a hiding place. Soldiers who ditched both gray and blue uniforms may have camped in the northeast section.And what's this talk of an erstwhile "Free State" somewhere in the area of Copper Hill? One man avoided traveling to Viet Nam under his real name by buying property under an aliasIn the 1970s, who should penetrate this agrarian stronghold of Virginia but Back-to-the-Earth People. . In search of cheap and tucked-away land, they subsisted on Whatever. Some came for safety after a prophecy about atomic war. The Y2K scare brought a group from California to the Willis area. One native rededicated the family's house-and-land as a place where people could spend a couple of weeks learning the old ways of farming. He advertised in Mother Earth News; many came; some stayed in the county.
Now, I am told, they are pretty well integrated into the community, and Floyd has a lively counterculture that includes plenty of home-schooling. Half the children of Nederland, one person estimated, are taught at home for religious or other reasons. The Floyd area has a strange and fascinating variety of non-native citizens that includes retired couples who live there full- or part-time, and diverse individuals such as a truck-driver/military veteran who started her own construction company, an immigrant from Mexico who loads our landscaping supplies, and a professional couple who commute from the old frame house they salvaged on Goose Creek that had originally served as a farmhouse, then as the Cannabis Community Center.
Floyd has built upon the area's musical heritage and enjoys a wide reputation for its Appalachian, Bluegrass, and other types of bands. Every Friday night at the newly-enlarged Country Store (a revived version of the flour-barreled original), people of every age can clog to guitars, bass, banjos, fiddles, and singers. To my surprise, at Nederland's community Thanksgiving dinner, as the hammer dulcimers and accordion played "North Carolina Ramble," it was hard for me not to stomp the floor of the fire station. In fact, Nederland is also a music center, although not to the extent that it was when luminaries recorded at the Caribou Ranch. The Floyd area also has a big contingent of potters, jewelry makers, writers, woodworkers, and painters, and even has an arts center—an erstwhile farm complete with silos. The yearly FloydFest (chapters below) brings multiple performance stages and thousands of people to a mountain pasture; NedFest is supplemented by the quaintly named Frozen Dead Guy celebration.
Floyd lies ten minutes downhill from the Blue Ridge Parkway, the United States' most frequented national park, and Nederland lies a short bus ride downhill from Eldora, a ski area. Both towns rely on tourists, who are rare in the Floyd winter. Ned has only one grocery store (which sells high-altitude flour) while Floyd has two (one a chain, the older one privately owned with piped-in country or gospel music). Ned has an Ace Hardware, while Floyd is anchored by an old-time hardware store called Farmers' Supply, whose wooden floor holds a potbellied stove bigger than the one on this railroad car. Floyd does have a few chain businesses, but as in Nederland, fast-food franchises (according to one observer) "have not been well received."
While Floyd has an attractive library with a new addition, Ned has a storefront library down from a liquor store, pending construction of a new one. Ned has an aspen-adorned park, but Floyd is still planning one as the next step of a program to upgrade the downtown from homely to authentically charming. Unlike Floyd, Ned has a teen center, which includes a new skateboard park, as well as a community center, which was remodeled from a grade school with every environmental consideration "but without any money to run it" (as one person noted wryly). Every Friday night at the center a movie plays in the former school-auditorium; but movies in Floyd are limited to home rentals.
While Ned has a riverside trail, Floyd has only a few sidewalks that run alongside-and-athwart traffic.
T
he hillsides of Ned are filled mainly with homemade-looking houses, garage-less but well-wood-piled, many of them built of logs: a few of them shacks, one or two purple, none brick, each unique. They rise on the brown-dirt hillside without benefit of landscaping except for robust firs and the ubiquitous aspen, other plants tending to freeze-dry. Unlike Floyd, where trailer houses uglify various spots, Ned has them circled like wagons in one area pretty much out of sight. Farther up the hillside, or overlooking the reservoir, the dwellings tend to become less miner-house and more second-home or exurbanite, often rustic-classy. Floyd, too, has its very modest houses but also its genteel frame or brick ones, a number of them venerable Main Street mansions.
"We have two seasons," explained one resident: "June and July, and wind."
The Catholic Church of Ned used painted pine logs for walls, peeled them for collar-ties, and shaved them for paneling. In Floyd the wooden chapel of the Lutherans seems as original as its towering grove of oak trees that was seemingly planted by Indians. The Nederland Lodge (its Best Western sign humble) is made of dark logs and runs along the central stream almost like a horizontal forest, while the new Hotel Floyd employs green engineering and celebrates local heritage.
A big difference between the two towns is weather. The icicle, fang of winter, grows from the Colorado license plate but rarely from the Virginia one. Although the wind can make our ridge-top cabin near Floyd seem like a ship straining in a gale, nobody had to warn us to park into the wind (as they do in Nederland) so the doors won't blow off when they're opened. "We have two seasons," explained one resident: "June and July, and wind." Right now snowy ground-cover zooms past horizontally like a cloud near an airplane window. The noise alone threatens to derail the antique train.
Here my comparison must blur the distinction between town and county.A columnist for the Nederland's Mountain-Ear, Mr. Forrest Whitman, asks why anybody would live in the area, and he suggests that the preference is hardwired (Nov., 2008, p. 19). "Our very part of the mountains has long been known as a refuge for loners" who don't like social demands, taxes or government. He does observe, however, that nobody falls completely into the category of either "mountain type" or "flatlander," and that each can be cooperative or ornery. Indeed, one citizen told me that "This whole town is run by volunteers." And Floyd? A lot of people choose to live "under the radar," as one person said with intentional imprecision.
Floyd and Ned both have their mysteries. The last words go to Marjory: "People in both towns want to be there."