On November 20, 2014, I drove back to Seven Springs Farm to take a few daytime photos for "Came Here: Nii Anang" (Chapter 49). Leaving the unpaved road from the headquarters, now in search of the Gralla-Schwartz homestead at 339 Quiet Rd., I turned left onto Jerry Lane NE thinking I had returned to Kings Store Rd. NE. After an unexpected tour I made a 180, returned to Regal Way, turned left onto the actual Kings Store Rd., and reached the T intersection at Daniels Run NE, near the defunct Angle Store-and-post office. There I turned left, drove a mile or so, and turned right onto Level Bottom Rd. NE. After more dirt in the tires I accidentally passed Quiet Dr. so had to make a three-pointer and return somewhat disquieted. Turning right from Level Bottom, I negotiated a half-mile of the private, hilly twists that seemed to dodge both ravines and revenuers.
That narrow strip was the same New Road that operated until 1954 and ended at Goose Creek Run near the Firsts'. Fred had once talked to a man who remembered his father coming down that road on horseback with a saddlebag of mail. (For a photo of such a courier in that area, see Schaeffer, Raised on Songs and Stories, p. 53). I bore to the right toward Quiet while New continued downhill, and soon encountered a dozen roosters and a battery of photovoltaic cells. From atop the hill I beheld the compound.
Ed, looking trim, gave me a warm welcome and invited me to tag along as he cared for the animals. First he talked goats around the stable and fed them organic feed. Then he shooed the red-combs into a small barn for the night—a bit of irony because, as Ed told them, "You'll be in the freezer tomorrow."
Randye was out for a session of BaGua at the Blue Ridge Center for Chinese Medicine. So the two of us now sat in a cozy room of the old farmhouse, ready for an interview about the early wave of "alternative" people who came to Floyd County.
I asked Ed about the name Gralla and learned that it was Spanish, some of his ancestors having been expelled from Spain during the Inquisition more than four hundred years ago. He has mixed feelings about visiting the Old Country, which still has Gralla inhabitants. He declared that any religion or movement or belief, no matter how promising, can grow fanatical.
Ed was born in Brooklyn in 1951. This was the year the new courthouse was built and the license plate in "Textures III" was stamped (Chapter 47). He then moved to Rockland County, New York, but did most of his growing up in Teaneck, New Jersey. He studied English and Education at Boston University. While teaching in the mountains of New York, he met Randye Schwartz, who was teaching in high school.
Randye grew up in Philadelphia, the child of Holocaust survivors—her mother, Auschwitz, her father, a work camp. She attended New York University. The early '70s were tumultuous; cities were rough in places, and she lived in the Bronx, he in shabby Boston housing. In 1969 they both experienced Woodstock, the celebrated Happening in New York state, although not together because he went with friends who were MIT students. "I still have my ticket." Ed and Randye didn't meet until 1973.
How in the world did they come to Floyd?
In 1979 both worked for the Census Bureau in New York State. In 1980 the organization offered to move Ed to Miami, where Randye's parents lived and where he continued to work for the Bureau—"My last 'legitimate' job." Ed and Randye were in their early 30s, and she was ready to settle, so they began to look for a home.
Should they buy a place or travel around the world? Before then they had traveled a year and a half, as far as Costa Rica. And they had visited friends around the USA to get an idea about where to settle. One Florida day they went to a library and found a map. In the area of the Appalachian Mountains, they put Xs around nuclear power plants, circles around university towns: Clemson (South Carolina), Asheville, Roanoke, Lexington (Virginia), and Gainesville (Florida). They undertook to go camping all around the area, even in winter. At the Warren Wilson College gym in Asheville they took showers. "We wound up thinking that Roanoke was cool," even though they were offered jobs in Asheville—Ed had a degree in Education and a teaching certificate. Randye decided not to teach in Roanoke and interviewed for a job in Floyd County.
And how did they get to the house where we sat? The two open-air-minimalists rented a room by the week in Roanoke and looked for property every day—in the newspaper, through agents, in Franklin, Giles, Botetourt Counties. "One day we were in Eats in Blacksburg. Stan Davis, the owner, was telling us all about Giles County while a guy was buying vitamins, Matt Darrow. (Matt was one of the four or five men of Floyd County's Riverflow Community, near Anahata, all of whom had gone to the same private school in Vermont.) '"Everything he says about Giles is true,' declared Matt, 'but if you want community, come to Floyd.'" Ed recalled that every Sunday afternoon there was a gathering at Riverflow. There was a group of about forty people who were playing volleyball, softball, music, having a potluck meal with "brothers and sisters." It felt like family. "'This is home.'"
"Later that day, after we got done playing in the field, we asked everyone where they lived and again circled a map. Did they know of any property? Got phone numbers. There was an old farmhouse right by Riverflow, and a guy was there, a caretaker of this place [on Quiet Dr.], a wreck. Mostly broken windows, no running water, one electric circuit. He wanted somebody 'nice' to buy it so he could harvest his 'crops.'"
"He had broken his leg by falling down a ladder while painting Angle Store. By coincidence he was at Riverflow that day, and the property on Quiet Drive had just gone up for sale. Sixty-three acres, barn. Driveway impassible except for a 4-wheel drive [a feature which was itself primitive at that time]. We had lived in a tent so long that a dry roof was a miracle for us. We'd lived since 1976-80 in Central America for a year and a half, and we'd traveled the USA, wintering south. Camped in our property in New York, grew a garden. To put running water in the house was a miracle. "We had saved $50,000 in 1980 and could easily live on the interest but bought the place for $35,000.
The couple worked on the house and eventually hired people to help. "Couldn't winter here—one time our water froze. So for many years we headed south." Ed was a veteran of the counterculture lifestyle [unlike Boston's Jack Wall, Chapter 36]. He had lived in a communal house in New York and had belonged to a food co-op since 1971 in Boston, a business that jointly purchased health food in bulk. "I am not shy about going in a dumpster," he declared, "'cause there's lots of good food there." Both Ed and Randye had been growing gardens since 1970 or '71. "If I see an apple tree, I'll go ask the owner if …."
He declared that not everybody could have done what they did, and he expressed admiration for Randye's hardiness and flexibility. Ed values physical work. "If you're willing to work, labor, you'll never lack for a job. My favorite one was working at a gas station." He went into detail about the simple but rewarding activities it required.
Some background on their house? "It had belonged to the Lee and Lex Lucas family, the Vests, the Kings…. I think there's still a woman alive who was born in it. We bought it from the Womack brothers. But it was known as the Grandma Lucas House. James, who was born in Floyd County, was living here with his grandmother's live-in partner before the caretaker stayed here.
"When we first moved in, we wanted running water, so we hired a gentleman, Horace Vest. His sons still live near Terrys Fork [over the mountain where Goose Creek Run meets Daniels Run.] He told us that his relatives are buried in old cemetery on the hill, just stones to mark the graves. The patch is marked by great pine trees, uncut." Here Ed brought me a glass of home-made apple cider from the 250 gallons that he, Randye, and friends had pressed.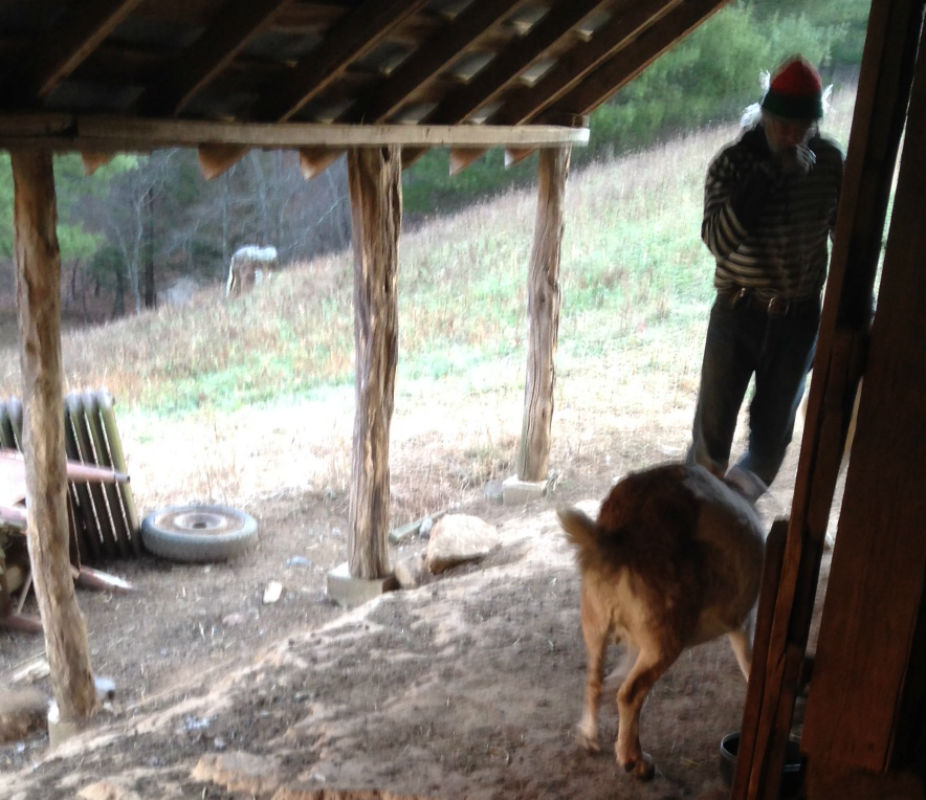 The local people? "My favorite subject. Randye and I traveled around the country and never anywhere met the quality of the local people who lived in Floyd. Probably not only because of their upbringing and their connection with the land, but also from the generational movement of people after World War II."
The former teacher now offered sociological thoughts about the encounter between natives and alternatives. "A lot of the people came back home and said 'I'm going to make a living here on the family farm,' but it was not enough to support them. So they went to Radford Arsenal [Radford Army Ammunition Plant] and other places outside the county, and the world grew for them. Many of their children, moreover, decided to move elsewhere for work. Our generation had partly disappeared. You had young people coming in, so they [sized us up]. We were nice family people, most of us looking to come back to the land. We bought raw milk from them that they sold out of their milk tanks. Eggs, too. They had sizable farms, selling milk to the milk truck. They welcomed us with open arms."
Vegetables? A woman called Perky [Van Wyk] was growing a truck farm at Travianna.* "We moved in July, August, had no garden, first time since the '70s. 'You can glean,' she said. That first summer we filled the freezer with vegetables. 'Just go pick.'"
"Weird things for locals going on in the '70s. Stomp 76. Willy Nelson came to Franklin county looking for a place for a festival; Floyd County issued an ordinance against it." More helpful sociology followed. "Moonshine culture was like the weed culture. They don't think the government should intervene. People described that culture for us. A nickel a bottle for moonshine."
"They'd ask us two questions. One was 'What church do you belong to?' When we moved here, the town closed on Wednesday at noon 'cause church was on Wednesday night. When we told people our background, they'd say 'Oh, there could be a Jewish church,' or 'You can start your own.' Floyd County is still based on circles: nuclear family, extended family, and church family. The other question was 'What instrument do you play?'"
I asked about Zion Lutheran on Needmore Ln. NE. "If the alternative community had a church," Ed replied, "it would be Zion. I think [Rev. Gary Kelly] was the first one I knew, although I never went to the church. Zion was liberal-leaning, open, friendly. The Basons went there with Ruth [founder of Travianna]. As did Barbara Triplett."
Ed recalled other instances of the community's friendliness. "The high school had Open Shop for people to use one night a week. That was a tremendous help to us for fixing the house. For example we made those kitchen cabinets from the wide pine boards of the house walls. When we came here, I had some years of building skills, but many people helped us over the years. The library has always had a rich collection of how-to books. It was in the basement of the Courthouse when we came here."
We wanted to put a water system in the house, asked Horace Vest for a plumber. He recommended Carlos Reed, whose number was in the phone book, but not under "plumber"—everything was word-of-mouth. Reputation was everything. This has helped Floyd be a high-quality place. Even if we didn't socialize with the locals, we knew who they were and vice versa. Sheriff knew us within days. 'Call Carlos Reed.' (We had party line). He talked to us; gave advice; didn't have time to do the job; no money changed hands. People wouldn't sell a car that was broken or had a problem. We were also impressed by the lack of trash along roadsides, and of trash cars in people's yards.
I asked about Randye. "Both kids were born here in the living room. Friends who had done it helped you for nothing. They expected you to educate yourself first. Others were born in that room. Somebody we heard of at Daddy Rabbit [Campground in Willis] was living with three children in a van. We invited them here to have their baby and recover."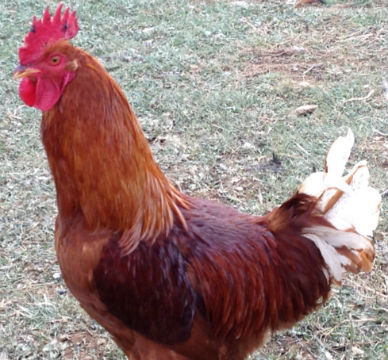 Ed became even more animated as we talked, often gesturing and leaning forward. "It's a hard transition to the un-malled life"–i.e., separation from opportunities and pressures to consume goods sold at identical businesses. "For retirees, too. You need to go to town every day, gets old. People who can do what we did are rare. Must adapt to difficult situations."
He favored another –un. "I believe in un-schooling"—no systematic book-learning. "Randye believes in home schooling. We were both schoolteachers, but we think that children shouldn't be away from parents till they can tell right from wrong. Institutional education is harmful. We disable our children by focusing them on competition rather than cooperation. Force-feeding material that's irrelevant. Adds to the culture but not to a healthy individual and society. The system is antiquated." An example: "I own rental property, but not many of my tenants know how to read a lease."
Their sons Tobey and Eli are "doing their own thing in the world." One was unschooled. To keep them out of the educational system, "We fought 'them' and we basically supported anyone who wanted to keep their kids out. Virginia has a religious exemption, so we told people 'Just claim the religious exemption.' The government was collecting tax dollars for these kids anyway"—because the census determines the money allotted. "When I asked them to share some of that money, 'No'—for instance, for buses into town. Schools were very happy—less students, yet money."
The subject of money brought a tangent: "Most of us were not on food stamps."
Ed suspects that those who send their children to private schools often do so simply so because they think the alternative is better, not necessarily because of an educational philosophy. The decision also has to do with friends. We and the [Robert and Kathryn] Yard family were similar. Most didn't know what un-schooling was. People send kids to institutions. It would be better if we went back to pocket schools. I ran for school board as an independent. The man who ran against me had more cousins than I had votes."
In a detour, Ed remembered playing tennis on the high school courts with young Gannon, who "could hit the ball so hard he could hit the racket out of my hand."
"We have dysfunctional facilities. My son had no friends who had fathers. "I would try to tell them how to behave, but my [directives] were not well-received. I often get calls from single women who need a place to live. Divorce rate—no continuity to society—no model, where do you go?" He waved his arms. "Kids have nobody to look to for guidance. Commitment."
"Once you get to a certain place, you give it away—money, time, advice." In fact Ed and Randye hold mortgages and have helped more than thirty-five people buy houses in the county (the result of family inheritance, frugality, and personal generosity). He once overheard a businessperson good-naturedly call their business the Hippy Bank. The couple regularly open their own house to people who are in distress, and they have a simple cabin that is used occasionally by interns, available for people in trouble, and used periodically by a writer.
Ed: There has been intermarriage between alternatives and locals.
Randall: So the alternatives becomes the locals.
Ed (shaking his head): Wellll…
In the view of some alternative kids who leave and come back (he reports), "the place seems hokey—drinking and cow-tipping—and they don't stay." He notes that two of the Bason grandchildren are lawyers in Washington, D.C. Back to schools: "My older one who went to public school…. 'How is it?' I asked. 'It was demeaning—you have to raise a hand to go to the bathroom.' The Yard family came here same time we did. We were aligned educationally, through life rather than formal education. Yarrow is our daughter-in-love. We knew them for thirty-five years before our kids got together. Kathryn was here for both of our children's births."
As we walked to the door and the dark, Ed declared that he and Randye want to create a self-contained homestead and grow everything they can—not grain or bananas. He showed me a packet of ground goat, one of the meats that filled basement freezers.
Thus ended my interview with this impressive and paradoxical figure. He is determined to live in self-reliant isolation but is fond of the natives and helps others become independent. He is a counterculture zealot who distrusts institutions—commercial, legal and educational, and (when they become extreme) religious. Yet he is a paterfamilias who nourishes both kin and community.