Wells met Ms. Price across the street from her house at Mt. Zion Christian Church. He had recently attended a Rainbow Tea service there, an inter-church, interracial benefit for a new roof; a number of white people wanted to counteract a demonstration by pseudo-Confederates at the Courthouse. As one of the speakers, Ms. Price explored the significance of the color green in the Bible. Afterward she and Wells were introduced by a mutual friend, Kamala Bauers, who recommended Pat as an interviewee. She graciously assented. Her follow-up notes appear in square brackets.
O
n September. 20, 2017, Wells arrived at her home, 357 New Town Rd., Floyd (just outside the town limits).
Ms. Price seemed to be having slightly mixed feelings about the neighbors' habit of calling on her for help. One, for example, had telephoned about a burn, "And I said 'put water on it.'" ["I felt good about helping, as she has a daughter who was a doctor and could have called her."] Alert and spunky, especially for someone born in back in 1934, she started answering questions about her childhood.
Her parents were Hunter Otis ("Pete") Beaver and Frances Louise ("Nancy) Beaver. Delivered at home by Dr. Jabez Mastin Harman (d. 1942), she grew up about a mile from the former El Tenador roller-skating rink on Rt. 221 next to the Little River (now Phoenix Hardwoods). "There were sections of Blacks in the county: Indian Valley, Floyd, Copper Hill."
What kind of work did the people do? "Whatever they could find. Timbered, farmed. Black people could hardly find a job. We weren't offered the job—you had to find it." Her father worked for the WPA when he could. [The Works Progress Administration, later Work Progress Administration, ran from 1935-43.] He died at forty-six. "We grew up learnin' how to live—do what we had so we could live." Her mother was a "worker"—she could find a job as a housekeeper. Her father was more of a homemaker—he watched children, did the cooking.
"What transportation!? The only thing we had was walkin'. Segregation time. We didn't have the opportunities we have now. Walked to 221 to catch the school bus–for black people. The white children were riding in their bus, and they would pass us and yell "Nigger! Nigger! Nigger!" She attended Harris Hart school; one burned down and they built the one that became the school board offices in the New Town section (145 Harris Hart Rd. NE).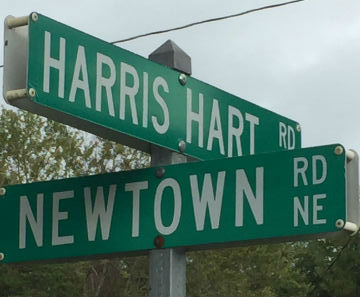 In the meantime she went to school at Pizarro, located between Little River and Franklin Pike. As for weather, "As long as that bus could go 221,we were expected to be in school."
"'Kindergarten!' Didn't have kindergarten. School was just like a family because everybody knew everybody. Walker Campbell served as principal, bus driver, cook, counselor, teacher—he tried to fill in all of our needs. He would talk over problems with us. He would stop teaching if we were interested in something related, and we would discuss it." Students learned a lot from these digressions. Campbell was involved in everything civic and was spokesman for blacks. He is named at the left in this photograph of the Teacher's Register:
"During World War II. I was afraid when the planes came over. We would pick silkweed for parachutes. My mother had one child, but my daddy had three. Of the two half-brothers, one went into the army during Korean War."
She has three children. The oldest is Deronda, the middle is Clinton (who lives with her), and the youngest is Richard, who lives in Blacksburg. Although her daughter, who lives down the street, belongs to a church in Roanoke, Pat belongs to Little River Baptist. "God didn't tell me I had to go to the Nazarene church, or Baptist, Methodist…. He didn't say I had to go to any of them. The Bible says 'Upon this rock my church is built.' I am my rock. As long as I have Christ in me, I have a church." ["Not that I don't believe in churches–it's the fact that I believe the church is for us to congregate with one another. It's not the name of churches but I believe that I stand on my rock as my church. It means, I am a small stone that is part or the superstructure of the church and will be judged by my deeds and not a structure or denomination."]
She met Kamala Bauers ["when I was visiting a friend in the hospital. They knew about Kamala's accident and asked me to go to her room and visit her."] Kamala's three-year-old was later enrolled in Head Start. "I think of her Ananda as being mine. Kept photos of her children on my refrigerator." At the time, Kamala lived at Dobbins Hollow in the Red Oak Grove vicinity.*
For thirteen years she cooked at El Tenador, where there was a restaurant separate from the rink [across Hwy. 221 on the corner—a gas station with a small grill owned by Mr. and Mrs. Lynwood Gearhart (?]) "I helped to raise the owners' children, done the cooking 'n the cleaning. They were nice people. The lady who owned it first, while I was going to school, I lived with them, took care of the children, and they gave me $2 a week [besides room and board]." That was in 1952, when Pat graduated from Harris Hart, 11th grade.
Virginia worked with Head Start for thirty-two years, 1966-98. "I used to drive the bus down to Traviana [Community] to pick up the [Ruth] Bason children." [See Chapter 36, Jack Wall.] First the center was located in the former school building that would become School House Fabrics. Then it moved to the former clinic on Floyd Highway S. (later the headquarters for Community Action). "I started out as a teacher's aide. Then teacher. Case Manager. Then Center Director." The best thing that happened to her at work:
We had to be interviewed to get the job. I had no college education. But they told me I had the mother wit. I was up against two college graduates. "What can you do for us?" "I have a mouth and I like to talk."
She loved the work. "If I could go back, that's exactly what I'd like to do." An example of her aptitude: "I had one little boy in Head Start. He would turn a table over—nobody seemed to handle him. [Calmly:] 'When you can turn that table back, you can go outdoors.'" But the greatest feeling of accomplishment was helping a half-blind girl. "Couldn't use the bathroom. I taught her, also how to feed herself and how to walk. If you have the feeling for what you are doing, you can meet the needs."
"I had a grandmother who had Parkinson's, so we had to help her in every way. I tried to meet the needs of others." Once a week she now helps someone with the same disease. "I see things in this person that others don't notice."
She and her husband Clinton were together for twenty-three years. He was a Jehovah's Witness.
I went to his church but he didn't go to mine. I went with him so we could be together as a family. In 1977 he got sick—we thought it was the flu. By the time we got back home, doctors called and put him in the hospital. He died of kidney cancer in 1978. He left me with three little ones. I have a son who has been a diabetic since he was twenty-two months old. I had to learn to give the baby shots. Several times I thought he had died. But he will be forty-nine years old and is doing well.
The framed photo of white boys on the wall? "Clinton married a white woman with two kids. Although they divorced after thirteen years, he goes over there and she calls every day. The boys put Clinton's name down as their father at graduation and he feels like their dad. 'I raised them, didn't I?'"
V
irginia worked for Kamala for fifteen years, at first as a backup worker for
Wall Residences
. She helped with the day program for about ten people, mostly males. Kamala asked if I would work for one of their clients, and she did for fifteen years. "Jamie was with
me
. When I first got the modular house—"'Which room do you want?' He chose one."
Randall: "Maybe you'll take care of me when I get too old." Pat: "I'll be glad to."
She wanted to be a nurse or a musician, and did sing and play the guitar for a while for a church group. "I feel that in taking care of…..I have met that dream."
At Head Start she encountered a problem:
I was applying for a position. The head wrote the main office in Philadelphia or wherever. He wrote that the position had been filled. Maybe a racist. I wrote the EOC. A man called: "Ms. Price, how do you like your job?" "I'm not working." "But they told me they had hired someone. I'll call you." He hung up. He did: "Report to work the next day." The boss wouldn't speak to me. Didn't bother me. I won.
A recurrent negative memory:
My mother worked at Blue Ridge Cafe. We'd walk to the back, order our food, then take it outdoors and eat it. Look at the flies. Brings back memories: you see your mother cookin' the food, your aunt cookin' the food, and I'd order a hot dog and have to go outside and eat it. The others were just—like me. Trying to get by."
"When we were growing up, we didn't have yearbooks, just a diploma. Recently we had our Harris Hart reunion [for children who attended the school before integration]. Only three classes to graduate. It wasn't meant to be all black but these were the only people.
Ms. Price declared her intention to paint the ceiling of her home. Randall, solicitous: "You won't get up on a ladder." Ms. Price: "Who!?" But she did agree to think it over.
A fond memory of neighbors:
A white lady gave me a nickname, "Patty Dean." Dropped to "Pat." When you lived in the country…. This neighbor, Gypsy Strickler, would yell to my grandfather and that sound would come up the holler: "George!" [Pat imitates the shrill call.] He was a farmer. She was as nice as she could be. They didn't treat us as [merely] black people. Her sons used to come to our house and go to bed, eat. Another family was the Sowers; when they moved, we moved. Jim would say, "If you go, we go." My mother worked for them. They took us in as a family–Jim and Dorothy Sowers.
As the interviewer departed, Ms. Price was about to help a neighbor who had to use a walker to get around. And when Wells paid a second visit to clarify a few things in the interview, another neighbor knocked on the door and wondered if Pat would provide transportation somewhere.
* Note from Kamala:
I met Pat in 1985, when I was hit by a drunk driver and she came to visit me because I was from Floyd. She says I was smiling and trying to make others feel better, even though I was in very bad shape. In any case, a few years later, I interviewed for a job at Head Start with Pat, and she hired me. I, also, was up against people with degrees had no formal training. Ananda was about eighteen months old. I would not be where I am today without Pat's help. Years later I was privileged to be able to repay the favor of employment. She is a special woman.
In 2010 the Floyd Story Center interviewed an African American World War II sailor, William C. Hayden (b. 1925), a neighbor of Ms. Price. www.floydstorycenter.blogspot.com .