One fascinating aspect of the Floyd County landscape is the presence of roads that lead only into the past. They may be remnants left behind by a later one–by a deeper cut or a higher fill made in order to diminish a grade or expand the radius of a curve. They may blocked off, overgrown, or still used locally or even personally. Perhaps "old road" could include the former automobile racetrack behind the Hollingsworth and Vose plant.
T
hey may still bear traffic but the original transportation can only be imagined:
O
r they may fade in memory with the passing of each year: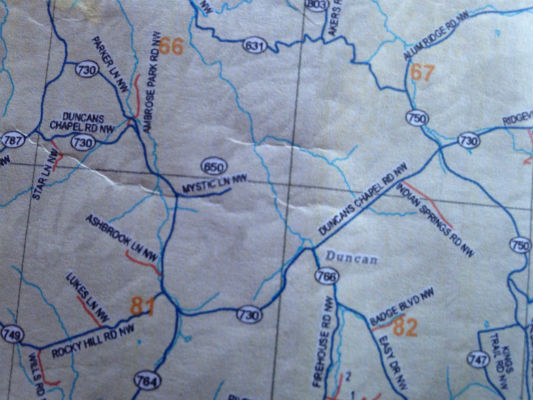 Mystic Lane (650) can be found left of center on this Floyd County Highway Map, 2001. Although it now sticks out eastward, twig-like, from Duncans Chapel Rd., it used to arc back down to join the same road. At that former junction, note the stream that once powered the "Ed" Strong mill (Chapter 5).