Hikes in Floyd County can range from panicky to picnicky.
"

N

ever Again!"
By Bj Bauermeister.
Bj is a 69-year-old retired Nurse Practitioner who (she says) refuses to act her age. Raised in Florida, she met Beth Deskins (raised in Tazewell, VA) at Zion Lutheran Church. Beth gave Bj her old mandolin when she bought a new one, a present that started her on the road to playing over a year ago. When someone asked Bj who her favorite mandolin player was, she had to say in all honesty she didn't know any because Bluegrass was not her genre.

Beth has lived in Floyd County for the past fifteen years and feels very fortunate to explore all the natural treasures available. After a long week of work at Radford University, she enjoys the Friday night Jamboree, Saturdays at the Farmers Market, and Sundays at church. She is blessed with wonderful neighbors, a fabulous church community, and great Floydian friends. She will hike the trail again.
In early May, 2014, Beth and I made some very bad decisions. We decided to hike Rock Castle Gorge in preparation for our hike down into the Grand Canyon later that month. We had hiked Smart View [Blue Ridge Parkway, Milepost 154] the Sunday before, approximately two hours. Beth said (yes, she did say it) that today's hike would take about four hours. We would leave at 8:30 a.m. and be back around lunch time. No food needed except snacks. Threw in a bag of peanut butter-stuffed pretzels that had salt, fat and protein, a perfect food for a hike. I also had some electrolyte lozenges, sort of like Gummy Bears. Threw them in the backpack also. We were carrying everything that we would be carrying down into the GC. Water weighed the most: I had three liters in a CamelBak and Beth had two. We each also had 24 ounces of water mixed with an electrolyte tablet. Beth kept asking me if we could get too many electrolytes; who the hell knows!
We started from the Rocky Knob Visitors Center on the Blue Ridge Parkway [On map above, marked by line extending from "169" rectangle.] We did the loop clockwise [lower trail in red]. When we got to the bottom of the gorge, I realized this was going to take more than four hours. Shame on me for not reading about it before I left. But I wasn't hungry and I still had water. We passed the campground of the CCC [Civilian Conservation Corps] and started up the fire road [FIRE ROAD GATE on map], took a right at the sign that pointed in the correct direction. We got to a field of boulders and rested for the first time, ate pretzels, drank water, talked about the fact that we were going to be out here for a long time. Sent husband Wayne a text that said "OK, late"–as the phone wouldn't let us make a call and spent all its time looking for a tower.
A couple of hikers with only a bottle of water and a lapdog came back from the direction we were headed and said the trail ran out. The man was going to call 911 because his car was in the Saddle Lookout parking lot. Didn't quite follow his logic, thought he might be expecting limo service. He didn't have a map so we showed him ours and suggested he walk out the fire road to the cabins, which we thought were on the parkway. The couple would be able to thumb a ride or hike back to the parking lot. He told the 911 operator, "Never mind" and off they went.
We continued on in the direction from whence they came. The path eventually went downhill, crossed a creek, and got very narrow. We saw no more green blazes on the trees. Beth kept up a brisk pace with me following more slowly. We ended up on the side of a mountain above a stream after traversing some very steep areas, obviously having run out of a path.
Beth decided to climb up to see if we could go over the mountain. She did this on her hands and knees, leaving her pack and walking-sticks with me. I think I was a bit out of it because I was thinking of leaving my pack and walking out without it because the terrain was so steep and kept me off balance. The problem with that idea: my water was in my pack. Beth and I lost contact with each other and she ended up below me on the mountain calling my name. I could hear her, but she couldn't hear me because of the river crashing down the mountain. She finally got close enough she could hear me yelling back. She then had to climb back up to where I was to collect her gear.
We ended up sliding down the mountain on our butts to get down and then followed a path by the river to a better place to climb back up and retrace our path. My shirt will never be the same. That was the part I dreaded the most, retracing our path. We had been on some very steep terrain and I was exhausted.
We finally backtracked to the boulder field, where we got phone service and tried to call Wayne. No answer. We did get Beth's neighbor, Brenda, whom we told we were hiking out to the cabins on the Parkway and asked if she could pick us up in an hour. That was approximately 7 p.m.
We finally got back to the fire road and the sign, so I knew we were going to get out. The problem was, I was exhausted. I could sit down and cry or put on my big girl panties and put one foot in front of the other and walk, so I did. Since Beth never lost that smile of hers, I could not let her down, so I laughed with her and on we went, one foot in front of the other until we reached the road.
By this time is was 9 p.m. and we came out, not on the Parkway, but on the corner of Rock Church Road and Willis Road, where Floyd County turns into Patrick. Would Brenda know where we were? All I could think was that Martha lived three miles down Belcher Mountain Road and Silvie lived a couple of miles up Rock Church Road. IF, I had my phone, I could call Martha and she would come get us. If I had my phone I could call Tommy and Daniel [of Finders Keepers], who were up at Slatemont, off the Parkway, for the weekend. I, of course, know no one's telephone numbers anymore because they are in our cell phones. Beth's cell phone was running out of juice from hunting for a tower.
Beth was able to call her neighbor, got the lady's grandson, and asked him to please get his grandmother so she could tell her where we were. She told him to hurry because her phone was dying. He ran to his grandmother shouting, "It's dying, it's dying!" Beth's neighbor, Brenda, was at the ranger's house trying to figure out where we were. She and her grandson came to our rescue. We were both exhausted. Thank you so much for saving us! Meanwhile Wayne had alerted Tommy and Daniel, who were checking the CCC campground and various places on the Parkway for us.
Out on the path I declared, "I will never walk this trail again!" The next morning after a good night's sleep I was on the computer trying to figure out what happened to that trail after the boulder field. I am going to go back and find it. Beth agrees, but we are parking one car at the top and one car at the bottom so we have a way out and don't have to make the loop again.
The Grand Canyon should be a piece of cake after this. Never leave your cell phone at home. Always know your hike for time and miles and for God's sake and your own, take some food. Thank God for peanut butter-stuffed pretzels. We never ran out of water and we got home, but I've never been so tired in my life. Afterward we were told that that is bear country, and there are metal boxes in the CCC Campground you can get into if the bears come. So glad I didn't know that at the time!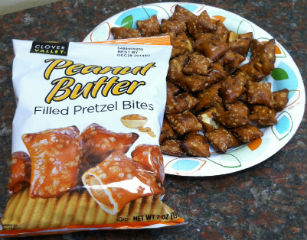 "

Y

ou Wanna Race?"
By R. Wells
One fairly new and still-developing asset in Floyd County's is Chantilly Farm. An all-purpose venue, it extends generously into the woods from Franklin Pike SE, six miles from The Stoplight. In 2013 a large screen was set up on the grounds for the premiere of House of Good and Evil, directed by David Mun and written by Blu de Golyer, son-in-law of Bill and Ginny Gardner. Headlights crawled onto the site for an hour and a half before the movie started. As the protagonist suffered dramatically and spookily, twinkles began to appear in the blackness above, but as the plot wound toward its climax, a knot of lightning began to reveal clouds on the horizon. When onscreen ambulance lights flashed, rain began to fall, and a stream of taillights climbed redly up the hill.
A warm day separated the halves of August. The sky also split in two, northern azure managing to hold off southern gray. Partly because of the temperature, the hiking club informally amended its charter to include stops for botanical observation. When friend Ralph Roe and I lingered near a robust bull-thistle plant, he recalled that one of his jobs on the farm in Upstate New York was to cut these. He has evidently kept his Northern accent: one day, on a bench in front of the Country Store, he was joined by a local man who asked, in a tone of friendly curiosity, "Where did you learn to talk like that?"
We valued the shade partly created by a row of trees and shrubs that paralleled an invisible trickle and a vestigial barbed-wire fence. Ralph spoke of a hammock and beer. Again in the sunlight, the group identified wild cherry and dogwood trees as well as a wildflower called "heal-all," ironically sinister in Robert Frost's poem "Design" but today medicinal to the soul. We also admired a few varieties of butterfly and noticed that one of the insects had spread its wings between a bloom and us as if "Look at Me!" One hiker did exclaim "Look!" For toward the western sun, a wisp of rainbow had evidently blown astray as an iridescent cloud.
Your author, ever-courteous, brought up the rear to prevent any slow-pokes from feeling embarrassed. Out of curiosity he took a detour into the woods to measure a big stump—the half-rotten, mushroomed record, a yard in diameter, of what must have been a day's worth of lumber-harvesting.
Back on the uphill path, he was surprised by Ralph's question: "Do you have a red wagon?" "Huh?" "You wanna race?" Ralph pointed to the long downhill and described the potential ride of sixty years earlier. From this spot we could all enjoy the panorama of the mown hill sloping 'way down to the unseen Franklin Pike, which was paralleled on the other side by ranks of low hills that extended to the horizons at either end—a vast bowl from which to drink in space and fresh air.
We took a few more gulps of actual water from canteens before climbing to our next exhibit, a sassafras tree. Randall identified it for Ralph: "It's got two shapes of leaves." "Three," corrected the person who had labeled specimens on a path opposite ours. "One is round. It's a trash tree—grows first wherever there's a space opened." "We love our sassafras trees," I responded tartly, "and I'm going to tell Marge you said that." A few more laughs, a few more id's, till we reached a barrier of weeds intertwined with poison ivy. So we began a leisurely way back down. From a hilltop Randall had the pleasure of watching his fellow foot-steppers: two had no walking sticks, one had two, one wore an X of suspenders on his back, and one wore a single diagonal strap for a camera or whatever.
After the hike, Ralph sent a detailed reminiscence about the bull thistle, Cirsium vulgare,
Thousands standing tall and kingly in the cow pasture where the animals smartly nibbled the grass around them. The plants were typically four feet high and weed-eaters had not been invented. The first time, I tried to knock one down head-on with a shovel, but it came back and painfully pricked me. #*=%^=! Somewhat vengefully I went to the other side and kicked down at it but got "bit" again. I then shifted to swinging the shovel like a golf club. That worked and the nasty plant fells sideways. My golf game never improved