The seen defines the seer; the seer defines the seen. O reader fortunate! Your prophetic author, armed and eyed with the HaruSpex, apprehends the Bald Truth!
G
ranted, everyone perceives a different Floyd County. Little Margie Keith as she watches her father butcher hogs; a farmer attending with satisfaction as his tractor turns noise and grass to hay; a former soldier returning or settling; a tourist descending from the Parkway and passing a sample yurt, then an arty-dairy barn, then the relic of a water tower; an old-timer pulling turnips at dusk before they freeze; a driver zipping across one branch or another of the Little River to work in an adjacent county; a family drifting or paddling down the same river and encountering a party of back-to-the-birthday-suiters.
If you begin at The Stoplight and drive northward on Rt. 221, then make four left-turns, and don't mind dust or mud on the vehicle, you will come to Anahata. (Not to be confused with Ananda Way, another Sanskrit borrowing.) Situated on thirty-five acres along the Little River, "incorporated as a church and education center," it also considers itself a nature sanctuary (pamphlet). Its handsome lodge, built on a hillside, includes a large kitchen that displays this sign:
Observation without evaluation is the highest form of intelligence. J. Krishnamurti.
The essence of ephetic. Suspend judgment, take in all possibilities.
But the very singling-out of any phenomenon from the background–does it not constitute a judgment? Figure & ground, field & fountain, Observation drags along bias both personal and cultural, so as a person is rescued from a house fire, someone makes out the face of Jesus in the flames.
Explicit evaluation is the highest form of personal world-making. Writes Napoleon Hill: "Another weakness found in altogether too many people is the habit of measuring everything, and everyone, by their own impressions and beliefs" (Think and Grow Rich, 1937).
So to eliminate distortion in both observing and judging, your author employs none other than a touchstone of stones (photo above):
the HaruSpex
Its circumference bears eleven gems. This odd number is uncompromisingly prime, authentic, maybe idiosyncratic (think of Lords a-leaping). Even the word eleven is a sort of You're Not from Around Here–unlike twelve, which builds on two, and 'teens, which build on ten.
The set of gems, clockwise, counterclockwise, and both at once. Yet it complements the central jewel to form a concurrent, harmonious dozen. A Cyclopian zodiac? This even number, ten-plus-two, is multi-divisible, twelve being the Platonic egg carton,the Days of Christmas, and the ancient formula of knuckle-reckoning. In this early kind of digital computation, the index finger of one hand pokes the knuckles of the other one's fingers: so three knuckles times four fingers equals twelve. Two hands = 24 bushels of Nile-swollen, Pyramid-building, wheat.
Here is the first in a series of seer-certified glimpses. Read and grow rich!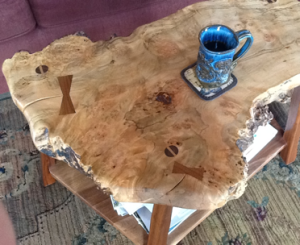 A three-year-old saw the new table created by Phoenix Hardwoods and protested, "It's just a piece of wood!" Cup by Jayn Avery.
A mother in Charlotte was startled to find her infant's skin tinted red, green, and yellow, then recognized the cause: a tie-dyed onesie bought in Floyd.
Randall, sailing on the Queen Mary 2 with Marjory, felt anxious about facing the immigration officer. A half-century earlier he had crossed to England on a freighter-passenger as a semi-vagabond and endured a grilling at the dock in Liverpool. Standing in line this time, he reached the uniformed officer who smiled, whap-stamped his passport, and declared, "Nice shirt." Bought at the Floyd Country Store, it was a Roper Western, sort of a cotton-painting. About eighty horses galloped in a line toward the viewer: brown, black, gray, and blue-gray against white, they kicked up dust along the chest, the top of the long sleeves, and the back.
A ceramic dish marked dP and purchased some years ago on the 16 Hands Studio Tour rests on a mantel in Yorkshire, England.
A

young visitor watched as an adult prepared coffee: "Is that the kind with the rooster on it that you grind?" (i.e. bought from Red Rooster Coffee Roaster).
Maya, a four-year-old living at Anahata Community, was visiting the Wells family with her dad and friend Unica, six years old. Maya was taken aback by the forehead of the host, your author, which was red and scaly from medicine prescribed by the dermatologist. Coincidentally the girls had been playing Hospital Worker, so the younger found a dandelion flower and began rubbing it on the skin as she swayed while chanting, "Mother Gaia, heal this wound." Afterward her colleague gently rubbed it with a leaf, held up a pair of fingers, and proclaimed: "Two days."
A beautician combed out a child's matted hair and gave her a haircut. "I can't pay for it," said the mother, who departed with her offspring. (Someone else covered the bill.)
A pastor was teaching children who sat on the first step to the altar. She was explaining that when we have enough to eat and drink, Jesus wants us to help other people. "Plenty!" exclaimed Jack Le Roy, almost five years old, who knew the name of an organization of "Neighbors Growing and Sharing Food in Floyd, Virginia."
"I

just saw a horse in a pickup!" exclaimed Marjory. Another time, as traffic moved along the highway, a big dog stood at the front-right corner of a truck bed. "I thought that was a statue—until it moved."
Just before gulping some coffee, the author felt an item on the tongue and spat out a brown marmorated stink bug.
Walking to the door of her house, daughter Katie stopped to press the back of a hand against her forehead. Her neck ached, too, and not long afterward she lay crying in pain from chills, evidently a thirty-third birthday present from a tick.
"I only got lost once," declared a mentor at Virginia's Blue Ridge Music Festival, "and had to turn around just past Bethlehem Church Road. There was this pig—gigantic–as large as a rhinoceros!" In another event, Ralph and Ellie Roe were moving into a house when they were met by a welcoming committee. "Two pigs wandered into our yard. The mother sow was about 300 pounds and the baby was about 150. Chomp-chomp-chomp in the clover."
"My roommate shot a raccoon that would chase the cats. We thought he'd missed until a smell came up from under the porch. It was This Big—forty pounds!"
A closed peanut butter jar, stored in a carport to feed birds, went missing and the plastic spoon was left punctured.
Driving or walking down the twisty steepness of Annie Lane, a person might see the hill across Rt. 221 rise higher and higher, and perhaps glimpse a horse that seemed to float as if in a dreamlike Chagall painting, its tail a black ripple. On Alum Ridge Rd., the author approaching Rt. 221 saw a fence made of cows along the ridge to the right. About fifteen silhouettes called to mind the side-view of a train, each cow-car separated from the next.
A dog challenged hikers on Penn Road, followed them with a barking and a hair-raised lowered profile. Another, big and fast, turned away only when a hiking stick slammed onto the pavement in front of its charging muzzle, which clamped a chew-toy in a kind of multi-tasking.
A large, dark bird stood on a high tree branch and spread its wings to the south as if to proclaim, "To me belongs all within my sight—land and welkin, feather and fur"–this dire effect somewhat compromised by the resemblance to a flasher's raincoat.
In April along the CCC Camp Trail (off Rt. 8 near the base of the Blue Ridge rampart), hikers made out a black snake that stretched over a few shiny loops, proprietary above the lintel of a barn. Further along they assumed that the bark of a dead tree had not clawed itself off into the scraps 'way below.
As the author sped along Rt. 8, a larger-than-housecat bounded across giving him just enough time to vow never to bell it.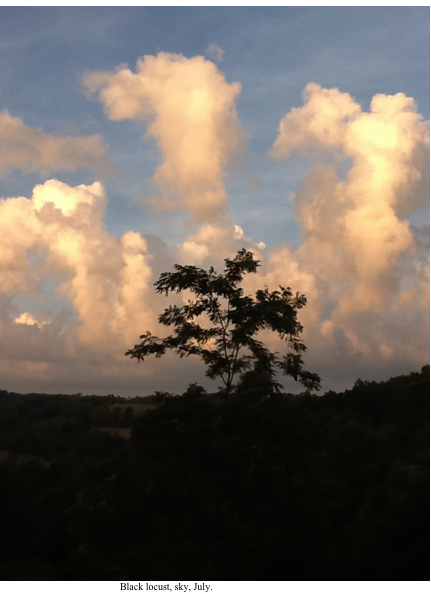 O
n the hill far to the north, a big patch of white flakes lay between dark forests. A cloud hastened across the sky, and as its shadow moved down the slope, it was pursued by a bright white avalanche of sunlit snow.
After continual frigid weather and recurrent snowfall, one escapee drove to the coastal plain of South Carolina–only to behold gray mountains on the horizon and thus to dread more flakes, even after recognizing the upthrusts as clouds. In spring, Storkers Knob once again made its gradual disappearance across Dodd Creek Valley as the calendar dropped leaves. Exiting the Jacksonville Center one windy summer day, a driver could stop, look across Rt. 8, and admire a river of grass that flowed northward without changing its place.
For a couple of years the new Church of God just south of the town limits directed a beacon into the dark sky. A contrast to the nearby Living Light yoga center, it promised a "Revival Every Night." Although the oxymoron was their business, the light pollution was the public's because it compromised a silver-spangled black sky. On April 20, trash—some thrown, some blown–disappeared from a stretch of Rt. 221 thanks to a community effort sponsored by Falling Branch Methodist Church.
A tractor pulled away from Falling Branch Church with a wagonload of hay bales and people. It rolled alongside a field that held the relic of a Delco generator that once powered a farmhouse before rural electrification. As kids jumped off and on, the party rolled up a slope and then along a tracked path. The driver stopped and everybody hiked through trees and big rocks—and suddenly beheld a fast-moving stream 'way down in a ravine so steep that a careless person could roll into rapids.
Another secret waterfall, actually a two-phase plummet, can be apprehended from below it. Without divulging its location, some hints follow. Start at the Firsts' house and hike down Goose Creek Run until you come to the place where a man came home one foggy night, walked up the front stairs, tried to put his key in the door, and found neither door nor house. Turn off there and hike if you can on steep, rocky inclines until you hear water. Look up and in some disbelief. A brave or foolish person can play on the rocks of the halfway ledge with their pools dug out by rainwater.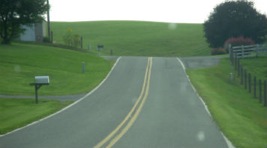 * On Canning Factory Road, whenever a vehicle nears Rt. 8 on a slight rise, the pavement seems to end at a hill and become a ramp that requires a good throttle-and-pitch to get over the pasture.
Near the inside edge of town across from houses on Woods Gap Rd. is a kind of park: a pasture, fence, great hardwood tree, and sometimes a horse. Because the corner with Barberry Rd. is blind, the appreciative driver must be extra vigilant.
At the West End Market on Rt. 221, a customer must go inside to pay for gasoline, but as compensation he or she can lift the top from a red metal cooler, reach in, grasp the intimate ripples of the original small bottle of Coca Cola, and lift it from the ice and the 1950s. One time out at the pumps a rough-looking guy climbed into his pickup, ignored the seatbelt, and drove away. On the left rear bumper (politically apt location) a sticker read "Village Idiots for Obama"; on the right, another declared something positive about Jesus Christ.
R
andall was not the only one to spy an unusual tractor-trailer that laboriously turned into a parking area of a gasoline station, but he was the only one to hurry over (just behind his overactive nose). The trailer had two side doors at different places and was decorated with some initials and the name Shelor. Several guys seemed to appreciate his curiosity, and they answered questions with grins. How long? 73 feet bumper-to-bumper. How many cylinders in the tractor? Six. Isn't that a bit minimal? It can go 130 miles per hour. What's in the trailer? A racing car. Also a lounge with a microwave oven. They opened a door to reveal a red Chevrolet painted with the number 98.
A truck more voluminous than a pickup was determined to overtake a vehicle, so out it charged toward a compact car in the opposite lane; the latter braked as the truck swerved back over the double yellow line with its driver hunched forward tensely. On Black Ridge Rd. a large SUV zipped downhill, around a curve, and so close to the middle of a narrow bridge that the oncoming driver prepared for a side-view mirror crash and the passenger behind him said "I think I'll sit on the other side." A visitor planning to turn into Annie Lane at the wheel of his rotund septic-tank-emptier was tailgated by a tanker truck: "I put my emergency blinkers on, so he stayed three feet from me."

A woman turned off Locust and drove down steep Old Hensley Rd., next to Winter Sun. Talking on a cell phone, she wore no seat belt but had a license plate that read "Prayer." Another woman pulled up to the corner of Main and Oxford, seatbelt over shoulder and cigarette in hand. A man hauled a rugged camouflage-painted canoe on his big SUV and held a cigarette with his tan hand.
"I can tell that your VW van isn't from Floyd." "Because it doesn't have rust?" [Laughter.] Reply: "I was thinking dust."
A tow-truck drew away from tire-tracks in the steep, snowy ditch. On its truck-bed, a car that had just driven from Florida now pointed backward as your author in the driver's seat rode like the marshall of the Humiliation Parade.

"I see that you have a Lions Club decal on your rear windshield." "No, the 'L' stands for a scope manufacturer. My husband likes guns."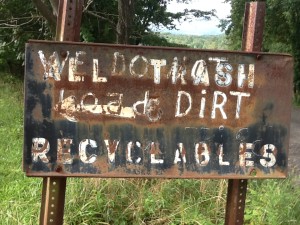 At the transfer station, I tried to decipher a crudely-lettered sign without benefit of the HaruSpex, still in the office. I took the right fork, which was wrong, and dumped recyclables over the top of a high bin. A worker scolded him, saying "I'll have to empty it" and met with hostility Reprobate Randall's offer to do it himself. A few years later the place was dramatically more welcoming:
In front of a church in Willis: "Remember: Hell is Un-Cool." Once again red metal panels were planted in many a yard reminding passers-by that Christmas was not properly commercial but looking like FOR SALE signs. Anonymous red signs with white capital letters appeared around town. One said HATERS NEED LOVE. Although it disappeared, ACCEPT YOUR BROTHERS AND SISTERS remained in another location.
"Hay for sale, horse quality" read a sign near the Blue Ridge Parkway. The billboard on Rt. 221 near Annie Lane obscured the mixture of tall pines and hardwoods with photos of burgers the next month become gutters. A "Republic of Floyd" sticker adorned the family's Subaru: "I'll keep it on," vowed a friend, who bought the car and drove it to Florida. If a person leans to the left behind a post supporting the porch of a grocery store, Slaughters' becomes Laughters'.
There's Doc Gibbs comin' down Main Street now, comin' back from that baby case. Wait–that's Grover's Corner, New Hampshire. In Floyd, Virginia, at the end of a workday, a woman carries a red-and-white sign back down Old Hensley Rd.—BAKERY OPEN–shading the side of her head with the stake. One of the Fish Ladies from North Carolina uproots FRESH SEAFOOD from next to Rt. 8 (near the fake cow) and carries it downhill toward the truck parked in front of Harvest Moon. In front of Monkey Business (at the Station) a woman detaches a negligee'd mannequin and carries it inside, its left arm aloft in right-angled, backward salute. On W. Main St., Melodie Wenger of Gallery OneEleven unhooks the peacock and carries it to safety among the Refined Household Treasures.
Her son Wesley (b. 1977) uses wire to build such kinetic sculpture skeletons, then cover them with papier mache and a coat of paint. The peacock once joined a puppet show with a flamingo of similar construction. Wes has been doing such shows in Floyd for a decade, working with kids to make the puppets, write the jokes, and perform the shows. Magic Peanut Puppets has performed several Attack of the Killer Pipeline shows "to point out the folly of investing in fossil fool infrastructure in an age of global warming."