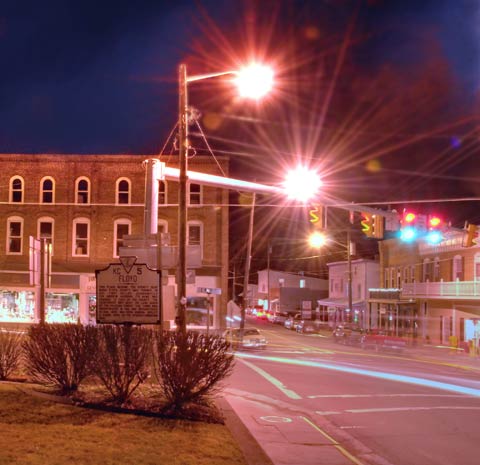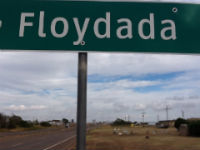 Floydiana does not refer to a place–unlike Michiana, a seven-county region of southwest Michigan and northern Indiana. And unlike Floydada, a place in Texas. Instead it is a collection, like Shakespeareana, which is an accumulation of items by and about the playwright. It is pronounced Floydee-Anna rather than Floy-Diana. It records events, people, words, animals, places, scenes, and ways that characterize the improbable Land of Floyd County, Virginia. Natives are apt to employ two syllables: "Flow-eed."
It does not (as a friend pretended to think) capture the Virginian adventures of Indiana Jones, although the author does wear a hat to protect his generous scalp. Another friend mis-remembered the title as Floydorama. How about Floydlandia? No such debt to Sibelius. Nor does this enterprise have anything to do with Floy Diane, who grew up in the Low Country of South Carolina. And it has no connection with Floydioli, a hand-made vegetarian stuffed pasta that uses local and organic ingredients. The book reflects the author's earlier inclination to write about local South Carolina, where he directed the Horry County Oral History Project (please see hcohp.net).
But more immediately Floydiana grows out of a newspaper column. When it failed to maintain its inches, the writer bundled it up and carried it to WordPress, where it thrived. Baby Blog, however, grew and grew until it became an electronic book (like the author's Angel in Goggles: Earthly Scriptures). Although this offspring had no predetermined length, organization, or conclusion, it ended up covering the years 2012-2016. And much of it turned out to be communal. Some pieces were meant to be vividly Today, others Yesterday, all are History.
Like the wagons that hauled grain to its now-defunct watermills, Floyd County offers an axle-busting load of grist to a writer. Indeed, Floydiana not only grinds but bakes, thus adhering to the command of Ezekiel 4:9, "Take also unto thee wheat, and barley, and beans, and lentils, and millet, and spelt, and put them in one vessel, and make bread of it." The loaf of Floyd is a mixture of the congenial, beautiful, diverse, disturbing, fascinating, and even dangerous.
Located on the Blue Ridge Plateau in the southwest part of the state, it points its northeastern corner toward Roanoke, or "Ro'noke." (Map of Virginia counties.) The Blue Ridge Parkway pretty much defines its ragged northeast-to-southwest border.
The county has 15,000-16,000 residents and one proper town of about 450 people, also called Floyd, which boasts the county's single traffic light at the nexus of Rts. 8 and 221. This icon has a tricolor progression that can be perceived in winter from the deck of the Wells retirement house, a log dwelling that is technically a lodge in square footage but that we call "the Cabin" in rustic indulgence.
Although most of the residents are white, the county is a mixture of Appalachian-stock families, folks of hippy heritage that goes back to the 1970s, other residents who are countercultural to one degree or another, artisans, people who moved here for the landscape and atmosphere, and some who returned after pursuing opportunity or serving Uncle Sam.
As for employment, many citizens now commute to larger towns instead of working on the farm, at the factory, or at the mill. (Not to forget the erstwhile still. For a study of moonshining in adjacent Franklin county, see Charles D. Thompson Jr., Spirits of Just Men, Univ. of Illinois Pr, 2011). Also as more than partial compensation for the loss of former jobs, many work via the Internet—for example a veterinarian from Kentucky who fabricates and sells horse-rescue harnesses.
How did one tourist learn about the area? "I Googled 'pottery and bed & breakfasts.'"
☯
N
ow about your septuagenarian author (b. 1942). Almost four decades ago he wrote a column for a South Carolina newspaper that became the nucleus for
Along the Waccamaw: A Yankee Discovers a Home by the River
(Algonquin 1990). Driven to appreciate life via ink, he has maintained a journal, by pen and then pixel, since it was assigned his last semester in high school, 1960. Highly receptive to visual stimuli, he was diagnosed with L.A.D. ("Look a' Dat!") and prescribed a cell-phone camera for this book.
Although raised as a white Midwestern suburbanite Christian Republican, he has retained only the complexion. Before retiring to Virginia he lived in Wyoming and Connecticut as well as other Southern states: Tennessee, North Carolina, Mississippi, and South Carolina, this last where he and Marjory spent most of their careers near the ocean. He has also literally traveled around the world with a friend. As he writes he sips a black potion grown in Colombia, Costa Rica, and Ethiopia that helps him gain access to the Bald Truth.
He gratefully recognizes two predecessors. Ms. Morgan Cain Grim wrote "Familiar Faces," a series on Floydians both home-grown and transplanted. She recorded more than sixty interviews, each with a photograph, before graduating from Floyd High School in 2005. Mr. Fred First wrote "The Road Less Traveled," which ran biweekly from 2004 until 2011. This column fervently appreciated the county's natural resources and, backed by abundant research, cast a chilly eye on threats to the health of Mother Earth. Fred has written two books on the area, Slow Road Home and What We Hold in Our Hands, takes ace photographs, and keeps a well-read blog.
For this project Randall is heavily and happily indebted to his wife and friends, especially Fred with his technical expertise (also vital to Angel in Goggles). He celebrates his grandchildren, who didn't exist when the Wellses bought the ridge-top but who often helped him appreciate another dimension of the county–as seen from a few years of age and a few feet off the ground. The author dedicates Floydiana to the late Gregory Scott Wells, who drew Randall and Marjory to Floyd County. Although they are here without him, without him they would not be here.