After getting a whiff of diesel exhaust from a passing truck, we begin the second half our tour at Farmers' Supply.
E
njoy the slight give of the floorboards as we poke along the narrow aisles. This iconic business holds a hundred items for every person in the county, and in the attic it even stores a batch of unadvertised Confederate flags, one of which our friends from Colorado purchased for their hopeful grandson. You might buy a few souvenirs or else some necessities: screws 1/2 X 3, 1/2 X 4, locknut nylon 1/2, screws 1/2 X 3 hex cap….
Opening the door to the inside, dodging the wheelbarrows and tricycles on the sidewalk, we turn left onto the corner of Main and Locust. (The be-stapled telephone pole appears in "Textures 2.") Taking another left on the sidewalk, we soon pass the stairway of Black Water Loft and come to a timber-frame shelter that houses the Community Market. Dedicated in 2009, it is a 3,000 square-foot pavilion. One of the regular vendors is Tree Gigante, also photographed in Portrait of Floyd, Virginia:
One of her glass vases rested atop our wood-stove to soak up light from outdoors, even on a cloudy day, and transform it to luminous orange.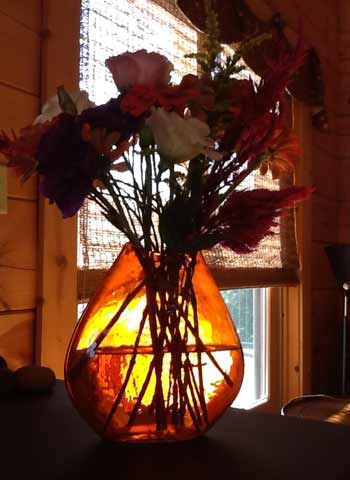 During Virginia's Blue Ridge Music Festival in 2013, a quartet of woodwinds–oboe, bassoon, clarinet and flute—played "Golliwogg's Cakewalk," by Debussy, as a blond child in pink shorts improvised a dance. Then to "Entrance of the Gladiators," by Fučik, she twirled, jumped, and extended a leg backwards theatrically. An earlier time during that ten-day-long event, fourteen musicians played against a background of the rear of buildings on North Main St.–unadorned, weathered recesses. In front of the group, a portly man in overalls and tattoos stood with his back to them and looked over a table that displayed his own art: hand-turned bowls. He nodded his head, backwards-capped, in time to the music as his beard glowed ethereal.
S. Locust St. makes a picturesque arc through the downtown between a small, shabby trailer park and the Winter Sun building with its roll-top roof and flaming frieze, ironic since the original shirt factory partly burned.
Across the street from the Community Market stands the pleasantly ramshackle Angel in the Attic, a thrift shop. Operated by volunteers, it turns its multitude of minuscule profits back to worthy organizations. For the author, an armload of used clothing, do-dads, a cow outfit, and even a curtain once served as costumes for children. Grandpa even picked up a VHS of Felix the Cat In the adjoining boutique of nicer items, Marge and I bought an elegant, furry mandala for Katie: "It's so me!" For her equinoctial ceremony she bought a half-dozen baskets to hold symbolic vegetation. A fair number of people volunteer there, so it has a double or triple community effect. In 2014 Ralph Roe offered an example: "This year, our lawn maintenance guy volunteered his labor for painting the dock, and I provided the paint from Farmers Supply. Mission accomplished!" Only a few items are rusty, like the tool below:
A
bit southward on the other side of Locust is the new Warren G. Lineberry Memorial Park, a couple of acres that slope down to a hollow in the middle. The formerly abandoned land had even earlier been the site of a livery stable and part of a small farm. On May 20, 2013 a few of us enjoyed a view of the park from the porch of Dogtown Pizza/Sun Music Hall. Across the grass stood the Pickin' Porch, constructed by the musicians Mac and Jenny Traynham. Its trellis of thick rhododendron stems was a second try, for although she had piled the first batch nearby after laboriously gathering it on a mountainside, it was carted away as trash.
We were privileged to hear the first official sounds from the shelter-bandshell down the slope. This edifice had been partly funded by music—i.e., by three or four benefit concerts of Bluegrass and Old Time Mountain that always included the Traynhams.
Through bright green locust leaves we could make out several players from Virginia's Blue Ridge Music Festival. Since the Wellses were members of Partnership for Floyd, the organization that developed the land along with the Town of Floyd, and since Randall was a board member of the Music Festival, the first strains of music brought almost enough emotion to drop salt in his beer.
Below on the hillside, shadows slanted from the west in Floyd's own version of A Sunday Afternoon on the Island of La Grande Jatte. Each person was visible on the grass or the terrace: some sat on a bench, others sat or stood on the grass, alone or in a cluster. Children wandered, some with their arms behind them, others knelt or lay down, and one rolled lengthwise to Sousa. Clapping could be heard from a Friday night performance on the sidewalk nearby: "First brass," observed one person, "then Bluegrass." In the lee of the declining light it was the "magic time of day," as artists call it (theory from Carolyn Deck, teacher of my "Colors" sessions at the JAX). Each person made a distinct figure, some as cutouts from black cloth, others in colors solid or striped that seemed vividly saturated, as if the hues, not the sun, emitted light.
Other park scenes followed over the months. A boy ran at the stone wall beneath the sidewalk, landed a tennis shoe on it, then another, and somehow grabbed the rail and pulled himself over. Runners mingled there after a 5K race, waiting to hear the names of winners. A club of ebullient teens carried a beach raft to the grass and took turns having their photo taken upon it. One Sunday afternoon, on the patio, a woman lay sunning in a motorized wheelchair turned into a chaise-longue.
Down the grass Katie led an autumn ceremony. In a brief talk she invited participants to find balance just like day and night, and then she drew symbolic vegetation from baskets, whatever was left after toddlers had done some strewing. At one point a massive arm crossed in front of me, reached over to the neck of a kitten and–as I stared wide-eyed, scratched it gently. One of the drummers was Ghana's Loss himself, Nii Anang. The circle welcomed Gannon, who hobbled over in his latest cool bandanna, which raked across his former eye. He sat out the fast-weaving-circle-dances as hands beat drumheads energetically.
Farther uphill on Rt. 8, past the cemetery, final resting place of one-armed Nolen brothers, stands the Jacksonville Center for the Arts, a title that honors the earlier name of Floyd town. (Fondly abbreviated as "The Jax," it would be changed to the Floyd Center for the Arts in 2016.) A repurposed dairy barn complete with silos, its complex of white shapes can be glimpsed from the Wellses' house across the valley. It includes offices, a gallery, sales rooms, a performance space, studios, and lesson rooms for music and art. The place is emblematic of the county's agri-artistic culture and its perennial dearth of funds. Randall has taken guitar, banjo, and drawing lessons there; Marjory has taken classes in jewelry-making, shibori, and wood-turning (conducted off-site by none other than Dennis).
One day seven Subarus were the only vehicles in this parking lot, and when one departed, another arrived. And why was a painter loading cement blocks into the back of her SUV, because what kind of artistic purpose could they serve? "I have a show in Roanoke and need something to anchor my tent." As we enter the big room upstairs, you might ask how many classical musicians get to play or sing beneath quilts displayed on a canted ceiling that once protected straw? How many dairy cows have heard a harpsichord duo?
B
ack to Rt. 8, and we pass what else but Dodd Creek. It flows to the right, eventually passing the grindstones of Epperly Mill; then in a wide loop passing far below Annie Lane (from which it is visible only in bare-branch winter); then disappearing underneath the bridge over Rt. 221 S.
We pass a houseless chimney on the left, then Canning Factory Road on the right, and now two fully-loaded cyclists that can hardly budge uphill as they stick to the white line like a tightrope. Just before going under the stone bridge of the Blue Ridge Parkway, we instead turn right onto that national artery, thus missing the down-the-plateau segment of Rt. 8, its hairpin curves more suited to Ferdé Grofe's donkeys. Now headed toward faraway Asheville, we turn off in a couple of miles at The Saddle Overlook, Milepost 168, elevation 3388 ft.
To the east, Rock Castle Gorge. Far beyond the wraiths of former homesteads and settlers stretches the bumpy horizon. A little segment of both the northeast-bound Parkway and southbound Rt. 8 peek from amid the vegetation. Behind us on the west side of The Saddle is a vista of Buffalo Mountain, which in a hint of abracadabra can often be seen only from far away.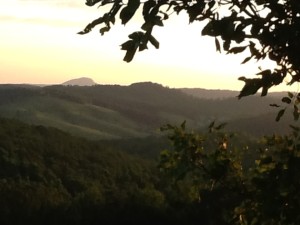 On one June 21 a group of celebrants gathered at The Saddle to watch the longest-setting sun decline to the northwest; the moon seemed to pursue it on the same trajectory, slow and soundless as it rose in the southeast. On another occasion a group waited for the "supermoon" to make an appearance.
"That's Woolwine," declared one onlooker. "See those two fields? My house is right between them. Those lights way on the horizon? That's Martinsville Hospital" (in North Carolina, an hour's drive from downtown Floyd). Like a heart-throb-of-an actress, the moon made a late appearance, then finally cast off a partial covering of orange to reveal its voluptuousness. As a dark cloud passed low in front of it with an amorphous, protruding shape, onlookers exclaimed "E.T.!" or "Mary Poppins!" or "Batman!"
At this outlook, hikers who take a loop trail go through an initiation by climbing a steep path that leads to cabin-shelter. Jean Schaeffer reports that path and shelter once belonged to the Appalachian Trail until 1954, when 160 miles of the Trail were moved to Giles County and other points west (Raised on Songs and Stories, p. 82). One group had just read aloud a handwritten note, left on a bench, that celebrated the rustle of wind in trees—when a kind of thunder roared down the valley off the cliff, prompting them to scramble to a rocky outcrop just in time to see the last fighter jet disappear on a level below theirs.
Back to the Parkway and continuing south to Milepost 171.5, we reach the vicinity of Château Morrisette. Reliant on tourists that travel the 469-mile federal road, this winery and restaurant are both incongruous and welcome in a such an unsophisticated Appalachian province.
P
erhaps it was a February night when I found my way to Chateau Morrisette. I opened the heavy, castle-like door onto a crowd as happy as it was noisy. "It's for my retirement," exclaimed a gentleman as he set down his black leather bag and extended his hand.
"Doc!" I noted the familiar sport coat of brown tweed, the woolen vest, the striped shirt and collar. I asked "How are the Goruslawski twins?"
"No failiuh to thrive," he chuckled, "after a hundred and fifteen yeahs."
Out of the corner of my eye I glimpsed a brimmed hat, a somehow familiar one. The fellow wearing it, gray of uniform and even skin, was holding a rifle upright in one hand and a canteen with the other, which he sipped under a mustache. Dizzy, I had to sit down for a moment. I was grateful for a distraction–however dreamlike" the lilt of a woman singing, which drew my gaze toward the massive stone fireplace.
I would recognize this creature anywhere, even without the protective eye-glasses that hung from her chair. It took up a corner so that her great, folded wings could press against two walls. Her boots could be glimpsed under the table, which I soon reached. Her eyes lit up when she saw me, and I bent over to hug her, almost dropping a few tears of relief at her safety. "Unfaith! Welcome back to Floyd County!"
"My dear Randall, how often I remember your kind rescue followed by hospitality! And our Sunday colloquy!" She reached up to hug my neck, then extended her index finger to give my lower lip an affectionate brush. "Cookie?" I nodded. Then she favored me with one of her quotations: "'What if I eat one of these cakes?' thought Alice." I was happy to see that, although maintaining her erudition, she had shed a few pounds for safety. And she was enjoying a bottle of wine with a gentleman. "Randall, do you know Mr. Biv?"
"Roy!" He and I smiled over the wine glasses. "Believe it or not, Unfaith," I said with a some enthusiasm, "he inaugurates a later chapter." As this personage stood, I had to tip my head back a little to see his eyes above an orange beard-and-mustache and above ruddy cheeks. The right iris was blue and the left hazel. (I remembered calling this anomaly by the wrong word. "'Condition'!?" he had repeated, with a voluble, good-natured scoff, "It's a commission!")
"Unfaith," he explained, "was just singing about Night–song by Strauss–'Nicht that 'Nimmeth'–"
"'Nimmt das Silber weg des Stroms,'" she recited. "Takes the silver from the streams.'"
"Randall," said Roy, "I feel blah when sunshine drains away. A sort of anemia. Need that refraction!" He opened both hands backward toward his outfit: "Take a look! Today it's a letter-P theme." His voice boomed as he motioned from scarf to sweater to pants to socks to shoes: "Pumpkin…. Puce…. Platinum…. Periwinkle…. Palatinate-purple." I was grateful for the dim light. I also worried about Unfaith: remembering her story about trying to navigate in the fog, I wondered how she could fly in the dark tonight. Maybe Roy would take his fellow daylight-dependent under a wing of his own.
"Is this," I asked myself, "a different kind of stoney reality?" Where was my notebook, where was my pen? Oh, this is not that meeting at the Loft. Why are people staring at me? Can a person not proclaim "Ontogeny recapitulates philanthropy"? Keebler, kibble. That man speaking a foreign tongue somewhere nearby–is it Arabic? I feared to turn around lest it be Cide Hamete Benengeli.
"Randall," asked Roy warmly, "are you with us? I'd like to introduce you to my friend." He turned to someone who was slight of build and, well, indeterminate of gender. Exotic dark skin and eyes gained did little to offset black clothing: a tailored jacket, hip-length with a mandarin collar; puffy trousers; slipper-shoes; and a hat that would be unnoticed in Uttar Pradesh. The outfit was set off by a necklace that sparkled in the nearby orange flickers. "You don't suppose," I thought.
"J. Krishnamurti," declared this figure, smiling over an extended hand. Astonished and honored, I watched eyes widen at the ocular amulet I wore around my neck. "This must be the fabled HaruSpex! The seer-circle of gems eleven! Very Imposing–no need for Liberace's fifty-pound rhinestone!" We chuckled. As to the speaker's sex, no help came from an amiable "Call me 'J'"–plus this letter air-drawn, backward as a courtesy. The person's accent was also a challenge, as was the vocabulary, so I just nodded at vatic and valorization. Yet we conversed at length, spiritedly, encouraged by wine, wood-flames, and laughter.
"I've always admired your counsel," I said: "Observation without evacua–"
"Evaluation," came the reminder.
"Sorry, that was the Chateau Fideau speaking."
As J's necklace became an ellipsis of stars, each sparkling at random, I felt somewhat hypnotized. The bottle empty, J had the sudden notion to scribble a line on a napkin and cork it inside. What I presumed was Sanskrit script appeared, moving from right to left. "Is it Jai Isham ishvaram?"
"No, it's 'Grinder, be not ground!'" Hugging ourselves against the wind, we ventured onto the salt-swept beach and flung the blue vessel into the dark, churning surf.