Accentuating the sometimes perplexing mixture that is Floyd County, it has what I'll call satellite institutions.
A
monastery lies just over the border near Copper Hill in Franklin County. If you drive north on the Parkway, look to the right at Mile Marker 145 to behold a stone-and-stucco edifice evidently dismantled in England and reconstructed in the Blue Ridge. Syon Abbey houses a Benedictine fellowship that values self-sufficiency, privacy, and orthodoxy.
And near Meadows of Dan, in Patrick County (Milepost 178), there is a principality. Called Primland, it is a retreat for the rich set on 12,000 acres. Most Floyd residents and their acquaintances are less likely to enjoy its refined dining, world class golf courses, and horseback riding than to maintain its golf carts or give massages.
Once again the quarried castles of Virginia Tech enriched the life of the Wellses' grandchild. Sidney got to attend The Intergalactic Nemesis: Target Earth, a science fiction show. The now-seven-year-old watched actors who stood before microphones and interpreted the words of a mystery story—as a thousand-plus pages of a graphic novel flashed upon a screen, as a pianist improvised, and as a sound-effects person scrambled among devices.
The university even spread its influence onto our acreage. Leftover food from its tables, composted by a Floyd County business, was dumped in a great pile onto our yard. For a month I wheelbarrowed the stuff around, shoveling and scratching it into bare spots along with clover seeds in hopes of turning cafeteria-food into bee-treats. Poking out of the black soil were occasional fragments of plastic-ware along with fruit-stickers, tiny oval barcodes that might declare "Just picked yellow Jersey peach" or "MDSA Organic Orange Pepper Holland."
And a parking permit for Radford University now hung from daughter Katie's mirror. Adjunct Professor of Dance, landowner in Copper Hill, niece of Uncle Greg, and new mother of a From Here.
Trucks continued to ply the two highways, Rts. 221 and 8. On novelty: a tractor-trailer decorated with yellow flames towed another such tandem-vehicle backwards.
One way of passing time at the red light is to drum on the steering wheel in radio-rhythm. This practice, however, can confuse a driver behind who is not listening to your tune (in my case, "Mountain Dew" on Back to the Blue Ridge, WVTF).
In an earlier chapter I also recommended composing words from the seven letters of FARMERS'. One day at home I accepted the challenge with pen, paper, and this set of rules.
Allowed:
Words with a minimum of three letters.
Contractions ("ma'm").
Acronyms spoken as a word ("NATO," "mrsa").
words formed by adding an the suffix s to a noun ("ears") or verb ("errs").
Disallowed:
Abbreviations ("ref").
Acronyms not spoken as a word ("NAACP").
Initialisms ("E.R.").
Proper nouns ("Mars").
Foreign words ("mer"–although "mesa" has been naturalized).
Obsolete words (Middle English "rame").
My total was about 50 with the help of "arfers," by analogy with "woofers." If anyone can surpass that goal, the author will donate $10 per word to Save our Station (the Ro' & Willie project).
The white parallel lines that defined the pedestrian walks across Main St. finally wore off. One night a family paraded against the green light while I waited and enjoyed the spectacle. In contrast, I made Barbara Triplett stand and wait at the well-marked pedestrian crossing in front of the Country Store while I drove across it at 1 mph.
Litter? In town I picked up a used hair-dye bonnet, surely a prize-winner in the litter contest. A friend complained about someone putting junk in her roadside mailbox, including a stocking, which she called a "sockument."
Deer continued to be a nuisance and a hazard. "Go away!" accompanied the sound of Marge's knuckles rapping on our upstairs window but produced only a slow, curious, perhaps tolerant turn of a deer's head. After a visit to our cabin, friends drove toward Michigan on Rt. 8—and almost into a large buck. The passenger had detached her seatbelt to reach for something from the back seat and found herself slamming against the windshield.
At the Post Office the door-opening contest continued as to who could be nicest. I said to a diminutive elderly woman, "I'll hold this second door open but you'll have to get your own car door." She stopped beneath my arm and reflected: In a Northeastern accent, "You mean you won't warm up my car seat either?" To one man, who seemed physically challenged, I said "Looks like you're still truckin'" "I won't quit," he replied, "till I close my eyes for good." I asked another man about his hat, which read USS Missouri. "Never been in the service," he allowed; "My nephew gave it to me." "Like my Harvard sweatshirt," I replied. Medical conditions were frequently shared and, in one case, political differences revealed. The day our former governor was found culpable for breaking a federal anti-corruption laws, one person said "I just don't get it"; "Guilty," declared a passerby.
One day as cold rain dotted my windshield, I saw Gannon as he negotiated the sidewalk. Turning off E. Main across the sidewalk, I offered him a ride. As we drove uphill toward Oxford St., I warned him not to reveal the existence of this secret alley, and he consented. Dropping him off at the Express Mart, I asked if there was a reason for wearing only a long-sleeved shirt in such weather. He thought for a moment: "Advance planning."
An immutable feature was change. DEX, the company that rebuilt parts for Volvo trucks, hauled itself off. And the eschatological hearse seemed to have burned its last gasoline. Natasha's Restaurant went the way of Brammer Meat Market and the shirt factory. The Courthouse District voted to allow hard liquor. Outside the polls, Randall stood witness at what he considered the Margarita Table for a couple of hours, sometimes recalling the long, stubborn refusal of Metho-Baptist voters in the Myrtle Beach area to allow restaurants to sell mixed drinks on Sunday, maybe any alcoholic beverages.
W
inter arrived slowly as the Northern Hemisphere, wearing the plane of the ecliptic like a collar, tipped its head farther and farther backward from the sun. Located about 37 degrees north of the equator, Floyd County nearly shares a latitude with San Jose, California, so the winter days are appreciably longer than those in the author's Chicago area, which located five degrees up and over the cold, bare forehead of the sphere.
On one of the shortest days of the year, Randall was walking back down the sidewalk of the Post Office, new mail in hand. He stopped short as a lively shadow appeared on the right-angled sidewalk ahead, just past the corner of the building, cast from the south. In a split second he interpreted it as that of a trim, hat-wearing woman–who rounded the corner and laughed as they almost collided and as he apprehended her 3-D manifestation, all bright-hued except for sunglasses.
The season's opening of the wood-stove was marked by a tortured groan of the door; the first oiling was celebrated by near-silence; continued use brought a squeal pitched between G and G flat above middle C. Smoke from someone's else's stovepipe, rising between the viewer and the sun, turned blue-gray.
One winter afternoon, driving from Roanoke on Rt. 221, I looked at a pond on the right and glimpsed a tangle of floating branches as it slid to the left and disappeared–a reflection-illusion of trees opposite the water. One night on that same road, as the car plunged downhill at Kings Store, I peered a mile ahead to behold a cavalcade of headlights slanting down from the high blackness. Slightly dumbfounded, I realized that I was about to head up the mountain that the nine sets of lights were coming down. Another night, again coming from the north on Rt. 221, I halted at Locust St.. Because the roof of the car in front of me tilted uphill, it hid The Stoplight, which revealed itself only when two green globes suddenly shone from a plate-glass window to my left.
Over Thanksgiving, a snowfall, perfect timing for children from Charlotte, North Carolina. It extinguished electricity, however, for thousands of residents. Turkeys went onto refrigerated porches, folks into Hardee's, repairmen to the hinterlands.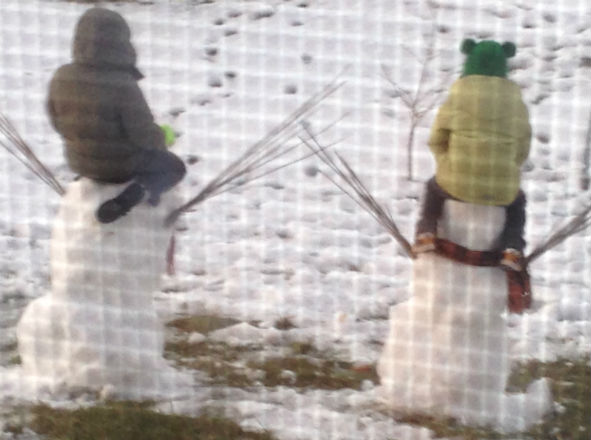 C
hristmastime was a miniature
Floydiana.
As the sun rose and inched along the horizon, it gleamed off the silver, conical top of the silo of the Jacksonville Center. We opened presents near the cheerful white lights of a miniature tree decorated by School House Fabrics.
"I always love Winterfest," writes Marjory–"cold and Christmasy!" This year the added fun was the tree auction that was such a hit. In the new addition to the Jacksonville Center stood forty-plus trees in their own wonderland–each unique to the business that decorated it. Walking around, I admired the beauty and fun and creativity of each, then picked out my favorite three and bid on all of them. One was a creation by School House Fabrics, decorated with reindeer, fabric hearts, angels of hemp, lace stars of burlap with red-button centers, plaid hearts, icicles of twisted fabric, and plaid bows and bells at the top. "You must have me!" sang the birds of burlap adorned by feather-tails, long and elegant in reds and browns. Atop the tree a large burlap bow entwined with net and plaid rosettes with stars in the middle. The final touch: a cascade of burlap strings that curled around the tree.
Also during Winterfest, we bought lotion and soap from The Dragonfly Farm, a hand-made tile for atop the stove, and a note-holder for the refrigerator. A pair of hand-made gloves, upcycled partly from cashmere, went by mail to Louisiana. We didn't forget jams and a heavy loaf of stollen created by Barbara Von Claparède-Crola and given to the family that had hosted the Canadian cyclists. A scarf apparently crafted by the Weaver to the Queen devolved upon our son-in-law.
A sleigh-load of gifts came from Downtown Floyd. Marjory gave me a jacket and hat from the Country Store as well as a CD I had requested by Anna Roberts-Gevalt and Elizabeth LaPrelle, two uncompromising folk singers who regularly perform at that venue. Our Christmas cards came from there, as did presents for grandchildren: games, jigsaw puzzles, a doll with separately-bought outfits, a Carhartt pony-shirt, and a rattle. I bought Marge two sets of jewelry from Troika Gallery that she had fancied, along with an elegant cup with the bottom inscribed Granatelli. Across the hall at Monkey Business we bought a skirt for our daughter, and her son picked out socks for her. At the Community Market we snapped up a blue-glazed pitcher for our daughter's family (made by the potter in the blinding-white apron). We also hit the nearby Red Rooster Coffee Roaster for a pound of Christmas-blend beans. Across the street at the Republic of Floyd, Marge bought me a four-pack of Belgian beer.
As we drove toward Copper Hill and our daughter's house, the wind essayed to steal the branches from a large fir, which wrestled around to keep them. Katherine gave her dad a small, knitted Rooster from Harvest Moon.
On our way home, something bulked up in my rear-view mirror on a 35-mph curve. At the blinking of my emergency lights, the driver backed off a little, then rushed forward at the next curve, I pulled off and he disappeared up Rt. 221–no doubt inspired by the exhortation "Haste, haste to bring Him laud." That evening we hosted a dinner for four friends: in Floyd County fashion, two originally from Alabama, one Florida, and one North Carolina. As a party favor Marge gave both women a peacock feather from Finder's Keepers, and as the wood-stove flickered orange and the wine poured red, Fred First drew admiring laughter with his imitation of the Chipmunks.
As the sun disappeared over a hill about 5 p.m., it reflected off something in the opposite direction–on Storkers Knob, I inferred. With binoculars I tried to identify the source of the bounce but instead I witnessed a Christmas-card star, with four far-extended points, even with rainbow-lights on the horizontal bars closer in. I couldn't help noting a hint of the cross–an example of prolepsis, a reference made in the present to something in the future that cannot yet be known. This anachronism was troubling and yet, because the vision comprehended the whole biography of the newborn, somehow gratifying, even for a would-be freethinker. As the guests were leaving, we connected the dots of Orion, who seemed to be watching over the spot where the sun had risen that day, perhaps hoping to warm himself first thing in the morning.
O
n Friday, December 9, 2016, at the corner of The Stoplight, a truck made a left turn into a pedestrian, who soon rode a helicopter to heaven. Ever afterward the red lenses above Locust and Main would intimate the "Look out!" light of an ambulance; the collision spot would serve as a memorial for a creature who had the ill-fortune not to be a deer.