You can appreciate Floyd County to an extra degree by noticing instances of solid geometry. These underlying regular forms endow objects with a certain power–yes, to the eye, but also to the imagined tactile and kinesthetic senses.
R
un your hand around the edge of a banjo's resonator and feel the wheel-shape, then heft the instrument. Or with your eyes try to embrace and lift a disused smelting furnace as you walk around its truncated mountain of rocks.
Free-form hills, fields, streams, forests, shadows, clouds, and sunlight contrast with the shapes not only of animals but of artifacts. Among these last are rustiques (earlier chapter) with their wheels, rods, oblong boxes…. And ubiquitous farm buildings, other dwellings (including yurts and geodesic domes), churches, mills, chimneys, a cannery. Below are photographs of scenes having a strong geometric pull: living or man-made (or both at once), functional or artistic (or both). Perhaps you can do better than the author in trying to define the 3-D shapes, although he has the advantage of peering through the great emerald of the socket-prophet.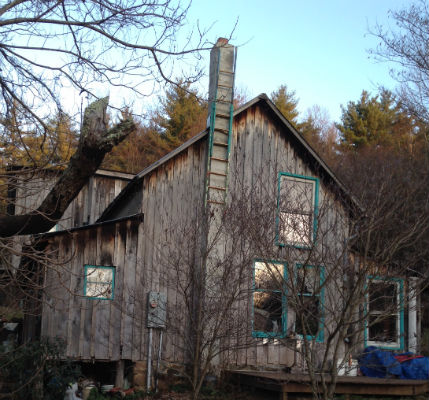 House of Jayn Avery, Zephyr Cir. SE. Note interplay between rectangles and wedge-shaped roof; between the flat side and the depth of roof overhang, receding left side, and oblong box of chimney. Also note contrast among rectangles: of and within windows, of oblong narrow siding boards, of oblong ladder with its step-squares. Colored frames accentuate the rectilinear. The whole shebang contrasts with the rambly tree-branches.*
N
otes:
* Jayne's about the ladder. My dad was a Congregational minister born and raised on a Connecticut farm. I would learn about his hands-on, fix-it nature in the summers when we went to my mother's family house for our month long summer vacation. Having lost the old farm to development, my dad took the upkeep of my mother's family house into his hands. Painting the shingles, patching the old clapboards, cleaning the gutters, he spent a lot of time up on the ladder. When he died and my mom left the house, of all the antiques and historical items we daughters had to divide up to take home, the ladder was one of my first choices. I needed one just to keep up the repairs on my own house here in Floyd. But I also loved the feel of it as I climbed up knowing I was stepping into the very footprints of my dad. Eventually, being a wood ladder, it started to deteriorate and I had to stop using it. Then Charlie Brouwer did one of his ladder installations at the Jacksonville Center, inviting people to bring in a ladder with its story. It filled my heart to see my dad's ladder as a part of an amazing work of art. When the installation was taken down, I brought the ladder back wondering what I would do with it and then saw where it was meant to be. Hanging from the chimney of my house, painted with vines and flowers that reach up into the sky, it is the ladder between me on this earth and him in the heaven that he believed so deeply in. It connects our souls.
** According to Blue Ridge Roadways, S.B. Huff built the factory on Howells Creek, site of Shelor's Mill. The factory's heyday extended from the 1930s into the '50s. A Guide to Southwest Virginia, 2003, p. 37.
*** See Webb and Cox, The Water-Powered Mills of Floyd County, Virginia, pp. 288-89. They believe that water power at a nearby site could have driven a bellows and perhaps the hammers that crushed ore. The rimmed wheel comprises two depths of spokes that resemble pieces of pie. Its endless stairway is formed by tread-and-riser. The wheel rests on a truncated pyramid. The sluice that once fed water is a box made of horizontal boards and vertical struts. The structure to its right has two columnar legs that rest on the ground and begin to converge as they rise to support something. The legs themselves are braced by several horizontal struts. The building is an oblong box (wider than high) atop a foundation of oblong rectangles (one solid and one a vacancy). It supports a wedge (the peak) of lighter-colored wood. The structure has three windows that are placed and sized with a slight (and pleasant) randomness. All three are oblong and comprise a total of 28 panes (square in the larger windows, oblong in the smaller). Another oblong rectangle is formed by an inset doorway (covered by a slab of wood). The visible side of the box is covered by thin, horizontal slabs of wood–punctuated by a dozen oblong rectangular holes. See Webb and Cox, pp. 116-21.