Someone who moves to an area can often bring new vision. As a seer-retiree, I quickly noticed that the home-grown folks under-appreciated the remnants of the old railroad, the Ro' & Willie (please see "Glimpses 2"), as well as the dilapidated station itself.
Of course the railroad was defunct by the time Margie Keith's father drove her to the Radford station. What a satisfying community project it will be to restore walls, roof, windows, benches, and ticket booth to their original prime condition! The building can be used for performances of old-time music, wedding receptions, mitzvas bar- and bat-, birthday parties, services for start-up churches, yoga classes, meetings (especially of the Historical Society)….
Can you imagine the pot-bellied stove heating those not already warm from dancing, and the gaslights (re-fabricated by our own Crenshaw Lighting Company)
casting a romantic glow on all? And the wall-mounted chalkboard with its notes as to schedules, on-times and lates–perfect for displaying the menu for a grill. This canteen would offer Steamers, the Ro'-burger with Coal Slaw, the Williewich, even a beer called De Rail. As for the oversized clock, how many New Years will it mark as the black hands merge at the top and citizens whoop, hug, and blow plastic train-whistles?
Yes, the railroad must have been vital to Floyd County and, moreover, so indigenous that its first locomotives not only heated their boilers with chestnut wood from its forests but also ran on narrow-gauge wooden rails crafted from the same trees. It must have carried logs, lumber, and provisions, even the very people who founded the county.
Can you see them climb down–the Schlosser-Slushers, Poffs a-plenty, the Sowers-Conner-Belcher clans, a sprinkling of Vests, and of course the Q'berrys of various flavors? From another car step the progenitors of other clans: Philipps, Sutphin, Vest, Martin, Hylton, Hollandsworth, Thompson, Huff, Harris, Cox, Conner, Belcher, Duncan, Harman…: Now some haul their deerskin bags as others hike back to the livestock car to fetch chickens and a cow. A few unload heavy bags of sugar. And who are these folks with their tie-dyed garb—the Patchoulis! One carries a book by Edgar Cayce. And might the figure wearing the garb of India be the sagacious J. Krushnamurti?
And now descending to the platform is a long-bearded gentleman. He wears a denim overalls under a camouflage jacket, which on the left side bulges as if covering some object. His cap bears the image of a pointed-green-leafed plant. As everyone on the platform stops to watch him respectfully, he tucks a Mason jar half-full of liquid under one arm and with the other holds aloft a Bible. With two fingers to spare, he forms a V and blesses the crowd in a slow half-circle. Why, it's Floyd himself!
Of course the train originally continued on to Willis, and in the photo below you can see a relic of what must have been the former right-of-way. Certainly no one would plant an RRX in the middle of a field.
I know that some call this project unfeasible or even undesirable. Some actually maintain that no railroad ever braved the steep-windingness of Floyd County. But they confuse Can't with Won't! Their GPS is set on No rather than Go.
Why should communities up and down Rt. 11—Radford, Pulaski, Dublin—be the only ones to have depots? As an example of current efforts, the Virginian Railway Station in Roanoke is being restored in two stages to original appearance in 1909. And fired-up citizens of tiny Boone's Mill on Rt. 220 are taking on a double challenge: securing the old depot from Norfolk & Southern Corp., and moving it from its original rail-side location to a potential historic district. (Zach Crizer, "Little town rolls up its sleeves," The Roanoke Times, 21 Oct. 2013, pp. 1+.)
A precedent right here in Floyd County: Apple Ridge Farm in Copper Hill, which offers a summer camp for children who live in public housing, has already brought in two cabooses that will be renovated for overnight accommodations. (Roger Mannon, "Train ventures off track," The Floyd Press, 11 April 2013, p. A1+). How much imagination does it take to suppose that the rails in the photo below, which start and terminate in Bulls Gap, Tennessee, once connected with tracks going to and coming from Floyd, Virginia!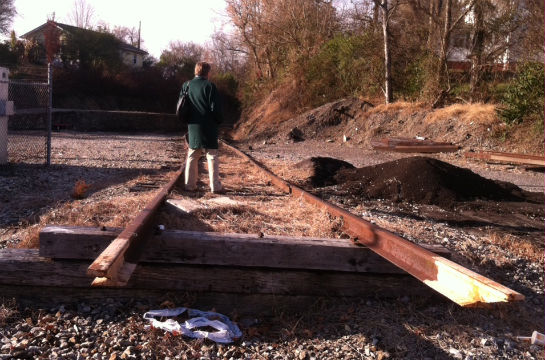 So Alll Aboard! Take your seat–window or aisle–on an adventure that will roll you to both the past and the future! As a first step we need to locate the old station.