Besides the two earlier photographic compilations of textures, Floydiana has described other tactile or quasi-tactile features. Examples: Margie Keith, who milked cows while sitting on a stools with her feet in the muck.
"Randahl" admiring the sheen of the trespassing horses. Randall, while clearing a field for clover, distinguishing between stones and clods, between earth moist and baked. (In Appendix 2, young Betty Bernardine makes"Chinese money" out of mud-balls that her father would run over and turn into tread-decorated disks.)
The photographs below record artifacts–of stone, wood, metal, or pigment–that have historical depth.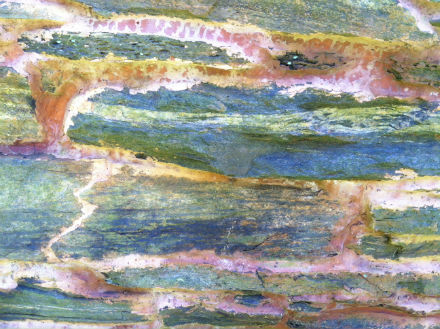 A
bove is an unmodified photograph of a chimney on Smart View Loop Trail, Mile 154 on the Blue Ridge Parkway. The cabin, made of logs hand-hewn by W.J. Trail in the late 1880s, was one of the first preserved. A few contemporaneous events offer a historical perspective. In 1888, Brazil abolished the last remnants of slavery, and Handel's
Israel in Egypt
was recorded on wax cylinders (the first known recording of classical music). In 1889 the Pemberton Medicine Company was incorporated in Atlanta–the precursor to Coca-Cola; Adolph Hitler was born; and Vincent Van Gogh painted
The Starry Night.
("1888," "1889
," Wikipedia.
)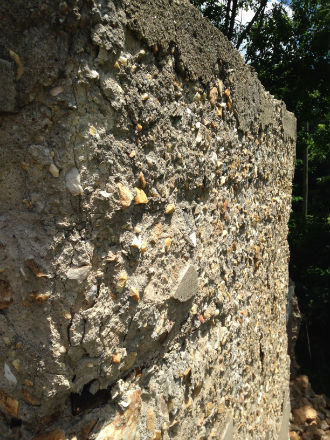 Remnant of Milk House wall on Rt. 221 at the south edge of Floyd town. According to a plaque, farmers brought their dairy products to the building and kept them cold in the spring-fed creek routed through it. Town and county residents came to purchase these products. Later in the 1900s, the former Milk House was used as a residence for farm hands.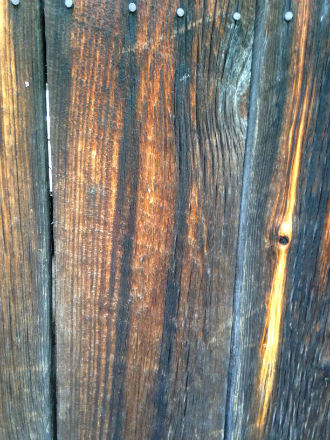 Door of a shed on the property of Charlie and Glenda Brouwer (off Sawmill Hill Rd.). Charlie: "I know the wood is pine–the yellow streaking is from the resin. We think the farm was started here around 1900."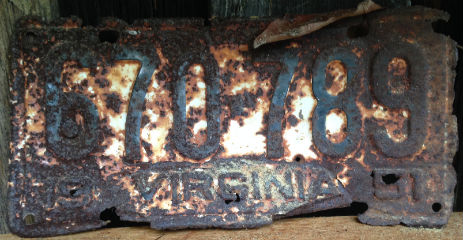 Charlie: "The license probably came from Mettie Akers, who lived here most of her life. She bought a car for the first time in the late 40's and drove (down the middle of the road we are told) to her teaching job in Indian Valley." In 1951, Harry S. Truman was president; the Korean war continued; and nuclear-bomb tests began at the Nevada test site ("1951," Wikipedia). By this year, Floyd Presbyterian Church was 101 years old, and Lucille Nolen had been working at the shirt factory for thirteen years.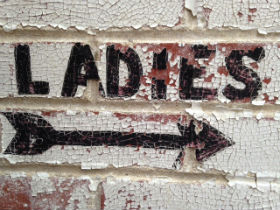 Sign painted on paint of former gasoline station built in 1936. Finders Keepers, 2014.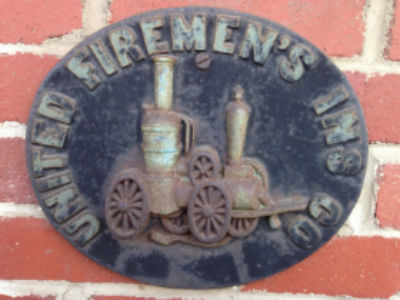 Bas relief plaque attached to wall of 118 N. Locust, Nationwide Insurance (2014). United Firemen's Insurance Company first issued this kind of metal fire mark in 1878 as proof of insurance. It discouraged arsonists who wanted to make a property owner suffer, and it encouraged fire brigades to save the property and earn a reward.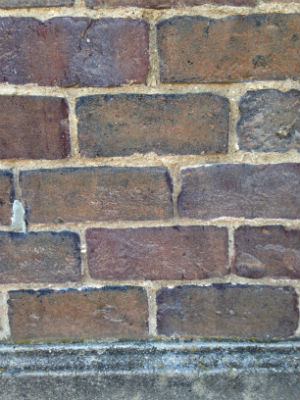 Bricks of 1847 school used to build the 1913 edifice, later School House Fabrics. (Jean Schaeffer, "Community took interest in schools," Floyd Press, 1 July 2014, p. 1B.) In 1847, the Mexican American War and the Irish Famine were raging, and the U.S. issued its first postage stamps ("1847," Wikipedia). In 1913 Woodrow Wilson became president, the Mexican Revolution began, and the ballet The Rite of Spring, with music by Stravinsky, had its premiere in Paris ("1913," Wikipedia). In 1913-14 "The Mansion" was constructed on E. Main St.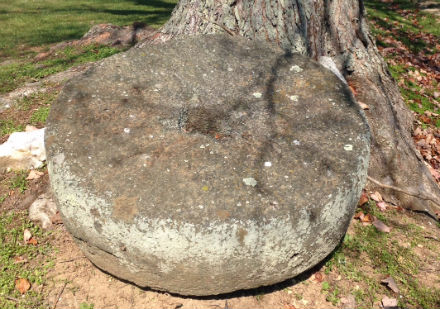 Millstone of former Ed Strong Mill at the corner of Alum Ridge Rd. and Lester Rd. on property of Bobby Mitchell. Photo by Robin Hairfield, 2014.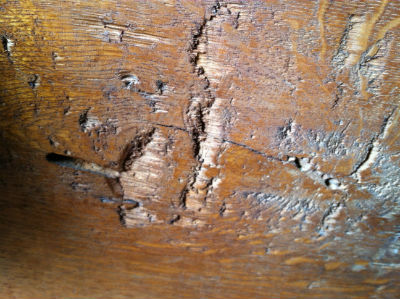 Back of oak pew, Zion Lutheran Church, whorls and nicks still prominent from the saw-cut made in 1858. The pews were re-used in the later church, built in 1898. (Information courtesy of Dick Giessler.)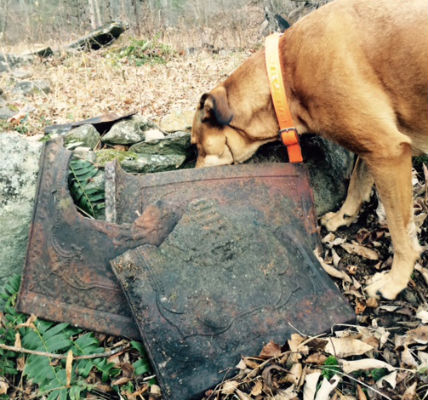 Fragments of stove leaning against rock foundation of tobacco barn. Location: flood plain of "Nameless Creek," which flows into Goose Creek. Photo by Fred First, 2014.