On June 21, 2013, as the icy peaks of the Southern Alps jut from New Zealand, the sun hangs on to that hemisphere's northern horizon by its fingernails. But at the same time, its rays flood the Blue Ridge Mountains. This solar phenomenon is best appreciated in a group, for it blends celestial mysticism with a touch of–well, think of cows eating fermented apples. One such ceremony was held on the abundant acreage of Fred and Ann First. Both were born in 1948, he in Alabama and she in Mississippi; Fred has worked as a biology professor and physical therapist, Ann as a board-certified PharmD. Both are charter members of the Floyd Yacht Club.
V
isitors can get to their place from town by following Highway 221 north, then turning left at Kings Store–monarchical of name but historical of inventory. Then by passing Jerry Lane and eventually making a dogleg at a business named Clyde S. Angle, vacant as well. Then by going down a hill long enough to wear the tires off a Boxcar Derby racer. Finally, after a brief scrutiny of the oncoming curve toward Shawsville, by darting left down to a narrow bridge, then negotiating a gravel road–more accurately two miles of dirt, holes, and curves, maybe puddles or snow-patches, all subject to downed branches. The road usually keeps a vehicle from tumbling into Goose Creek while its ruts pass an occasional abandoned house, various tucked-away homesteads, and an antique fire engine (Chapter 31). When hopes flag, and the definition of "close friends" threatens to become geographical–voila! The First Farmhouse. Although rebuilt, it evokes earlier days with an auxiliary staircase for travelers and perhaps a lingering whiff of cannabis cumulus.
As various participants arrived–all of them originally from outside Floyd County–daylight gradually and grudgingly lost its brilliance while the sun itself inclined somewhere behind lush, high trees. The invitees negotiated a plank laid across Goose Creek, its slight give presenting an extra challenge to their sense of balance and kneeflexes. Then they passed a chicken coop, this evening devoid of a long black tube with a mouth that bulged in the shape of an egg. Next they hiked down the bed of "New Road," so-called (as Fred reports) by those who remember it constructed by hand in the 1920s. Dug flat and built up alongside of a hill, it disappeared before the visitors into the dusky past.
Fred, who once taught botany, led a brief field trip. At one stop he held out the crushed leaf of a sweet birch to the nose of someone who sniffed and exclaimed "Teaberry!" Eventually the hikers reached a mowed clearing furnished with a couple of tables for food and drink. Another clearing stretched in the sky, a narrow white space framed by leafy branches. After a while a pickup truck that had long ago proven its worth arrived with a dog, potluck dishes, and lawn chairs. Strangely enough, by the time a fire burned and the ritual wieners bent sticks, the pale light had stopped darkening. Had time stopped? Mystery solved by the appearance through leaves of the silver moon, which on this latest nightfall seemed to create a premature dawn.
About two dozen folks ate, sipped spirits, talked, and laughed to the burble of Nameless Creek. They strung marshmallows on wires to warm chocolate bars on Graham Crackers. This year their host, perhaps out of modesty, declined to wear the cylindrical hat made of a birch-bark roll that earlier celebrants had discovered and presented to him as Spirit of the Woods.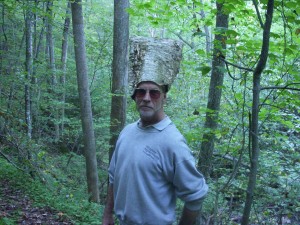 Now a few musicians took out their instruments and sang old-time favorites. Was it true that the banjo-picker who strummed "Soldier's Joy" hailed from Switzerland and had come to Floyd County as a musical tourist? And the fellow who grew up in Canada—was it an illusion, or did he take off his shoes and roll up his pant legs to hop-shuffle-flatfoot around and around and around the fire?
The longest day celebrated, one person after another, now wearing a sweater or jacket, picked up a folding chair and maybe an empty serving dish. These figures joined a procession of silhouettes with jiggling flashlights that resembled a line of pilgrims with candles in hand, an occasional syllable muffled by the dense air and tall grass. The queue traced a different way back to the plank, this one cut through a meadow that glowed faintly under silver. In the misty grass and trees, fireflies blinked out constellations, random and evanescent.