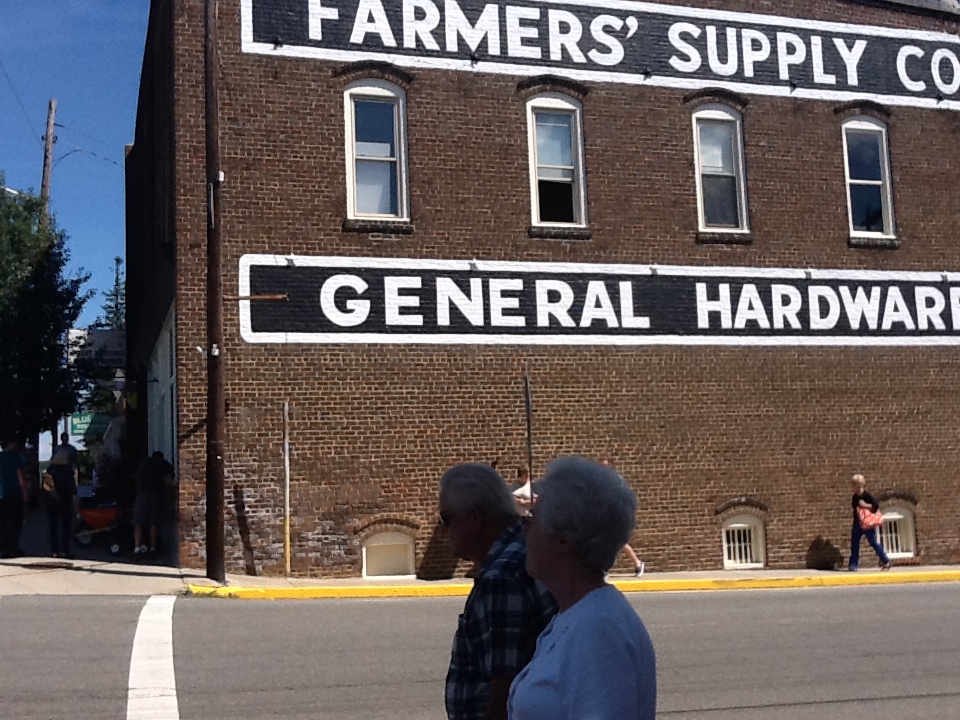 Original version printed in the Floyd Press, 2012.
We parked on E. Main St., up and over the hill from Gallery OneEleven, just past Locust St. The morning was bright, cool, and autumnal as five-year old Sidney headed toward The Stoplight, safely passing the Confederate Soldier with Julien, his two-year-old brother. Alice watched it all as our daughter Andrea held her in a front-loaded BabyBjörn. "Exit only," read Sidney aloud at a parking lot, surprised at his new ability. Thus began a happy jaunt through town.
W
e turned at the county's Sole Stoplight corner (see video clip above).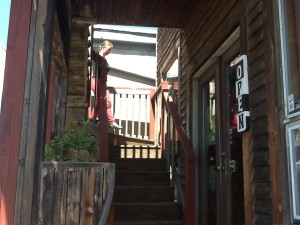 Ms. April descending from the Loft.
Passing Farmers' Supply Corp., 101 E. Main St., I asked our oldest grandchild to look up at the foreshortened white letters: "We can read those from the cabin with binoculars." Now four of us climbed, and one rode, up the twenty-five steps and two switchbacks to Black Water Loft. (This name confused us a little, for in the Lowcountry because blackwater rivers are tea-colored infusions of biomass rather than fluxes of brown mud.) Julien was already snuggled in the lap of his father, who, visiting from Charlotte, was working there in his "Floyd office" composed of table, computer, earphones, and decaf.
We were all there thanks to good luck six years earlier. This building was serving as Harvest Moon, and one day I hustled down there from Oddfellas to buy a copy of the Floyd Press. Marjory and our chauffeur Greg had been sipping coffee, discouraged after a fruitless tour in search of either land or a dwelling for retirement. The co-owner, Virginia Neukirch, had said, "Why not look at the real estate ads?" Indeed, a tiny square of newsprint promised a gorgeous view. So on the way back to South Carolina Marge and I drove up frozen and twisting ruts until they gave out, then left the car for the hostile March wind, marched farther up the naked clear-cut, and beheld a vista that ended only at the opposite ridge of town.
At the loft I was able to name at least three of the McCutchan sisters, but I confused the decaf latte with the cappuccino when I distributed them at the Country Store to supplement our lunch. Over sandwiches we watched a gallery of citizens pass by the window. The boys explored the aisles and found that they needed Sky Streaks–balsa airplanes with a red propellor and blue rubber band.
We gents moved on to the Warren G. Lineberry Community Park, where Sidney yelled, "Let's race!" and sprinted down the handicap ramp, a purpose not envisioned by those of us on Partnership for Floyd who helped to transform the vacant lot to a community space. Then he urged his brother to try walking on rocks that lined a drainage ditch, angular stones that we would have called "jetty rocks" in the Myrtle Beach area, which Marjory and I called Home for 35 years. Then on to Grateful Bread, where Sid remembered that the owner's dad had constructed the ovens. In a bag I now carried molasses cookies and a warm loaf of spelt toward the park. But first Sid had to roll down the hill upon grass cuttings, then grab his brother and roll down again as one unit as they clutched each other and laughed, while I pitied the hot dogs in their stomachs and wondered if this behavior was countenanced in the Park Plan. On to the boulders, where Sidney jumped off the big one and Julien off one of the small ones. Joined by the ladies, we all sat down to chubby cookies.
On the way up the hill we stopped to watch the stonemasons as they faced a column for the new all-purpose structure. One fellow, whose vehicle bore the license plate "Pilgrim," gently cautioned us not to come very near: "This quartz is like glass." Then darned if he wasn't thoughtful enough to climb up the lawn and hand each boy a souvenir chip. That night the seven of us returned to town. Near The Stoplight I picked up some litter, a longtime habit, while Marjory pretended not to know me. We threaded our way past sidewalk musicians, one group with a woman playing the bass, all Appalachian bragworthies, and made our way through people who listened on the sidewalk or half-walls. At a reception at Troika Gallery, we greeted my wife's shibori teacher (Jacksonville Center) as well as numerous other acquaintances, mainly Came Heres (or "Aways," as one native calls them). At last we would get one of the lamps we had coveted, made by Susan Icove from parts of cast-off objects like pots and gears. (Although she accepted my word "dumpster," she preferred "upcycled.")
N
ext morning, Black Water again, where we chatted with daughter Katie's fellow dancer as the espresso process clunked and hissed. Marge took the grandchildren around the Farmers Market. I arrived in time to enjoy some band-music, talk with a charming back-to-the-earth lady over her table of elixirs, relieve Marge of her bag of apples, and watch Sid wind himself around walls and railings with equal skill and zeal. That night Marge and I drove back to Locust Street and the JAX, where we had the privilege of attending a musical benefit performed by the Kandinsky Trio, which is in residence at Roanoke College. Classical music performed beneath quilts that graced the Hayloft Gallery in a former dairy barn–more than a touch of Floyd's funklecticism. As for the audience, a typical member seemed to be a retiree who chose this area.
At the reception we could admire Portrait of Floyd, a collection of black-and-white close-ups by Glen McClure of Richmond. I myself hung on the wall, looking somewhat weatherbeaten, and Marge a bit severe compared to her typical sunniness. Hanging near me was baker Barbara with a plate of goodies. We all joined a sort of yearbook of photos: Fred and Ann First, a woman from Marge's church, and Theda, a McCutchan sister, who one morning had agreed to run down the old wooden steps of the Loft with me and have her picture taken on the sidewalk. Two of Katie's friends looked out at the world at the same time they graced it. Rustic citizens were better represented on the walls than among the finger foods and wine glasses. Even Polly, who runs a CSA (community supported agriculture) to which we belong, is a farmer from afar, having grown in the Philadelphia area. Her weekly bag of vegetables had gone into the stew I made for grandchildren; this dish supplemented the 2-ounce, string-pull bags of Gold Mine nugget bubble-gum purchased at the Country Store.